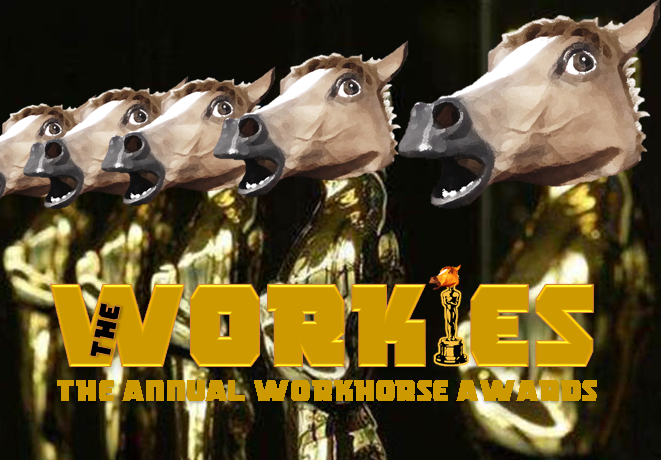 Welcome to the 2017 Workhorse Watch Awards. The Workies are a chance to celebrate all that is great about rugby league's toughest players.
YOUNG WORKHORSE OF THE YEAR
Another exciting group of workhorses emerged this year who will no doubt be on keeper lists and scouting reports for 2018.
Last year's nominees included Cameron McInnes who went from 14 workhorses in 2016 to 23 this year, Daniel Alvaro who went from 8 to 12 and the eventual winner Mitch Barnett who went from 9 (in 9 weeks) to 16.
Jayden Brailey had big boots to fill following the retirement of Michael Ennis but was up to the task with nine workhorse tries before a broken jaw all but ended his season.
Ryan Matterson wasn't on anyone's radar at the start of the season having played 15 games in 2016 for zero workhorse return. Coming off the bench, 2017 appeared to be more of the same before Matterson had a run in the middle of the season where he scored eight workhorse tries in nine weeks.
Matt Eisenhuth is one of the stories of the year, having toiled away in lower grades for years while cousin Paul Gallen was off being one of the all time fantasy football greats. But the 'Iron Hat' got his chance this season scoring 10 workhorse tries in 11 games. His only miss was in Round 19 and he had 39!
But the winner is Angus Crichton. Souths fans haven't had a lot to cheer about this season but one glimmer of hope has been the emergence of Crichton. He played all but two games this year (the first and the last) and spent much of the latter rounds with a fractured foot to finish with 17 workhorse tries.
CLOSE BUT NO CIGAR AWARD
Coming into the final round, Thomas Burgess lead the league having finished on 39 on three occasions but in Round 26 Jason Taumalolo and Manu Ma'u came through each getting 39 to draw level with the Englishman for a three way tie.
Taumalolo had 19 runs and 20 tackles while Ma'u had 20 runs and 19 tackles.
The good news is that No Cigar Club membership is down with 39 involvements registered 108 times this season compared to 113 last year. And that was shared between 81 players this season, down from 85 last year. Also, last season the winner of this award, James Tamou fell into the club five times compared to the "winners" who did it just three times.
WORKHORSE LITE AWARD
Last year saw a five way tie in this award and this year it's gotten even bigger with a record seven players finishing on exactly 40 involvements three times – that's enough for an entire forward pack minus a hooker.
Up front would be Andrew Fifita and Jared-Waerea Hargreaves. In the back row would be Trent Merrin, Joe Greenwood and Bunty Afoa. And on the bench, Reagan Campbell-Gillard and Leeson Ah Mau.
Ah Mau had the most amazing of scores when he went back to back to back with 40 involvement games in rounds 20 to 22.
MOST DOUBLE WORKHORSE TRIES
Double workhorse tries were way down on last year with just 48 double workhorse tries scored compared to 64 in 2016.
A big part of that is due to James Graham who went from scoring 10 double workhorse tries last year to just two this season. Teammate Aiden Tolman scored four, down from seven last year while Mitch Rein had none compared to the five he scored at the Dragons last year.
The stand out was Simon Mannering who had five double workhorse tries for the season and who reached the 60 involvement mark on four other occasions but didn't have the metres to go with it.
TRY / WORKHORSE TRY AWARD
Try/workhorse try combos were also down this year with just 138 this year compared to 156 in 2016.
In the end Jake Trbojevic stormed home scoring three combos in the last three weeks of the season to finish with nine try/workhorse tries for 2017.
In second place was Paul Vaughan who's had a monster year with seven combos on his way to eight tries and 19 workhorse tries.
WORKHORSE BACK OF THE YEAR
No playmaker in the NRL has had to do more work than Daly Cherry-Evans with the Manly number seven scoring two workhorse tries and making 563 tackles for the season. Despite the workload, DCE also leads the league in try assists with 22.
Admittedly, Cherry-Evans has played the most games of any of his rivals but not by much, and certainly not by a margin anywhere close to the difference in workloads.
DCE averages 23 tackles per game, Shaun Johnson averages 16, Ash Taylor averages 15, Gareth Widdop averages 11 and Anthony Milford just 10.
.
BEST PREDICTION
I'm pleased to say there were a number of players who I singled out for big things this season.
You'll recall I focussed on players at clubs and first cab off the rank was Jarrod Wallace who went from four workhorse tries to 17. Unfortunately I failed to pick him up in the draft, and the man who did, won the comp.
Paul Vaughan also had a "wow" of a year not just in terms of workhorse tries (where he went from three to 19) but right across the board including tries, line breaks and metre eaters.
Teammate Cameron McInnes was so good he became hooker of the year going from 14 workhorse tries in 2016 to 23 this year.
But my best call would have to be Nathan Brown who went from six workhorse tries to 22, made the Workhorse Pack of the Year, has lead Parramatta to finals football and took the Ken Thornett Medal for Eels best player.
His success is a ringing endorsement for detailing stats per minute. It's not a perfect methodology but by tracking his workrate at Souths it was clear that he had the workrate in him, he just needed the minutes.
Honorable mention must go to Scott Bolton who had a great season in the absence of James Tamou and Matt Scott with 20 workhorse tries.
.
WORST PREDICTION
I made a number of calls that were way off but a few of them came with conditions so they don't count. I'm not taking responsibility for players that got injured like Rory Kostjasyn or Robbie Rochow who I said would do well depending on the "big question mark over whether he'll get an opportunity at Souths". The answer is he didn't. So much so he switched to Melbourne halfway through the season and didn't get a run until Round 26.
In return for not claiming the above, I also won't take any credit for my calls on the ones to avoid – they were all gimmes and not one of them proved me wrong – Dave Taylor indeed!
But there is no escaping some of my awful calls on hole-fillers – players who I predicted would step up in the absence of departed teammates. Scott Bolton was the lone good one, the rest were rubbish.
Matt Ballin was injured so he doesn't count, nor should Jai Arrow, we all got duped on that one. But the rest, horrible. Kenny Bromwich was completely overshadowed by Felise Kaufusi, Zane Musgrove is still a year or two away, but the worst has to be saying Lewis Brown could be in for a big year. What was I thinking? He played 21 games and scored ZERO workhorse tries.
WORKHORSE PACK OF THE YEAR
8. Aiden Tolman: (25)
9. Cameron McInnes (23)
10. Nathan Brown (22)
11. Paul Gallen (24)
12. Jake Trbojevic (24)
13. Simon Mannering (26)
14. Jack De Belin (21)
15. Josh McGuire (21)
.
WORKHORSE OF THE YEAR
This year the race for Workhorse of the Year was far closer than any other with the title still up in the air going into the final match of the season.
Aiden Tolman has again finished as the bridesmaid, this time losing out to Simon Mannering.
Tolman took Workhorse of the Week honours four times, with Mannering getting the nod just twice but the Warriors back rower was up there abouts every week.
It was a thoroughly deserved win for Mannering who scored more double workhorse tries than any other player and played fewer games than Tolman and third placed Trbojevic and Gallen.
The following two tabs change content below.
Geoff Adams
Geoff Adams is the foremost authority on Workhorse Watching. A past time no one else does mind you. Get the lowdown on all things workhorse related including Stats Per Minute.
Latest posts by Geoff Adams (see all)