Well, there's no shame in being beaten by the best…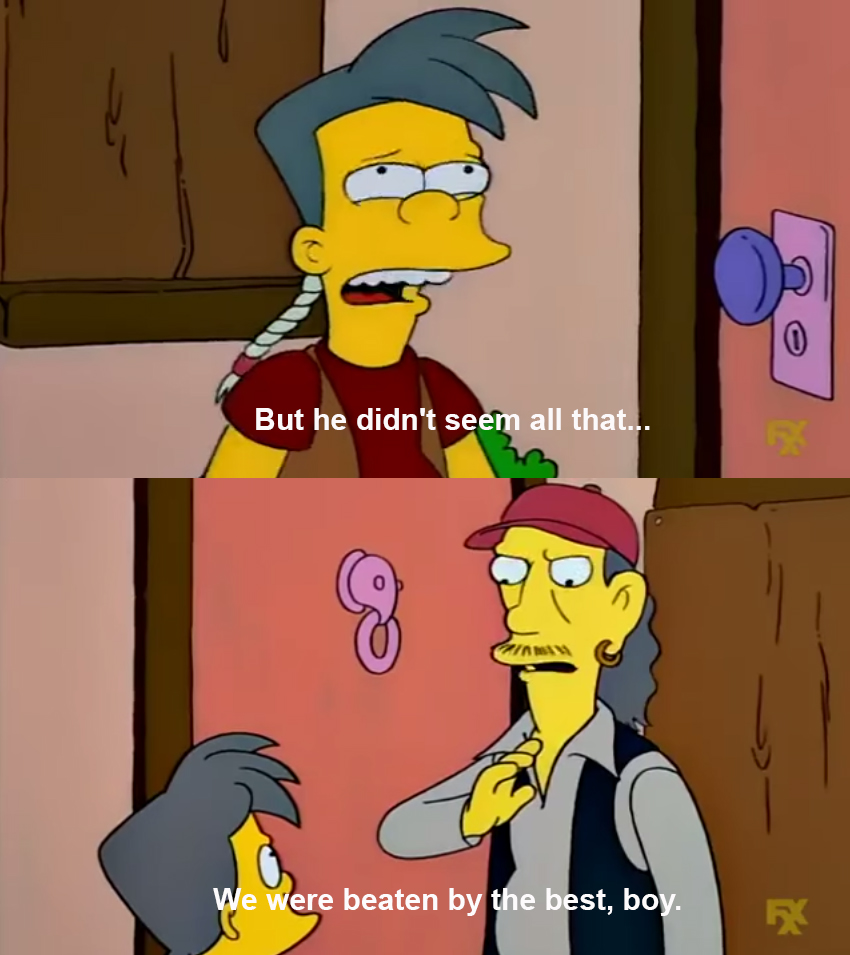 NRLCEOs were in crisis mode as coaches began screwing around with their line ups just as NRLCEO Finals were getting underway. Angus Crichton who has scored 15 workhorse tries this season was benched by Michael Maguire causing him to miss a workhorse for the first time in 5 weeks. Crichton came on after 23 minutes and played the remainder of the game but it was not enough to register any points. Cam Murray, fresh from his debut workhorse try last week was the big winner, starting in Crichton's place, playing 69 minutes and scoring his second workhorse try with 46 involvements.
Right across the board it was a terrible weekend for many of the league's top workhorses. Also in the Rabbitohs vs Bulldogs game, Sam Burgess succumbed to rib injury and left the field after 56 minutes with 32 involvements. Burgess has 18 workhorse tries for the season and the possibility that he'll be out for the season is a blow. In the same game, Josh Jackson, who has 13 workhorse tries for the season also failed  to get a workhorse despite playing the full 80 minutes.
Of the top 40 workhorse try scorers this season, 10 of them missed workhorse tries this week and that doesn't include those who were out this week through injury, suspension or form. Andrew Fifita (43 involvements) and Josh McGuire (42) were the only players to score workhorse tries in the Brisbane vs Cronulla game with fancied workhorses such as Matt Gillett (37) and Paul Gallen (32) missing out. Manu Ma'u (39), Jack De Belin (38), Jarrod Wallace(30), Ethan Lowe (26) and the benched Issac Luke (18) all sit in the top 40 and all missed out as well.
News that Jai Arrow has signed with the Titans will create a headache for NRLCEOs in keeper leagues. After a disappointing 2017 season where he's had no opportunity 2018 could finally be his breakout year. While it depends on how many keepers you allow in your league, most will think Arrow is too much of a risk to hold down a keeper spot but make no mistake, the Burleigh junior will be worth an early punt in next season's drafts. Arrow has played just 8 games this season and averaged 28.4 minutes per game but you need only look at Jarrod Wallace's output since moving back to the Gold Coast to get a gauge of what's in store for Arrow.
Workhorse of the Week:
Daniel Alvaro. Coming out of left field is Daniel Alvaro who posted a career high 65 involvements including 51 tackles against the Knights. The Eels certainly were put to work on Friday night with three players from the blue and gold making the Workhorse Pack of the Week.
WORKHORSE PACK OF THE WEEK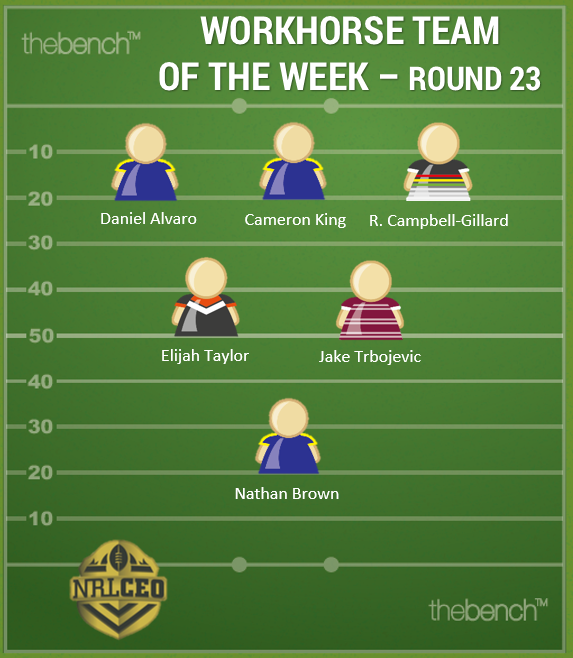 Daniel Alvaro: 51 tackles + 14 hitups = 65
Cameron King: 57 tackles + 4 hitups = 61
Reagan Campbell-Gillard: 39 tackles + 19 hitups = 58
Elijah Taylor: 51 tackles + 4 hitups = 55
Jake Trbojevic: 43 tackles + 12 hitups = 55
Nathan Brown: 52 tackles + 11 hitups = 63
14. Aiden Tolman: 41 tackles + 14 hitups = 55
15. Simon Mannering: 40 tackles + 14 hitup = 54
CLOSE BUT NO CIGAR
Manu Ma'u: 29 tackles + 10 hitups = 39
Michael Chee-Kam: 24 tackles + 15 hitups = 39
STATS PER MINUTE
.
Hard to imagine but 23 rounds into the season and we're still seeing players scoring their inaugural workhorses. Melbourne's Nelson Asofa-Solomona scored his first workhorse try ever with 40 involvements against the Roosters. Asofa-Solomona started the game and played 48 minutes (0.83 SPM), well up on the 32 minutes per game he's been averaging off the bench. The front rower has played all but one game this season but this is his first workhorse after coming close on two previous occasions when he ended up in the No Cigar Club in Rounds 4 and 18.
Shout out to Tim Mannah who played his 200th game on Friday night and while the Eels were flogged, Mannah had 41 involvements in just 37 minutes (1.11 SPM). Mannah regularly gets through a lot of work in his opening stint raising everyone's hopes on a weekly basis but can sometimes be lucky to see 10 minutes in the second half. I say, raising everyone's hopes, not me. I gave up on him a while back as I refuse to pick him and although he still sits in my squad it's only because of the dearth of front rowers in my competition.
.
I didn't see the game but I'm intrigued to go back and watch now that I see that NRL.com had Coen Hess down for 12 missed tackles. TWELVE! Champion Data had him down for six missed tackles and just enough involvements to sneak in for a workhorse try with exactly 40 involvements (0.50 SPM). Then again, with Champion Data having the Cowboys down for 47 missed tackles and NRL.com marking them down for 56, maybe I should give it a miss.
Last week I noted the impressive season of Cameron McInnes and I would've kept my mouth shut had I realised I was up against him on the weekend. The Dragons' hooker had his best game of the year notching up 18 points with a workhorse try (0.60 SPM) along with 2 tries, 2 line breaks and a line break assist. That's now 20 workhorse tries for the season with the only blemish on his record, a 38 involvement performance back in Round 9 (and he scored an actual try in that game to make up for it).
JUST QUICKLY:
I'm not a Tigers fan but I'm glad to see Benji Marshall returning to where it all began. Some will argue it's a bad move for the Tigers but if nothing else it will mean the club will always remember their greatest player fondly once he's long retired and maybe give these kind of highlights from back in the day more of a run.