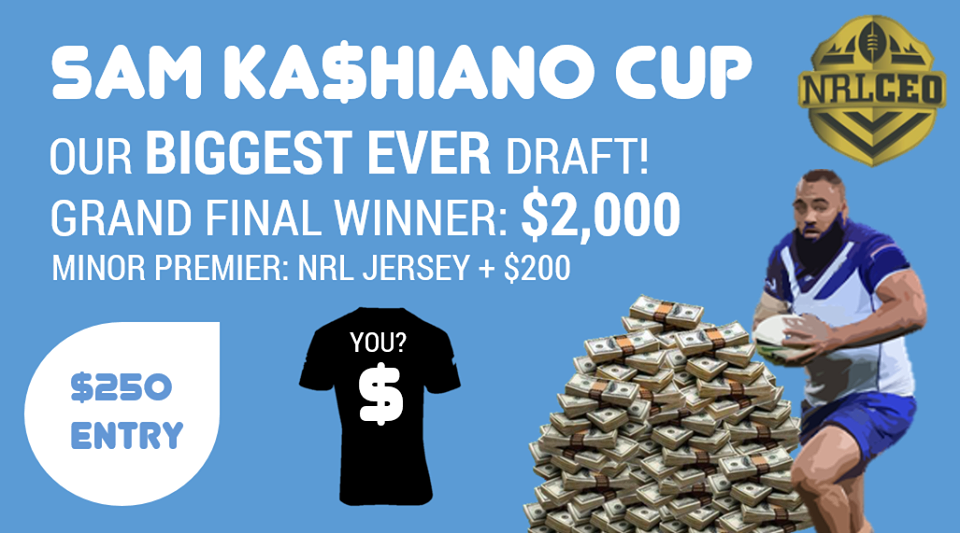 With just four rounds remaining until the finals, the high roller $am Ka$hiano is heating up!
With a whopping $2,000 going to the eventual champion, the race to make the top five finals series is still on for all 10 teams with only one team assured of a finals position.
Currently at the top of the ladder on 26 points, The LCT Conspiracy has been a tower of strength all season.  Their mantra of always being active in the FA market has seen them score consistently well throughout the season where they average 52 points per round.  However, their ability to go deep into the finals could hinge on their kicker Dylan Walker, returning as the first string Manly option.  He returned to duties briefly last week but with no alternative kicking option in FA, the LCT coach could see the money slip through his fingers at the final hurdle…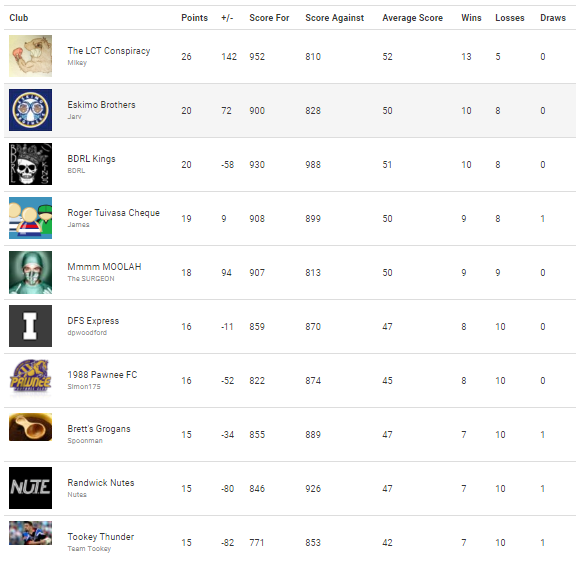 A whopping six competition points behind, Eskimo Brothers sit in second place on points differential and as you would expect, are another team who are quick to pick up a potential talent in FA. However and perhaps coincidentally with their main competitor LCT, they also have kicker issues with main man, Kerrod Holland their only option with the boots.  Despite carrying the Dog's kicker, they still average 50 ppg and require just one more win to secure a finals berth.  Once there, these guys are very capable of taking home the loot in seven week's time…
In third place, the BDRL Kings franchise belies their terrible points differential and are a team on the rise.  Carrying names like Maloney, Friend, DeBelin and Pearce sees the Kings boast more than solid players in key positions.  Given their -58 points differential, some would suggest that the Kings are lucky to be where they are on the ladder but it is no fluke when they average 51 ppg.  If the Kings can fix up their leaky defense, they are a real title chance.
Sitting just a further point back in 4th, Roger Tuivasa Cheque has thrived ever since the head coaching role was reappointed.  By having a finger constantly on the pulse in FA this franchise's team of managers has built a squad consisting of no less than four kickers – remarkable!  With names like Whitehead, James and Peats in the pack, they have developed into a genuine title contender as the season has progressed.
On 18 points and in 5th position, Mmm Moolah have been on a roller coaster ride all season.  Initially, the guns in this squad were misfiring, but a strong mid-season has seen these guys rise from last to where they are now.  Boasting the option of using one of either three kickers, Moolah is well stocked in that department.  When one views the pack of McGuire, McCullough, Gillett and Finucane complimented by French and Vunivalu in the backs, these guys could give the top four a real scare come finals time – if they make it!
Two points behind on 16 points, DFS Express and 1988 Pawnee FC are two teams that refuse to give up each week.  Although both average just mid 40's each game, they both have the fire power on their day to cause an upset.  For DFS, the key lies with skipper Cam Smith who has been ably supported by the likes of Simon Mannering.  Pawnee has overcome a rough start to the season despite possessing the rampaging Gareth Widdop. This team, featuring the likes of Gallen, Buhrer, Rapana and RTS could be a smoky for the title but they need some out of form NRL Teams to come good over the last 4 weeks of the regular season, if they are to feature in the finals…
The bottom three teams (who all sit on 15 points): Brett's Grogans, Randwick Nutes and Tookey Thunder are all still capable of making the finals although injury to a number of Tookey's key men probably means they will struggle to win the necessary 3 out of 4 games.  In what essentially indicates the closeness of this competition, both Grogans and Nutes both average 47 ppg and can pump their more fancied rivals on their day….
Overall, with only LCT having booked their place in the post season, the remaining 9 teams will now strive to cement one of the remaining four finals positions as they attempt to remain in the running for the 2k.  In a truly remarkable and intense competition, all teams can still mount a valid case for being a title contender.  There's plenty of key match ups over the next four rounds and no doubt, the chat will ramp up on the sledge page as the teams do battle on the NRLCEO fields…..