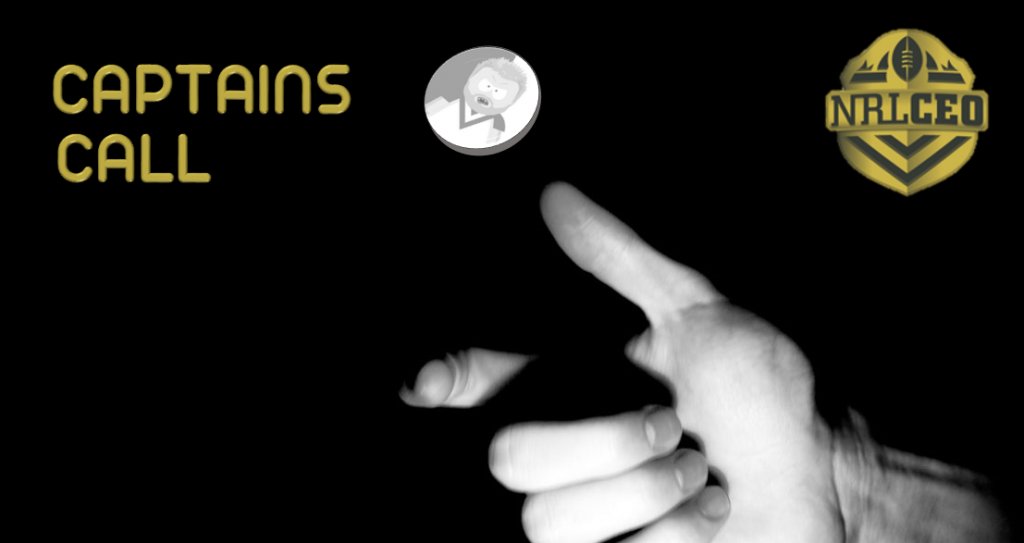 Hello all, welcome to the 11th edition of Captains Call.
Who had Blake Ferguson and named him Captain?
Anyone?
I didn't think so.
That was Ferguson's biggest individual score for over two and a half years. If you had big Sam Burgess as your Captain, you would have been pretty happy with his output as well.
Looking back at last round and what an abysmal five I picked apart from Croker.
Josh Jackson joined the Close But No Cigar Club after racking up 39 involvements. What didn't help Jackson's cause was all the stops in play due to tries or errors. Those contribute massively to a player's involvements and make even the most reliable or workhorse miss out as we saw in the Titans and Storm game.
Boyd Cordner didn't fair any better, only having 37 involvements but you have a look at the game, 58 points scored which means many stoppages, less chance for Cordner to get the involvements needed.
Suliasi Vunivalu – who would have thought in a game where a massive 74 points were score that he could only manage one try assist, two points, that's it.
Nathan Cleary didn't fair much better with only his goal kicking making him look good. Six from six with the boot I would easily take after the Panthers first half. I did see what appeared to be a try assist to Cleary for one of Isaah Yeo's tries but wasn't given by Champion Data. Can't win them all.
Jarrod Croker was the pick of them this week notching up two try assist, one line break and two line break assists on top of his three goals. Very good return for a Raiders team that looked very flat and out enthused by their bogey team in the Knights.
Last round before the byes start to take effect. Be sure to pick wisely because if you are one of those lucky unlucky ones who have a fair few Origin players you will be desperate to win this week as your wins might be very rare for a little while.
Have a look at the five I've reviewed this week and don't forget to vote or leave a message. There might be someone you think I've missed in the first 11 rounds.
Paul Vaughan (safe bet)
I can't deny this bloke anymore. He is now on the Dream Team for a reason. Vaughan has only missed two workhorse tries this year, first round where many players missed and still managed 39 involvements and round nine where he only played 32 minutes. Expect another work horse this week and against a flimsy Warriors second half defence he could cross the line again.
Sam Burgess (safe bet)
I know I've reviewed him before but coming into the last round before Origin you must start picking the best and this bloke is right up there. Burgess is starting to look very good. The advantage with Burgess is he won't be playing Origin so he can easily be your Captain every week the Rabbitohs play.
Bevan French (risk and reward)
He has been out for five weeks so expect French to come out firing. Playing against a deflated Raiders team he could be in for a field day and could be the attacking boost the Eels have been looking for.
Anthony Milford (risk and reward)
Milford has been a consistent scorer for the last six rounds and comes up against a poor Tigers team who have a few players already looking to next season and one who seems like he would go sulk in a corner if her could. On the flip side the Broncos are looking good and with Origin impending there are a few players who want to push their claim for an Origin berth including Milford. This game could get very ugly if the Tigers aren't careful.
Jordan Rapana (risk and reward)
Has been quiet of late but I can't see him being down for long. Much soul searching will be happening in the nation's capital and I can see the Raiders come out firing against the Eels. Rapana was instrumental in the Raiders win against the Eels earlier in the year and I expect the same to happen this weekend.
The following two tabs change content below.
JB
A Founder of NRLCEO. Jamie spends far more time on running the site than his own team and is therefore a perennial struggler, much the the delight of his mates. He is a former Bears, now Raiders tragic. A rangy lock who avoided running the ball at all costs, he once tackled (flopped on) John Hopoate. Web Geek by day, Web Geek by night.