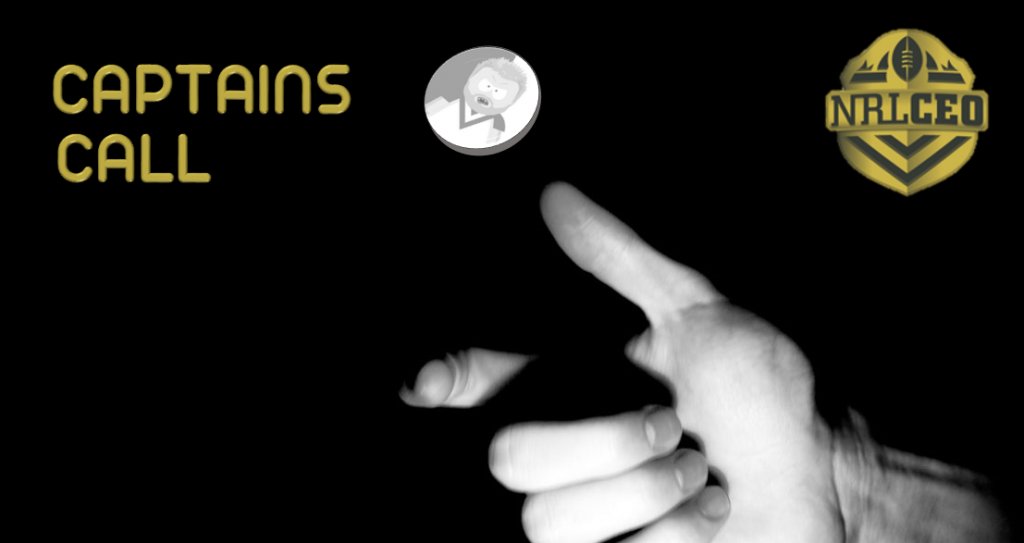 Welcome to Captains Call for Round 12 – the first bye round of the season.
It's safe to say I fared a bit better this week, managing to pick four out of five who could have captained. The only fail came from Beven French. Maybe I expected too much from him first game back from injury but don't expect a quality player like French to be down that long.
Paul Vaughan didn't let me down getting an easy workhorse on the back of 20 runs for over 200 meters which would have given him a double meter eater too if you use that scoring method.
Jordan Rapana looked like he was going to get donuts until he crossed the line late in the game. His one try and line break is a good return after his lean run of late. Could possibly be a good choice this week against a depleted Roosters side.
Sam Burgess got to play in condition he'd be used to, wet and miserable. The Englishman loved it racking up 64 involvements on his way to his second double workhorse of the season. A very valuable player this time of year. On a side note from that game, Angus Crichton also got a double workhorse with 65 involvements and it got me thinking, the last time a second rower, not including a lock managed to get a double workhorse was Manu Ma'u back in round 11, 2015. Just shows how rare it is.
The pick of the bunch was Anthony Milford, as I pointed out in my preview the game could get ugly and it did. Tigers were lucky it was a bit wet otherwise it may have been a 50 point loss. Milford orchestrated that win with a try, three try assists and two line break assists, a very good return if you named him as captain.
There won't be a Captains Call next week as I will be in Fiji, I know, poor me. If you are ever unsure about who to Captain have a look at the NRLCEO Dream Team or listen to the boys on the Tantasy Podcast who usually give a couple of good ones too.
Time to review five more for this bye round. Don't forget to vote or leave a comment below.
James Graham (safe bet)
I know Graham missed out last week but that was due to a HIA test which happened 15 minutes from time so he couldn't come back on. The only thing that stops Graham from getting a double or close to it at the moment is him coping a head knock. Against the Sharks less their Origin stars it will be a grind of a game, just the way Graham likes it.
Paul Gallen (safe bet)
With not playing Origin and the likes of Fifita and Graham on Origin duty it would not surprise me if Gallen played all 80 against the Bulldogs. If he does that you can almost guarantee he will get a double workhorse. Hasn't scored a zero this season and don't see that coming this week.
Aiden Tolman (safe bet)
The front row partner of Graham doesn't have the number of double workhorses but hasn't missed getting a workhorse this year. Again, like Graham if the game is a scrap that's where Tolman excels.
Shaun Johnson (risk and reward)
Johnson hasn't been playing very well lately but a game against a very under strength Broncos might be just what he and the Warriors need. Playing at home will be a huge advantage this week and I can see Johnson breaking his poor point scoring drought with a very decent score.
Josh Hodgson (risk and reward)
He can produce an easy workhorse and a few try assists one week and then miss out all together the next. Hodgson is starting to show some of last years' form and against a depleted Roosters side he could run riot down the middle if they aren't careful.
The following two tabs change content below.
Adam Hewat
Adam Hewat, coach of the mighty Pest Control. Playing NRLCEO has become an obsession more than a hobby. He's either ingesting as many stats as possible or carefully monitoring each play of each game. Obsessed? Maybe just a little.
Latest posts by Adam Hewat (see all)