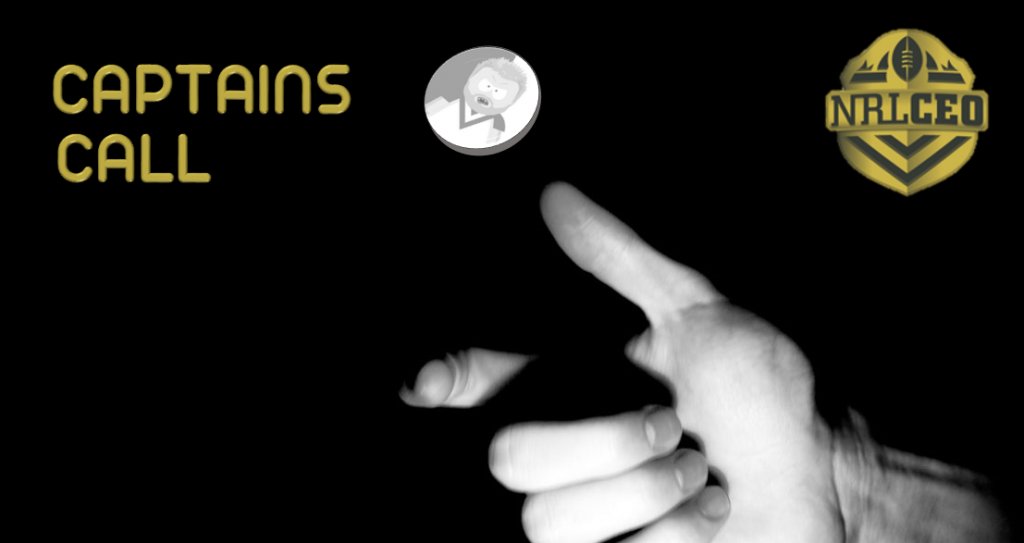 Hewie will be claiming a 60% success rate for round 12 – Tolman and Johnson were stand out success stories but he must also own the two failures as well – Hodgson and Graham didn't do the job!
Ok, so James Graham let most down for the second successive week as he continues to battle a nerve damage issue which is clearly effecting his ability to stay on the field.  NRLCEO coaches must be starting to question the MVP's value and he can't be considered the usual 'Safe Bet' until he gets a well-deserved break in Round 15.  Now might be a tactical time to trade Graham, before he breaks down completely and misses games.  He's still attractive trade bait but he may not be after this week…
Another sad story was Josh Hodgson who simply went missing in defense against the Roosters.  Sure, the game was free flowing with plenty of ball movement but playing 80 minutes in the middle should see you get to that magical 40-mark Josh!
On a positive note, James Graham's loss is Aiden Tolman's gain and his huge double workhorse was a lock with the Bulldogs carrying high impact, low minute big men on the bench. Paul Gallen also didn't let us down, although not playing 80 minutes means a double workhorse is almost out of range for the 35-year-old machine.
As predicted, Shaun Johnson murdered the Broncos, stuffing the stat's sheet with scoring contributions.  SJ was probably the most obvious captain choice of the weekend but he rarely performs like this in Australia – he's more of a flat track bully who enjoys the comfort of Mt Smart Stadium.  Don't expect an encore this week against the Eels in Oz!
This round, don't forget the Sharks and Bunnies have the bye so that rules out possible captains, Gallen, Surgess, and co.  With Origin 1 likely to be a tight, physical affair, how the Origin boys pull up is also a mystery, throwing a spanner in the quest for accurate predictions.
Having said that, here are my stand outs for Round 13 captain:
Tohu Harris (Safe Bet)
He's been back for a couple of weeks now and fresh off the bye, playing the Knights in Melbourne and being on the field for 80 minutes just wreaks of captaincy material.  Harris has an excellent work ethic and will be hitting those left edges where Sam Stone is likely to be defending.  Munster will put him through for a pie – no doubt!
Aiden Tolman (Safe Bet)
Can he keep it going – absolutely!  With Graham under a fitness cloud, someone has to make the tackles all over the field and 'The Toll' is the man.  The Dogs play a dour, no frills style game so they are always going to get plenty of tackling practice.  Against the Panthers – another team struggling to attack, watch the Toll push for another double horse…
Ryan James (Safe Bet)
The Titans enjoy playing the Cowboys and without JT, this game could become a grind up in Townsville.  Coach Henry likes to play James for big minutes when the game is tight and as we know, he loves crossing the stripe.  With the Cows still missing plenty of grunt up front, this is James' week to pull out a big one – especially considering he will be hurting from not even getting mentioned in Origin calculations for NSW…
Gareth Widdop (Risk and Reward)
The Dragons should destroy the Tigers and if fit, Widdop will be the go to man for this.  At the very least, expect a couple of try assists but if he is close to peak fitness, a 20-point haul is not out of the question.
Suliasi Vunivalu (Risk and Reward)
Hmmmm – nine tries so far, this season and taking on the 16th placed team.  Although the Knights typically man up against the Storm, only a tired Cronk and Smith will prevent a carve up in this one.  If the gun duo get through Origin 1 unscathed, that bodes well for Vunivalu and Nathan Ross is more known for his attack rather than his defense!
So, who are you picking as captain this round?
The following two tabs change content below.
Mig
Mig is a Founder of NRLCEO. Part of the original 6'some Cup he has the most NRLCEO Premierships of any user. The man who controls the emails and runs the stats, you want to get on the good side of this North Queensland based guard dog.