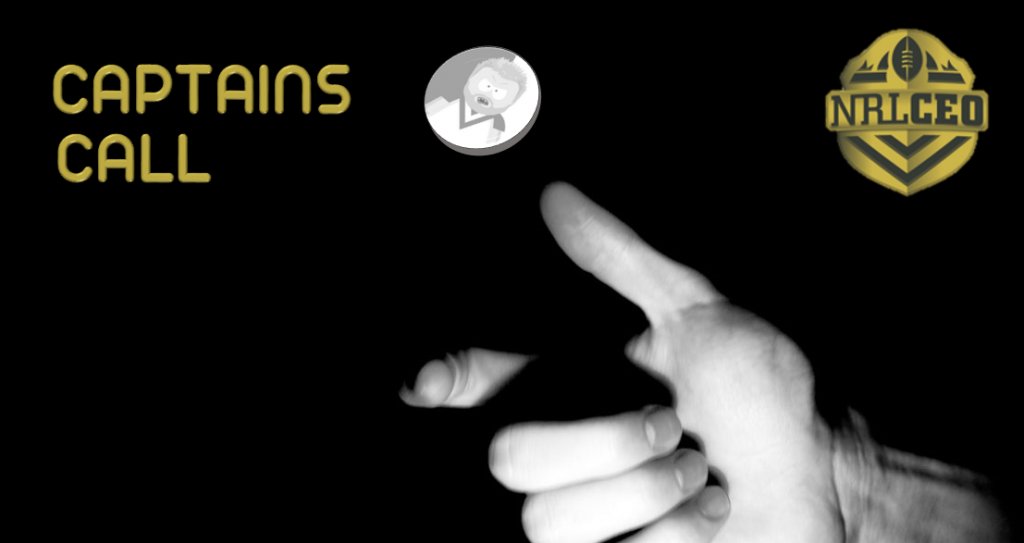 Welcome to another edition of Captains Call.
We are well and truly underway for finals in NRLCEO and very close to the end of the regular season for NRL. This has provided a few headaches for some CEO's out there who have gun players in teams not making finals who may have a niggling injury. This has resulted in shuffled line ups which can affect CEO output, none more than Angus Crichton who was relegated to the bench last week. He did come on after 23 minutes but that was enough to rule out a workhorse. He did however make a line break with his first touch and may have resulted in a try assist if his pass found the mark. Let's hope that's the last time he starts on the bench.
The biggest shock of the week came from Paul Gallen. Hasn't scored less than four all year, and then he gets a zero against the Broncos. Don't be too disheartened if you have him, only two workhorses were scored in that game.
Who would have thought the Eels would lose to the Knights and only score 10 points on the way? It was a very insipid display for the Eels which wasn't good news for Semi Radradra. He finished with a zero in a week many thought he may score at least a double.
Dylan Walker had a slightly better game but again, against the lowly Tigers you wouldn't have been mistaken for expecting more out of him. A try assist and line break assist was it, didn't look threatening all day.
The pick of the lot was Jordan Rapana with a try and line break. Again in a game where I expected a little more from him you couldn't be too disappointed with that.
So seen as how I've had a pretty dry run with picking good captain choices, I've enlisted the services of a few of my fellow Tookey Cup to pick this week. They have been playing NRLCEO for seven years now so they do know a thing or two.
Don't forget to vote or leave a comment below.
Good luck to all those in finals this week.
Simon Mannering (safe bet)
I chose this one. Mannering is a tackling machine who makes up his workhorse just in tackles. Against the Rabbitohs I can't see that changing. If you want a guaranteed eight points at least then Mannering is almost a certainty to get that.
Elliot Whitehead (safe bet)
Brenton has chosen Whitehead, not only because he is a Raiders fan but because he is one of the most consistent player this year. Since round five he has averaged about five and a half points. On top of that he has now moved into the middle of the park which should guarantee enough involvements for a workhorse.
Billy Slater (risk and reward)
Adam has picked Billy Slater, not only because he has him but because he has been in great for this season. Once Slater found his feet again he has looked the most dangerous out of any fullback in the game. Up against the resurgent Knights you could expect Slater to be in the thick of it again. Knights have been playing better and did hold the Eels to only 10 points on the weekend but it will be interesting to see if they can hold out the Storm.
Mitchell Moses (risk and reward)
Ciaran has chosen Moses as he is a massive Eels fan but also you'd expect Moses and the Eels to bounce back in a big way against the chaotic Titans. He has been arguably the form five eight of the comp for the last month or so and against a Titans team that's leaking points for fun he could seriously run amok.
The Roosters Halves (risk and reward)
Adam had another go and picked one or the other so I put both up. It is unlikely that both with fire but you'd expect one too. After a bruising game against the Storm last week and wanting to cement a top four spot the Rooster will come out firing. They almost have a full strength team back which is danger signs for other teams and although Tigers beat Manly last week, Tigers still leaked some points.