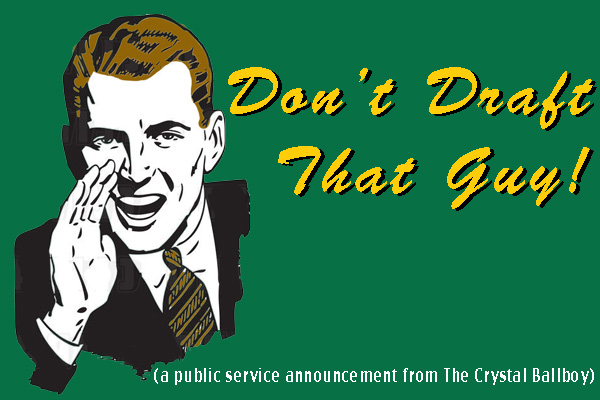 Well it's a new season, and for everyone who didn't win their respective competitions last year, I'm certain you're hoping for a new team.
Players have moved clubs, moved on from the game, or moved one step closer to jail and/or the loony bin. This means players who were highly valued last year, may not be so desirable this year – especially if they have had some extra curricular canine activities.
So without any further ado (or in-depth study, because lets face it a Crystal Steeden and a Magic 8 ball is all you need to make season predictions for NRLCEO!) here is The Crystal Ballboy's list of who not to draft for 2016.
MITCHELL PEARCE
Avoid him because: Anyone who drafts Mitch this pre-season has either been living overseas without internet access, or is gunning for the spoon.
Recruit him only if: you think he'll be cut by the Roosters and recruited by a crappier team desperate for a half. It's a big (and probably stupid) gamble.
CHRIS LAWRENCE
Avoid him because: Several years ago Chris burst onto the NRL scene and was a solid fantasy centre. Over the last few years the Tigers have been on the decline, and so has Lawrence being pushed into the forwards where he no longer scores the tries he used to, nor is he getting through enough work to score a workhorse try.
Recruit him only if: all the other starting forwards, AND the quality bench players have been taken.
TONY WILLIAMS
Avoid him because: Similarly to Lawrence, Williams WAS a good player, but hasn't been good (fantasy wise) for some time – if ever. These days, T-Rex is more likely to do something dumb and get sent to the bin than to score any points for your NRLCEO team. Seriously, avoid like the plague.
Recruit him only if: you need to fill some gaps over the Origin period.
While he was injured for part of 2015, in the 17 games he did manage to play, he scored ZERO tries, and ZERO workhorse tries.
JOHN SUTTON
Avoid him because: He's not Souths' best five-eight, and he's not their best back rower, but somehow John Sutton is still the Rabbits' team captain, and starts ahead of, what this Ballboy considers, more talented players. Throughout 2015 Sutto managed 2 tries and 2 workhorse tries, and that just doesn't cut the mustard.
Recruit him only if: he is starting at five-eight.
His try assist, and line break assist stats aren't bad, and he could be good for a few points.
BILLY SLATER
Avoid him because: Cameron Munster played way more games last year, and was far more impressive than Slater has been for a few years. It's time for Billy to pass the torch, but not before he has at least one more year in the purple #1 jersey.
Expect Slater to start at fullback for the first half of the season (health pending), and expect Munster to step up as soon as he goes down with injury or called into the Queensland Origin side. Additionally, if Slater is 50/50, you can almost guarantee coach Bellamy will crank this song, and rest his star.
Recruit him only if: you have already recruited another fullback.
Preferably Munster. If you can snag Munster AND Slater – you're golden. If you have Slater in a keeper league, see what you can get for him in a trade with one of the less informed teams in your league.
BEN CREAGH
Avoid him because: Unlike John Sutton who plays ahead of better players, this team Captain does so from the bench – or is at least expected to throughout 2016 by most experts. Ben Creagh started as a winger, spent some time in the centres, peaked (as far as fantasy football goes) in the back row, filled in at prop, and now looks forward to retirement from the Dragons bench.
Recruit him only if: you think he'll be named in the starting 13.
He has the workrate to get a workhorse try, but from the bench, he may not have the minutes.
MATT BALLIN
Avoid him because: I feel dirty for telling people not to recruit Ballin as he has been an absolute stalwart in the NRLCEO ranks, and he is a quality player. I don't want to remind Tigers fans of their teams' current turmoil, so I'll just say that it looks like coach Taylor has begrudgingly given Farah the number 9 jersey – at least for now. Which means poor Matty B will be suiting up in the NSW Cup, or at best, on the first grade bench.
Recruit him only if: you get wind of Robbie signing elsewhere.
Or if it looks like Ennis isn't gonna play Origin.
EDIT: So I may have jumped the gun here. I started writing this article before Farah and Ballin both went down with knee injuries. It seems like Manaia Cherrington has pulled a Bradbury and skated on into the hooking role for round 1. Either way – avoid Ballin.
ALI LAUITITI
Avoid him because: Throughout his career, Lauititi has scored 33 tries for the Warriors. The problem is – he hasn't played for the Warriors since 2004. This will be his EIGHTEENTH season in top grade football, returning to the NRL after 11 years in the English Super League. IF he makes the first grade team, don't expect a high workrate from this second row senior citizen.
Recruit him only if: don't.
Just don't. There's no good reason to pick Ali Lauititi. Not even over origin if there's a ton of injuries at the Warriors. He'll just be the next on their injury list.
ANTHONY WATMOUGH
Avoid him because: Choc is getting old, and his body is starting to go. He has picked up knee and shoulder injuries that will keep him out until at least round 2, and with young bucks Manu Ma'u and Tepai Moeroa gunning for starting spots, Watmough could be reduced to an impact bench player, or be sent to Wenty.
Recruit him only if: you think there's still some fight in the old dog yet.
And there very well could be, so don't completely disregard Watmough, but don't recruit him with any great expectations.
GREG EASTWOOD
Avoid him because: Lets look at Greg's 2015: 2 tries, 1 workhorse, 2 linebreaks, 1 linebreak assist. And that's from 22 games, which averages out at 0.681 points per game. Do you REALLY think that there aren't better scoring players out there?
Recruit him only if: you've lost a bet.
Or if you're a dyed in the wool Bulldogs fan and the remaining options are just as tragic. Even with the increased minutes forwards are expected to get, it's hard to see Eastwood making a NRLCEO impact.
I realise that this piece has leaned fairly heavily on the forwards, so to even things up, I'll make some suggestions on which backs to avoid unless there's no one else.
The Titans.
The Crystal Ballboy lined up in the centres a few times throughout his U/16's career, and with all the injuries and lack of quality threequarters on the Coast, I am half expecting a phone call from Graham Annesley.
Spoiler alert – I am rubbish. And so is the rest of the Titan's options. Steer clear unless ALL the other good players are taken.
The Bulldogs
This is an absolute speculator – but I think Hopoate and Perrett's best days are behind them.
Should you recruit them? Absolutely, if they're still on the board after round 7 or so, why not take a gamble. But my Crystal Steeden tells me that Canterbury Bankstown may be blooding some young pups in their backline midway through the 2016 season.
The Warriors
Manu Vatuvei is getting older, and should finally start to show some signs of slowing down, and it might be time to fumble the high ball on to someone else. The Nines and their preseason matches have shown that there's plenty of quick talent (that is also questionable under a bomb) ready to step into the Beast's shoes.
Manu is still a fan favourite and should start the season on the wing, so there's no reason not to recruit him – but don't expect him to hold down the spot for the whole year.
The Dragons
It's not that there aren't players who wont play or wont play well in the St George Illawarra backline, but those players seem likely to be reshuffled from week to week. Will Dugan play centre of fullback? Where will Mann play? Will Aitken start?
These questions and more will be asked before the Dragons settle on a combination – and it will be longer still before they can find a winning combination.
The Raiders
It's the time of year that experts pull out a coin to flip, seeing wether or not the Green Machine will make an impact into the season.
My coin says that the Raiders' patchwork backline actually has some NRLCEO value this year – but I encourage you to flip your own coin.
The Broncos
Injury will be the only thing hampering the Broncos' season this year. It has already made a dent on Lachlan Maranta who isn't expected to return until round 7. Jack Reed appears to be on the outer also.
Don't bank on Brisbane's backs to carry you through 2016, and just because someone isn't in their top 18 in round 1, it doesn't mean that they wont be by round 26.
The Panthers
Speaking of injuries, few teams seem to have copped it as bad as Penrith over the last few seasons. I have no idea what's happening out west, but it's messing up their team.
If they can stay injury free, there's no reason why they cant make a run at the top 4. But are they likely to stay injury free? The Crystal Steeden says no.
There you have it virtual sportsfans! Let me know if you think I'm completely wrong at crystalballboy@gmail.com or on Twitter @CrystalBallboy