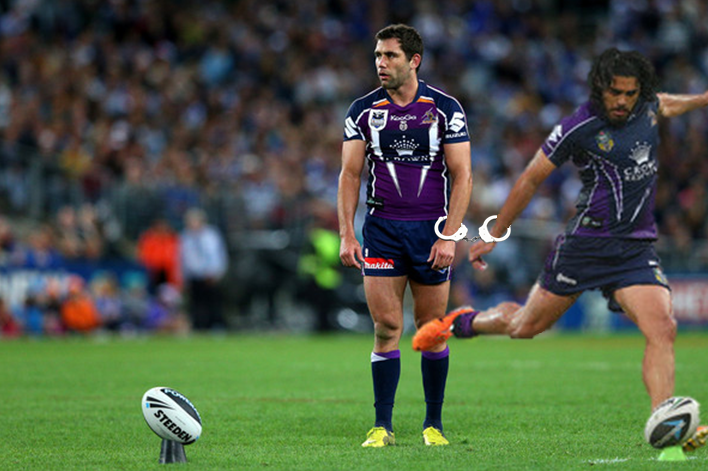 Managing your kicking position is an important aspect of your NRLCEO draft.  Standard leagues limit you to 10 kicking points (KP) – giving you room for only one primary kicker.  This means that you need to make sure you are either carrying their backup or are prepared to drop them should they miss time through injury or representative duties.
Kicker points for each player are identified by the $ value next to their club name on the player lists. Keep an eye on your total during the draft to make sure you can fit potential players into your team.

Below is a breakdown of each team and their kicking options to help with your draft preparation.
Brisbane Broncos
First choice kicker: Corey Parker (6 KP)
Back up kicker: Jordan Kahu (2 KP)
Corey Parker averaged only 62 minutes per game in 2015 and will turn 34 mid way through the season.  It is painful to watch the Broncos score tries and your kicker off the field, not getting your NRLCEO team points.  Parker is no longer a strong kicking option, but is still likely to miss time to Origin.  If you take Parker make sure you pickup Kahu for the minimum three weeks he will miss.
Canberra Raiders
First choice kicker: Jarrod Croker (8 KP)
Back up kicker:  Aidan Sezer (2 KP)
Croker was the second most valuable NRLCEO kicker last year with 94 goals.  He is durable and NRLCEO coaches will benefit from him being too scrawny to ever get picked for Origin.  Sezer is the greatest backup kicker the NRL has ever seen, and a decent player in his own right.  But with Croker firmly entrenched you can afford to roll the dice without Sezer if a better halfback is still on the board. 
Canterbury Bulldogs
First choice kiker: Moses Mbye (6 KP)
Back up kicker: Tim Browne (0 KP)
If you pick up Moses Mbye as your goalkicker I can't help you. He's proven to be fairly wild so far, but the Dogs do score fairly well. On the back up bench is the greatest sight in rugby league. A prop who kicks goals! Fairly useless in NRLCEO value otherwise so no real reason to have him unless Mbye goes down with a season ending injury. 
Cronulla Sharks
First choice kicker: James Maloney (7 KP)
Back up kicker: Valentine Holmes (1 KP)
Maloney was the best NRLCEO goalkicker last year as well as a prolific scorer at the five eighth position.  He will be in the frame for Origin selection this year and having his backup is almost essential.  The fact Holmes is a decent tryscorer in his own right is just gravy.
Gold Coast Titans
First choice kicker: Tyrone Roberts (6 KP)
Back up kicker: Dan Mortimer (1 KP)
Ty-Rob is a boom or bust player kicking goals for the early favourites for the wooden spoon.  He might be a reasonable pickup as a kicker mid season if your primary goes down with an injury.  Dan Mortimer might have value in his own rights as a dual-position player, but as a backup kicker for such a woeful team there is no point in drafting him as a kicking option.
Manly Sea Eagles
First choice kicker: Jamie Lyon (7 KP)
Back up kickers: Dylan Walker (0 KP) or Feleti Mateo (0 KP)
Jamie Lyon is aging and coming off a season where he missed time to injury.  Having his backup is almost a necessity, but picking the backup might be harder.  Mateo was five from five last year but might struggle for minutes in a loaded Manly squad in 2016.  It is possible Walker, a career 2/3 goalkicker and 80 minute player in the Manly backline takes over as Lyon's backup this year. 
Melbourne Storm
First choice kicker: Cameron Smith (7 KP)
Back up kicker: Tohu Harris (1 KP)
Smith will miss games due to Origin and perhaps more due to being 33 years old.  He is coming off one of his best years as a goalkicker, but if you pick Smith up in 2016 make sure you also get Harris, a workhorse capable backrower in his own right.
Newcastle Knights
First choicer kicker: Trent Hodkinson (6 KP)
Back up kicker: Dane Gagai (0 KP)
Hodkinson is the incumbent Blues halfback and a reasonable chance of missing games due to Origin.  He doesn't score points freely and lacks the creativity as a halfback to create tries for his team (and therefore goal opportunities for himself).  However if you go down the path of drafting Hodkinson into your NRLCEO squad it might be worth taking a flyer on Gagai as his backup for 2016.
North Queensland Cowboys
First choice kicker: Johnathan Thurston (9 KP)
Back up kicker: Ethan Lowe (1 KP)
Thurston is an NRLCEO god.  If you get first pick in your draft, you take him.  He will also miss time due to Origin and there is always the threat of him being rested in late round games after the Cowboys have already secured a Top-4 finish.  This means you MUST have Lowe in your squad ready to step up if necessary.
New Zealand Warriors
First choice kicker: Shaun Johnson (7 KP)

Back up kicker: Tuimoala Lolohea (1 KP)
Johnson has missed several games due to injury in four out of five of his NRL seasons.  If you draft him for your fantasy team I'd strongly recommend taking Lolohea to save you when the injury bug strikes to save dropping Johnson to the free agency pool to pickup another kicker. 
Parramatta Eels
First choicer kicker: Michael Gordon (6 KP)
Back up kicker: Kieran Foran (0 KP)
Outside of injury plagued 2011/12 campaigns Gordon has been a consistent member of his first grade teams.  There are no noted backup kickers on the roster, and with Gordon unlikely to miss time I wouldn't be overly concerned about drafting Foran into my team.
Penrith Panthers
First choice kicker: Jamie Soward (6 KP) or Matt Moylan (1 KP)
Picking the right Panthers kicker could be an exercise in futility before the trials.  Moylan only carries one kicking point on TheBench, and is worth a flyer on any team, but picking up Soward is a risky move.  I'd only look at him in a late round if you've already drafted Moylan as your primary fullback and are stuck with a choice between him and Mitchell Moses.
St George Illawarra Dragons
First choicer kicker: Gareth Widdop (6 KP)
Backup kicker: Benji Marshall (1 KP)
Widdop is durable but most importantly English.  A representative quality player who won't miss time for rep games is a great pickup for any NRLCEO squad.  Marshall is a solid choice as a backup given his ability to score points in his own right as a halfback.
South Sydney Rabbitohs
First choice kicker: Adam Reynolds (8 KP)
Back up kicker: Bryson Goodwin (1 KP)
Reynolds is fairly durable and after last year unlikely to gain Origin selection.  As a kicker he is highly accurate, but after a disappointing season last year the Rabbitohs are a tough team to peg.  I am not keen on him as a first choice kicker, but you could do far worse.  Barring an unexpected injury I don't expect Goodwin to get many shots at goal this year, but if Reynolds is your number 1 option you could do far worse than taking Goodwin in a late round.
Sydney Roosters
First choice kicker: Jackson Hastings (6 KP)
Back up kicker: Blake Ferguson (0 KP)
You want to sell me the goalkicker for the three time minor premiers on a late round pick?  Really?  Sounds too good to be true and it is.  With Maloney, RTS, and Jennings having moved on and Pearce and Cordner due for long stints on the sideline the Roosters won't be good for many points this year.  With Hastings young, not in contention for a rep jumper and likely to be the #1 half for a long period there is little reason to worry about Ferguson in your squad for his kicking duties, but he is a good pick in his own right anyway. Siosiua Teukeiaho also kicked for the Jets in NSW Cup last year and I'd love to see another goal kicking forward, but it's a long shot.
Wests Tigers
First choice kicker: Mitchell Moses (5 KP) or Justin Hunt (0 KP)
Rumours are swirling that Justin Hunt may be the first choice kicker over Mitch Moses.  This gives Hunt the 'Moylan Bonus' of being a possible first-choice kicker without the burden of kicking points on TheBench.  I'd leave Moses and his five kicking points alone based on his useless point scoring ability otherwise, but Hunt as a free kicker is intriguing.