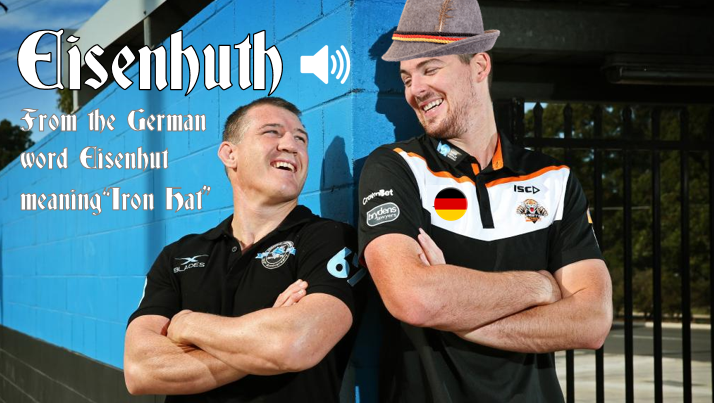 Eisenhuth is German for Iron Hat and the Tigers forward showed plenty of strength in his opening three weeks but finds himself in the No Cigar Club this week. The Germans have an expression for that
"Knapp daneben ist auch vorbei."
Translation: Coming close is also missing it.
It concludes the best start to a workhorse's career in living memory with no other forward beginning their career with three straight workhorse tries. Usually forwards have a slow start, making their top grade debut off the bench before working their way into the side and becoming established workhorses. But Matt Eisenhuth has proven he's got just as much ticker as his cousin Paul Gallen and while his run of consecutive workhorses may have ended hopefully there more to come – or as the Germans say,
"Alles hat ein Ende, nur die Wurst hat zwei."
Translation: Everything has an end, only the sausage has two.
Elliott Whitehead had a similar start to his NRL career with the Raiders forward scoring three workhorses in a row when he started back in Round 1 2015. He then missed two workhorses but then went on another 14 in a row to total 21 for the season. Of course Whitehead did have 177 Super League games under his belt and was an English representative by the time he donned the lime green. Whitehead got back amongst the workhorse tries on the weekend with 41 involvements against the Dragons after missing out in Round 17.
Mitch Barnett kind of comes into calculations if you discount his two games for the Raiders in 2015 (which we're not although it should be noted that Barnett is actually younger than Eisenhuth, a player who has spent several years injured and in the lower grades). After moving to the Knights, Barnett went on a tear, scoring nine straight workhorses to finish the 2016 season. On Saturday he scored his 12th workhorse try of this season and had his best running game, clocking up a season high 126 metres. Similarly, Ethan Lowe played two games off the bench in 2013 and didn't play first grade again Round 11 2014, where he went on a five game workhorse run.
Jayden Brailey is the obvious choice for Workhorse Rookie of the Year with nine workhorse tries for the season including three in his first four weeks. However there have been six weeks where he's missed out, so on strike rate the balance falls back to Eisenhuth. If the Tigers' forward can get back on track and score a workhorse every week between now and the end of the season, he'll draw level with Brailey and strengthen his claim on the title, depending whether the Sharks hooker makes it back from a broken jaw and can add to his tally.
Workhorse of the Week:
Paul Gallen had a personal season high of 74 involvements as the Sharks were pasted by the Titans in torrential conditions on Saturday night. I've been critical in the past when Gallen has hogged so much of the pill but Saturday's game played on what resembled more of a pond than a field, were the exact conditions his style of play calls for. Unfortunately none of his teammates caught on.
WORKHORSE PACK OF THE WEEK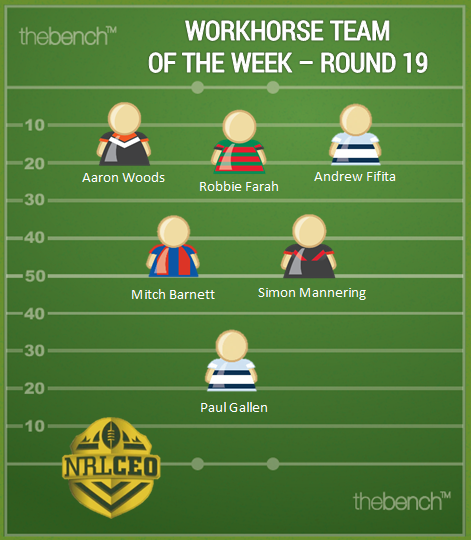 Aaron Woods: 38 tackles + 20 hitups = 58

Robbie Farah: 46 tackles + 6 hitups = 52

Andrew Fifita: 37 tackles + 14 hitups = 51

Mitch Barnett: 43 tackles + 14 hitups = 57

Simon Mannering: 53 tackles + 12 hitups = 65

Paul Gallen: 52 tackles + 22 hitups = 74
14. Cameron McInnes: 68 tackles + 2 hitups = 70
15. Jack De Belin: 43 tackles + 14 hitup = 57
CLOSE BUT NO CIGAR
Wade Graham: 26 tackles + 13 hitups = 39
Martin Taupau: 19 tackles + 20 hitups = 39
Sam Lisone: 32 tackles + 7 hitups = 39
Tom Burgess: 26 tackles + 13 hitups = 39
Matt Eisenhuth: 30 tackles + 9 hitups = 39
STATS PER MINUTE
Congratulations to Josh King who scored the first workhorse try of his career, accruing exactly 40 involvements against the Broncos. The Knights forward played 50 minutes (0.80 SPM), well up on the 37 minutes he's been averaging so far this season. At 21 years of age, King is very young to be starting prop, then again, coach Nathan Brown has little choice but to bring these players through.
Congratulations also goes to Jai Arrow who scored his first workhorse try of the season in the same game. It's been a miserable year for those who were hoping Arrow would be the next big thing, with the Broncos backrower playing just seven games this season and averaging just 24.5 minutes per game. On Saturday Arrow played 51 minutes after getting called into the run on team and finished with 42 involvements (0.82 SPM) and 154 metres gained.
It didn't do much for the NRL result but NRLCEOs boasting Robbie Farah were happy to see the Rabbitohs rake secure his first double workhorse try of the season. Farah played the full game and had 52 involvements (0.65 SPM). His 80 minutes came at the expense of Damien Cook who was dropped by coach Michael Maguire prior to kick off and left NRLCEOs seething. Coming in at the expense of Cook was rookie Cameron Murray who had 17 involvements in 25 minutes (0.68 SPM) – not a bad effort for a guy who, according to the picture and link in his NRLCEO bio, is usually playing sixth or seventh tier soccer in England!
Normal service resumed over at the Sea Eagles on Sunday with the team only scoring three workhorse tries against the Tigers, the team that normally concedes the most amount of any team. Well done to Shaun Lane who managed to not only hold down his place in the Manly back row but also score another workhorse try with 42 involvements in 80 minutes (0.53 SPM). Once Jake Trbojevic returned (0.61 SPM) I assumed that at the very least Lane's numbers might drop below the 40 mark but with Trbojevic only playing 66 minutes there was enough work for Lane to get his second workhorse of the season. Trbojevic usually plays upwards of 75 minutes a game so Lane might still feel the pinch in coming weeks but for now, those who took a punt on him are feeling pretty chuffed.
JUST QUICKLY:
My thanks to the Commissioner, Jamie B for his data gathering efforts this week. We'll make a workhorse watcher out of you yet!