They say to be the best you've got to learn from the best so we have pulled together the collective heads of the best public league NRLCEO players to run you through their thinking during the recent Champions League draft.
Ten fantasy fanatics. Ten man competition.
It's a stressful snake draft but hopefully you can get an understanding of how your draft might roll out in terms of trends and learn from their successes and mistakes.
| | | |
| --- | --- | --- |
| Pick | NRLCEO Team | Player |
| 1 | Team Enormous | Jarrod Croker |
| 2 | Happy Trails | Sam Burgess |
| 3 | Bundy Bears | James Graham |
| 4 | Incredible Miracles | Ryan James |
| 5 | Hell Boy | Cameron Smith |
| 6 | Dentites | Jonathan Thurston |
| 7 | Injury Brigade | Nathan Peats |
| 8 | Gurus | Nathan Cleary |
| 9 | Cook's Crushers | Anthony Milford |
| 10 | Soup-a-Stars | James Maloney |
Draft Round 1
Pick #1 – Jarrod Croker
First pick – thank you!!! For me it was an easy choice – I just had to have Jarrod Croker. Numerous factors led me to Croker as number 1 pick.  He is a proven point scoring machine with both tries and goals, and the Raider's attack is firing –  I couldn't see that changing this season too much. Last year's Champion's League also taught me a few lessons, one being, you have to have an elite goal kicker. Having Jamie Lyon last season, potentially cost me the Grand Final so I wasn't getting stuck again like that!
(Note: the draft happened before Croker's injury)
Pick #2 – Sam Burgess
I utilised the number 2 pick in the draft to take the English inspiration Sam Burgess. Burgess is a genuine attacking forward option who has the potential to push for a double workhorse whilst also being an attacking weapon.  I just wanted a forward first up with attacking capabilities and Burgess is a great all round package.
Pick #3 – James Graham
I had the 3rd pick and for me it came down to who went at 1 and 2. I had two players in mind – Jarrod Croker and James Graham. Croker going first was no surprise – he'll have another quality season. The bonus for me came with Sam Burgess going second, so it was really a "No Brainer" to select James Graham – he is the best forward in NRLCEO and will be close to a double workhorse each week – he'll be my captain more often than not!
Pick #4 – Ryan James
24 workhorses, 11 tries, 10 line breaks – need I say more? Ryan James is a bona fide stud and will cherish the opportunity to lead my squad to victory in 2017. A genuine workhorse that mixes subtle playmaking around the ruck, I am expecting an even better performance from him this season.  Disclosure:  Unlike other teams, this pick was 100% my own decision and not influenced/consulted with friends or family (looking directly at you, Soup-a-Stars)
Pick #5 – Cam Smith
I decided to go Cam Smith at pick five. This man needs no introduction and like clockwork he will score 100+ points a season. Smith is a great captain option – he kicks goals (in the most consistent team in the comp), plays in a top four team and is more than likely going to play 20+ games. Smith ticked all the boxes and he almost guarantees me a spot in the finals…
Pick #6 – Johnathan Thurston
They say a champion team needs a champion player, so I couldn't believe my luck when Jonathan Thurston was still available at pick six. You need a strong kicker in this comp – and JT is like a fine wine, only getting better with age!  I was obviously keen to get a good kicker in a strong team and JT was the obvious choice for me – go the Cowboys!
Pick #7 – Nathan Peats
The default setting of the autopick in NRLCEO is 'activated' and with players high on my preference list (Graham, Burgess and James) being taken quickly, Nathan Peats was my first round pick – bugger!  I would have loved Tolman instead, but the draft had progressed too far to warrant a gentleman's change – what a rookie error!  Nevertheless, Peats was my first choice hooker and if he can get his 80 minutes like he did with the Eels in 2015, he has showed he has the ability to hit double workhorses frequently!
Pick #8 – Nathan Cleary
With 8th pick, I was in two minds with big forwards as well as three top notch kickers predictably going early (Peats being drafted just before my pick was a surprise and a bonus).  There were still a couple of really good front row options on the market and I was very tempted to get McGuire but in a 10 team comp, I really wanted a quality kicker.  In drafting Nathan Cleary first up, I was banking on two things:  a) a rare, good quality front rower would still be available in four picks time and b) the Panthers have a good season – if they do, Cleary will be heavily involved and win me games off his boot alone….
Pick #9 – Anthony Milford
There were two main considerations I had to make here – premier forwards and kickers were already taken and what position could I strategically pick to get a jump on the others.  I chose to think outside the square and looked to a prolific scorer in a shallow depth position which would hopefully provide my team with a point source that most other teams will struggle in.  Anthony Milford fit that brief – he is the best non kicking five-eighth in the competition so I took a punt on him knowing my next pick wasn't far away…
Pick #10 – James Maloney
Defending champion, last pick – what a gee up!!  That being said, have two picks in a row is not too bad at this stage of the draft. I was thinking prop / hooker combination initially but thought I'd better lock down a decent kicker instead, given the trend of the other coaches.  Knowing that I had a torturous 18 pick wait before it was my turn again, I went with James Maloney as first pick – he's solid and in terms of accuracy – when he gets a kick, it's great knowing that he'll nail it 90% of the time.
Draft Round 2
| | | |
| --- | --- | --- |
| Pick | NRLCEO Team | Player |
| 11 | Soup-a-stars | Josh McGuire |
| 12 | Cook's Crushers | Michael Lichaa |
| 13 | Gurus | Aiden Tolman |
| 14 | Injury Brigade | Jake Trbojevic |
| 15 | Dentites | Jesse Bromwich |
| 16 | Hell Boy | Andrew Fifita |
| 17 | Incredible Miracles | Jake Friend |
| 18 | Bundy Bears | Aaron Woods |
| 19 | Happy Trails | Josh Hodgson |
| 20 | Team Enormous | Andrew McCullough |
Pick #11 – Josh McGuire
After taking a kicker first up, I followed immediately by draft a front rower in Josh McGuire. McGuire was important selection for me as:
a) he was one of few quality props available because of the position recruitment trend at the time
b) he has genuine double workhorse and captaincy potential
c) he should achieve a dual-position in the first month if he plays at lock like many anticipate.
This will give me some sweet cover and flexibility in my pack – perfect for when injuries inevitably strike…
Pick #12 – Michael Lichaa
Pick #13 – Aiden Tolman
This was an easy round two pick for me – bankable front rowers are like hen's teeth and Aiden Tolman was the best on offer.  I probably would have taken Josh McGuire but he went two picks earlier.  I did have some second thoughts considering my next pick was a long way away but in the end sanity prevailed and as it turned out, a massive forward run followed as others started to panic!
Pick #14 – Jake Trbojevic
With all the top echelon props taken, I went searching for a core back rower that could deliver in both attack and defence. Jake Trbojevic fitted that bill and with two double workhorses last season and Manly forward stocks in disarray, I figured Jake should see plenty of work!  I'm banking on him scoring more tries this season too and a positional upgrade would be nice but not likely…
Pick #15 – Jesse Bromwich
I was hoping that Tolman would sneak through to my pick but he didn't make it so I went with Jesse Bromwich.  I chose him ahead of Fifita and Woods primarily because they both play origin and Bromwich doesn't – those few extra games could prove invaluable in a tight comp.  Bromwich is a solid worker but Bellamy takes him off when the game is won – I need him to play big minutes…
Pick #16 – Andrew Fifita
As long as Andrew Fifita doesn't stuff up off the field, he's a solid pick on the field. The sheer amount of meat pies this bloke scores as a prop means I simply could not pass him up. Although he did play Origin last year he isn't guaranteed a place this year so maybe he will pull his head in and play good quality minutes for me this season at the Sharks.
Pick #17 – Jake Friend
Pick #18 – Aaron Woods
With James Graham as my rock, my plan for Round 2 was secure another quality forward. Being a Raiders fan, my heart said Josh Hodgson but my head said Aaron Woods.  Woods being captain swayed my thinking as I really feel he will play big minutes – jagging a few double workhorses. The Tigers are pretty ordinary up front which hopefully means more minutes – especially after the Origin period.
Pick #19 – Josh Hodgson
Pick #20 – Andrew McCullough
With such a huge gap between picks, I had to basically decide what positions I felt were essential and take the best player left in that position.  I seriously had a think about taking a couple of back rowers but in the end I felt with no front row stars left, hooker was the next best option. Despite being a little bit down on previous seasons, McCullough is a worker who sneaks over for the occasional try – he was the best option in his position.
Draft Round 3
| | | |
| --- | --- | --- |
| Pick | NRLCEO Team | Player |
| 21 | Team Enormous | James Tedesco |
| 22 | Happy Trails | Simon Mannering |
| 23 | Bundy Bears | Cameron McInnes |
| 24 | Incredible Miracles | Trent Merrin |
| 25 | Hell Boy | Boyd Cordner |
| 26 | Dentites | Ethan Lowe |
| 27 | Injury Brigade | Jarryd Hayne |
| 28 | Gurus | Tohu Harris |
| 29 | Cook's Crushers | Matt Gillett |
| 30 | Soup-a-stars | Paul Gallen |
Pick # 21 – James Tedesco
Fullbacks are never high priority targets in the draft but this year the list of quality custodians seemed a little thin.  The obvious option was James Tedesco who not only scores plenty but sets them up as well with his lightning speed.  Tedesco who give my side two genuine strike weapons (Croker) – both are potential match winners in their own right.  I had a long think about this pick though because it was obvious that the other coaches were targeting forwards.  I knew I would have to be content with a lower quality group of backrowers to select from in 18 picks time but I was comfortable with that…
Pick #22 – Simon Mannering
Pick #23 – Cameron McInnes
My gamble on taking Woods the previous round somewhat backfired when my two top hooker preferences (Hodgson and McCullough) went at the back end of Round 2.  I thought briefly about revising my target to a backrower but there was still plenty of quality available so I took a gamble on Cameron McInnes.  McInnes intrigued me and reminds me of a Kevin Kingston type player – he was decent at Souths last year, 14 workhorses in 19 games – he should get the bulk of the minutes at the Dragons and was a better option than Farah.
Pick #24  – Trent Merrin
Pick #25 – Boyd Cordner
With my pack taking shape (Smith, Fifita) I went another proven workhorse/try scorer in Boyd Cordner – the best hole hitting back rower in the game. Cordner will play big minutes with the added responsibility of being Rooster co-captain as well.  I was a little hesitant to pick up Cordner at the last minute though, because that gave me three Origin players.  I definitely needed to revise my plan of attack so I didn't suffer too much during the SOO period for my next few picks…
Pick #26 – Ethan Lowe
Forwards were flying off the free market at this stage and although there's a tonne of good back rowers to choose from, I went with Ethan Lowe.  He's a quality worker and with Thurston in my squad, I love the idea of those two players combining to score me some big points.  Being a Broncos fan, I considered the razor (Gillett) but he plays Origin and the Broncos have a plethora of forwards to take minutes off him.
Pick #27 – Jarryd Hayne
With all the big forwards gone, I had my sights set on dangerous fullback, James Tedesco.  However, I figured he was unlikely to last until my pick and this was the case when he was snapped up straight away in Round 3.  I decided to take a bit of a risk and went with Jarryd Hayne. The 'Hayne Plane' has the history and with a full off season behind him, I am banking this pick on him taking off again…
Pick #28 – Tohu Harris
I'd seen many good players (mostly forwards) disappear off the market since my last pick.  To be competitive in this competition, you really need to have about 20+ points coming from your pack so I went looking for a working try sneak – Burgess is the best in this style of player.  Again, this was an easy pick for me in Tohu Harris.  He fitted the scope nicely – plays 80 minutes every week and combines a healthy work ethic with the odd try.  Tohu is a personal favourite too so when in a conundrum, I tend to favour players I like to watch!
Pick #29 – Matt Gillett
Pick #30 – Paul Gallen
A lot of good quality forwards vanished in the hooker and backrow positions since my last pick. I started to regret not picking a quality hooker earlier (Hodgson, Friend, McCullough), but I convinced myself that a good kicker should get me more points week in week out. I decided to jump on the position recruitment run of back rowers at this time. I was tossing up between Jack De Belin and Paul Gallen but ended up settling on the Shark's skipper. I thought Gal had better double workhorse potential and maybe, his work rate will increase slightly given it's his last season.  Given his age, it's a risky pick but he's not playing Origin this year…
Want more stats? Download our 2017 NRLCEO Season Guide which includes a list of the Top 100 players overall and all the 2014-2016 stats from each squad's Top 25.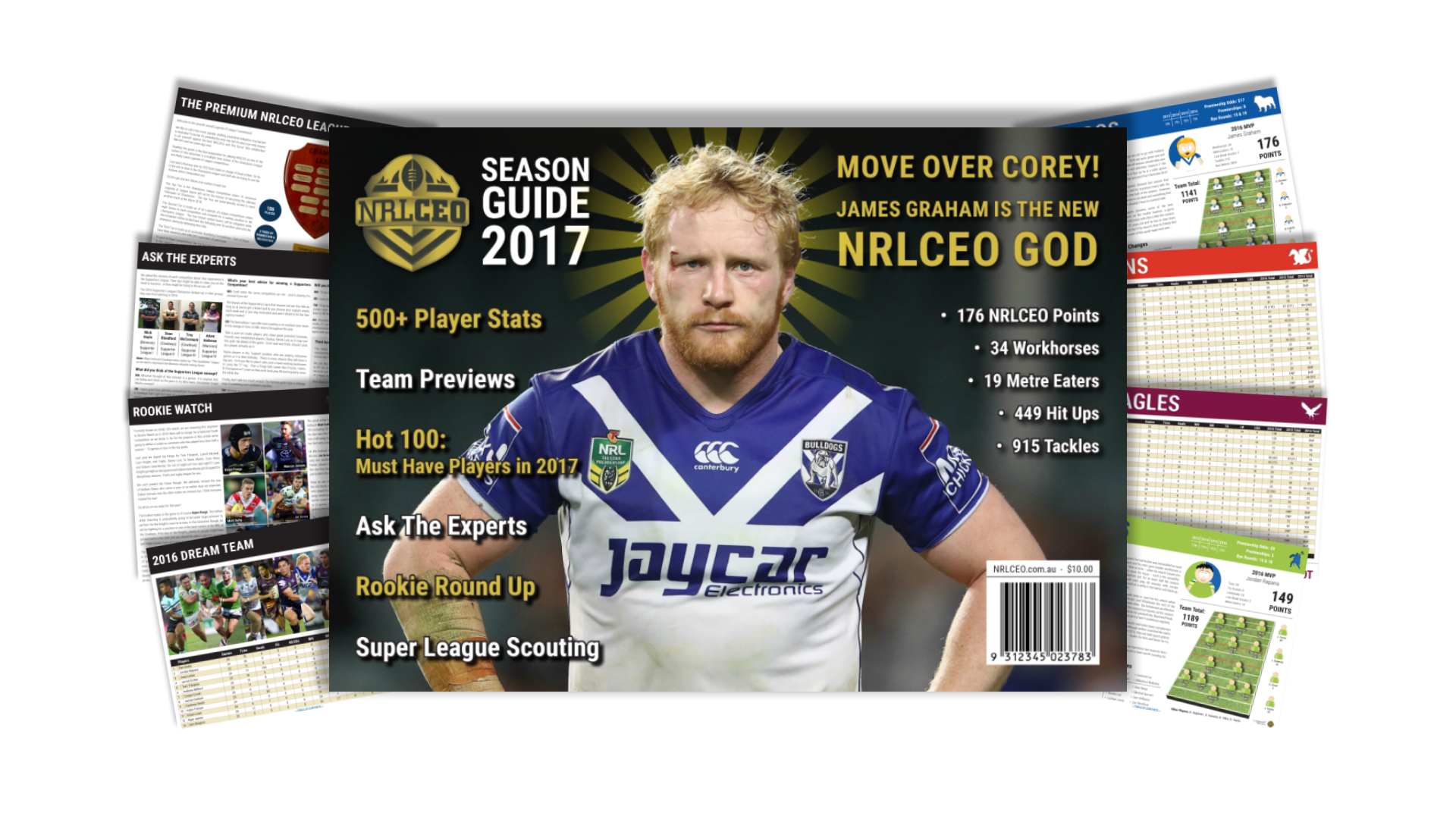 The following two tabs change content below.
Mig
Mig is a Founder of NRLCEO. Part of the original 6'some Cup he has the most NRLCEO Premierships of any user. The man who controls the emails and runs the stats, you want to get on the good side of this North Queensland based guard dog.