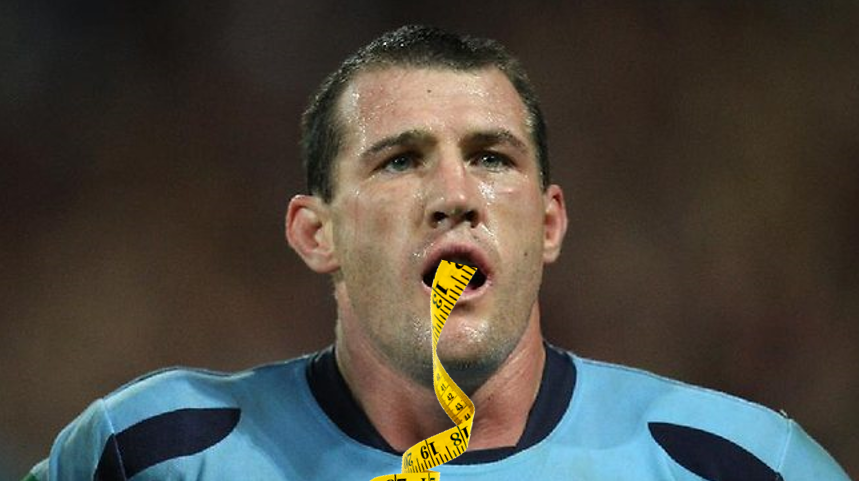 We have implemented a new scoring option on NRLCEO for the first time in 2016. It's called the "metre eater" and it's there to help boost the value of the hard working runners in the NRL.
We know that different positions have varied opportunities to make more runs so we have used different requirements for each position.
So how can a player get a Metre Eater?
Metre Eaters:
Fullbacks: 150+ metres run
Wingers: 150+ metres run
Centres: 100+ metres run
Five-Eighths: 100+ metres run
Halfbacks: 100+ metres run
Front Rowers: 150+ metres run
Hookers: 100+ metres run
Back Rowers: 150+ metres run
Double Metre Eaters:
All positions: 200+ metres run
You can customise the metre eater to whatever points your competition wants to use. But as a guide we recommend each metre eater to be worth two points. So the new rule would have been worth an extra 80 points to RTS last year! Taking his total of 92 points to a mammoth 172 points which would have seen him become the highest scoring NRLCEO player in the game ahead of Semi Radradra (170), James Tedesco (158) and Paul Gallen (151).
Taking a look at the statistics it's pretty easy to see who the big winners will be for this new scoring option: fullbacks, wingers and front rowers. Hence why we have split the requirements for each position so that each different type of player and position have a chance to hit the mark with this new requirement.
Roger Tuivasa-Sheck is head and shoulders above the rest of the field when it comes to metre eaters. His metre returns are incredible. He had some games where he returned over 300 metres! So if you are going to use the new rule, then his selection is a must.
Paul Gallen is already gold on NRLCEO but under this new scoring option he has become much more valuable! Gal racked up 200m on a weekly basis which meant he qualified for the full double metre eater regularly. His metre eating will make him extremely valuable.
Aaron Woods and Ben Matulino each scored very well based on last year's stats as well with 23 and 22 metre eater efforts respectively. Both will keep the same role this year and you can expect much of the same again this year.
Coming in as a rookie last year Cameron Munster quickly established himself in the Storm line-up at fullback, but with Billy Slater returning he will go back to the centres and struggle for the same metre returns.
As you creep down the rest of the list you notice a bit more of a mixture of positions but it is dominated by front rowers who take the kickoff returns and full backs and wingers who take the kick returns.
It isn't until you get down to 19th position that you see Simon Mannering, Anthony Milford and Boyd Cordner in different positions to the trends.
We're always interested to hear what you guys think about our new improvements. Is the metre eater what you want? Or are there still tweaks we need to make to perfect it?
Want to read more about the Metre Eater?
The Moneyball Podcast boys are all for the new rule and talk about the positives in their latest podcast. Download it on iTunes or listen below:
Geoff Adams, the Workhorse Watcher, hates change and argues "Why the Metre Eater needs to be scrapped!"
Want to know the exact stats?
For a full run down on all the players who scored Metre Eaters in 2015 make sure you check out our 2016 NRLCEO Season Guide.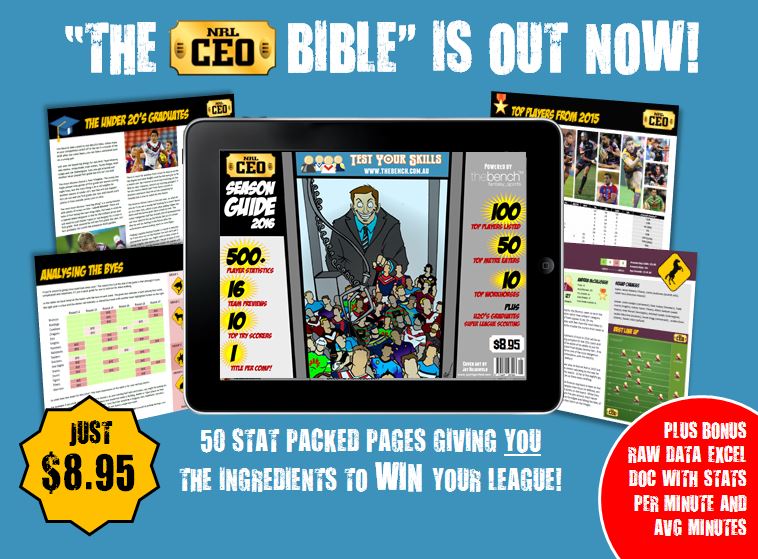 Sold? How do you add it to your competition?
As with most things on TheBench, this scoring type is optional. The first thing you need to do if you want to change any of your scoring options is go to your League Settings.
Click the drop down tab at the top right of your screen and click the third option from the top which should read (Your Competition Name) Settings.
To get to the League Settings, click Edit League (the third option in the left hand side menu column). You should then be presented with the screen below. To edit the scoring click Edit Positions and Scoring.

Then you can edit the scoring of a metre eater for each position as you like by clicking the Edit icon next to each position as required.
Lastly you need to add the formula to the scoring. The first thing to do is click $metreEater below the scoring expression text box which will insert it into that players scoring expression. If you want the Metre Eater to be worth one point you can stop there. If you want it to be worth two points or more then add 2* in front of the $ dollar sign.
Important – if you are using the Metre Eater scoring this year you must also use the double metre eater. You cannot pick one or the other.  If you wish to reduce the value of the Metre Eater you can make a single worth 0.5 points and a double worth 1 point. It will round up to 1 point anyway.
Email us at

[email protected]

if you have any more questions.
The following two tabs change content below.
JB
A Founder of NRLCEO. Jamie spends far more time on running the site than his own team and is therefore a perennial struggler, much the the delight of his mates. He is a former Bears, now Raiders tragic. A rangy lock who avoided running the ball at all costs, he once tackled (flopped on) John Hopoate. Web Geek by day, Web Geek by night.