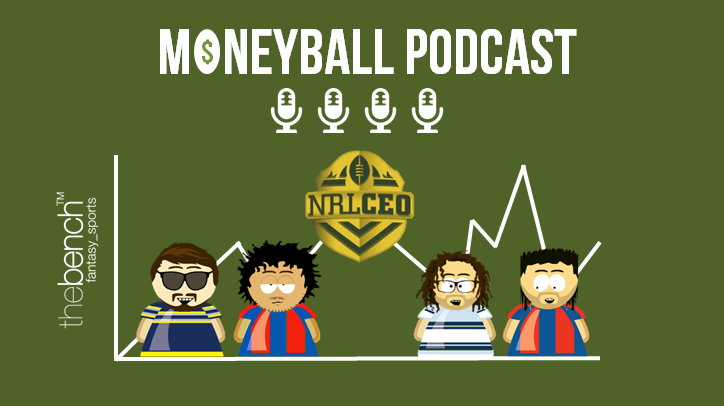 A few weeks ago the Moneyball Podcast boys decided that we would release our own fantasy teams based on our personalities.
Each week one of us will reveal our teams and at the end of the season we are going to tally up the points they score on NRLCEO to see who is the overall winner.
We are allowed to trade players between teams but we both need to agree and we need to justify it.
Interested to hear your comments as you listen along the way listeners.
Red Eye Renegades – Stoner XIII
Jack Bird (48)

Jorge Taufua (47)
Konrad Hurrell (75)
Clint Gutherson (84)
Nathan Ross (78)
Cody Walker (107)
Corey Norman (c) (57)
Russell Packer (35)
Nathan Peats (63)
Ben Matulino (44)
Manu Ma'u (69)
Bodene Thompson (89)
Martin Taupau (73)
Coach: Ted Smith
TOTAL: 869
Handsome Cool Kids XIII
Roger Tuivasa-Sheck (c) (114)

Josh Mansour (42)

Josh Hoffman (26)

Joseph Manu (39)

Valentine Holmes (73)

Connor Watson (28)

Nathan Cleary (85)

Brenton Lawrence (26)

James Segeyaro (13)

Korbin Sims (37)

Elliott Whitehead (118)

Bunty Afoa (41)

Joe Tapine (30)
Coach: Jackson "Jacko" Russell
TOTAL: 672
Marcho Men – Boring XIII
Will Hopate (68)
Blake Ayshford (c) (45)
Cheyse Blair (49)
Kane Linnett (45)
Jason Nightingale (105)
Blake Green (51)
Trent Hodkinson (29)
Jeremy Latimore (0)
Matt McIllwrick (37)
Jason Clark (13)
Mitch Aubusson (63)
Isaah Yeo (53)
Simon Mannering (143)
Coach: Will "Marcho" Marchinton
TOTAL: 701
Angry XIII
Billy Slater (102)
Jordan Rapana (143)
Joey Leilua (90)
Dylan Walker (111)
David Nofoaluma (85)
Josh Reynolds (35)
John Asiata (17)
Jared Waerea-Hargraeves (99)
Issac Luke (72)
James Graham (c) (82)
Josh McGuire (114)
David Klemmer (68)
Nathan Brown (116)
Coach: Rhys "Narmi" Langley
TOTAL: 1,134
Disrespectful XII
Jarryd Hayne (60)
Blake Ferguson (85)
James Roberts (120)
Tim Simona (c) (0)
Josh Dugan (48)
Bryce Cartwright (9)
Te Maire Martin (40)
Martin Kennedy (0)
Robbie Farah (74)
Andrew Fifita (102)
Nate Myles (1)
Sam Thaiday (29)
Paul Gallen (159)
Coach: Rhys "Narmi" Langley
TOTAL: 727
The following two tabs change content below.
Ted Smith
Ted Smith is a freelance publisher at Fox Sports. A veteran CEO, he has invested a sad amount of time playing NRLCEO since 2009. Ted hosts the highly acclaimed Moneyball Podcast. A Novocastrian, Ted played a bunch of rep during his junior days and played Test matches and International 9's for the Filipino national team between 2012-2016.
Latest posts by Ted Smith (see all)