We are half way through the season now and so we can start to see trends. At the beginning of the year I identified who I thought would be some of the top rookies to keep an eye out for this year. Only two of the players who I wrote about have kicked on to anything substantial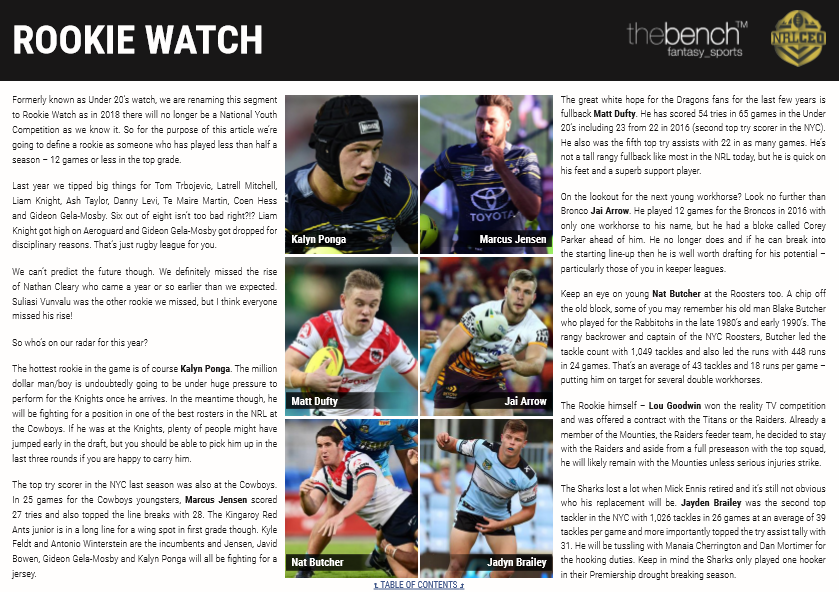 Those of you in keeper leagues will be keen to keep an eye on the names which appear in the Rookie XIII so far at the half way point of the season.
For this article, a rookie is defined as any player who played less than six games in the 2016 NRL season.
1. Kalyn Ponga
27 NRLCEO points
It doesn't take a genius to figure out that this kid is going to be a superstar. You just need to listen to Ted wax lyrical about him on the Moneyball Podcast each week. The most disappointing thing is that we haven't seen more of him in the top grade. The Cowboys have kept him out of the top grade for over half the games so far but in six games he has still managed to amass 27 NRLCEO points through three tries, a try assist, six line breaks, three line break assists and two metre eaters. An average of four points per games puts him in elite company.
2. Nick Cotric
33 NRLCEO points
It's so hard to believe that Cotric is still only 18 years old. At the beginning of the year we thought he was stuck behind Jordan Rapana, Edrick Lee, Kato Ottio and a host of other talent in the backs at the Raiders. Then we heard from the Raiders Media Manager and fellow CEO Ben Pollack that he drafted him in Round 8 of his draft. It was clear from those in the know that he was going to be great. He's played every game of first grade this year and while his return is just six tries so far, it's his tackle busting ability that has every raving about him. With the ability to play centre and fullback as well he is a lock in the Raiders for the next ten years.
3. Brian Kelly
49 NRLCEO points
I picked this guy up just before Round 1 on a rumour that he was going to snaffle a starting spot and possibly kick for the Sea Eagles and am very glad I did. Sure, he's not kicking goals but centres are hard to pick and he's right up there with the best this year playing in every game for the Eagles and being just one point short of a half century at the half way mark. It's been a real all round performance with five tries, four try assists, six line breaks, three line break assists and six metre eaters.
4. Moses Suli
35 NRLCEO points
The Tigers centre didn't escape the media attention early in the year no thanks to the $1,300,000 contract he signed over three years before he made his first grade debut. He scored a try on debut, scored for Samoa in the mid-season test and has a whopping nine metre eaters already. Great work for a young centre/winger making his mark on the NRL.
5. Charnze Nicoll-Klokstad
22 NRLCEO points
A YouTube sensation from New Zealand. We've seen plenty of those before, but this kid looks to have class. From a rugby league perspective anyway – that hair is atrocious. Four tries in four games including two doubles is nothing to sneeze about though. Add in a couple of line breaks and two metre eaters and he's already averaging more than four points per game.
6. Brock Lamb
30 NRLCEO points
Brock Lamb played three games early on in the season last year but then wasn't seen in the top grade again. I remember seeing a few U20's games on Fox Sports though and Lamb was a cut above the rest. Two tries in 12 games so far is good but seven try assists is where he has really thrived. He looks a very solid option for the Knights into the future as they build a squad of youngsters.
7. Matt Frawley
15 NRLCEO points
Rookies should not have beards as solid as Matt Frawley. I'm also not a fan of watching a player cut from the Raiders system and then kicking on to bigger and better things. My first impression of Frawley was that he was a solid organising half, but he's also shown that he's got a pretty good turn of pace and a good running game too.  With 16 NRLCEO points from nine games so far it's an unspectacular fantasy return, but he looks like he could retain the halves spot for now.
8. Bunty Afoa
8 NRLCEO points
I had a good look at Bunty Afoa last year. After scoring two workhorses in 2016 in just four games I felt like he would go on to even bigger and better things this year. Throw in a dual position status for him and he looks even better. Sadly he hasn't been much better from an NRLCEO perspective with just two workhorses so far this year, but he's still the best performing rookie prop.
9. Jayden Brailey
41 NRLCEO points
Young Brailey was one rookie I had my eye on from the start. I knew he had the potential to be class but he's certainly exceeded my expectations – particularly as a young workhorse. He has eight workhorse in 12 appearances for the Sharks so far. The biggest hurdle for him to kick on as an NRLCEO player is James Segeyaro. In the four games he has missed a workhorse, two were when Segeyaro started off the bench. Averaging 40 tackles a game is a fantastic start for a rookie and makes him the third highest scoring rookie this year.
10. Morgan Boyle
6 NRLCEO points
Known as "The Big Cheese" due to his upbringing in dairy country, NSW, Boyle has made a smash impact on the NRL for the Titans. He hasn't made a huge impact on NRLCEO scoring as yet with just one workhorse and a metre eater so far, but we know that props take a few years to make a real impact on NRLCEO, but he is one to watch for the future.
11. Coen Hess
50 NRLCEO points
Coen Hess just sneaks into our rookie qualifications having played five games in first grade in 2016. He also snuck in a game in 2015, but he's made his biggest break onto the scene this year. With nine tries in twelve games, seven line breaks and two workhorses, he has been the most exciting NRLCEO rookie to watch – hands down. He surely won't be able to keep up this try scoring ratio but ten tries in your first full season in the top grade is a superb return.
12. Sam Stone
26 NRLCEO points
Sam Stone has always wanted to be a Knight. Even after they sacked his old man and former Knights coach Rick. At just 19 and 194cm, he is tall timber but still looks too slender to be a force in defence. Despite that frame he has racked up four workhorses in ten games and is averaging 27 tackles per game. He's also crossed for two handy tries showing that he knows how to run a good line too.
13. Corey Harawira-Naera
35 NRLCEO points
I can honestly say I hadn't heard any hype about CHN before he made his debut in Round 4. In just eight first grade games he has already shown that he is a super replacement for James Fisher-Harris. Four tries, two work horses, a try assist, line break assist and seven line breaks later and he has already locked up 35 NRLCEO points. They may come in inconsistent bursts, but if you picked him up from the spud pool then he has well and truly given your team value already.
Who has been your NRLCEO rookie of the year so far? Let me know in the comments below.
The following two tabs change content below.
JB
A Founder of NRLCEO. Jamie spends far more time on running the site than his own team and is therefore a perennial struggler, much the the delight of his mates. He is a former Bears, now Raiders tragic. A rangy lock who avoided running the ball at all costs, he once tackled (flopped on) John Hopoate. Web Geek by day, Web Geek by night.