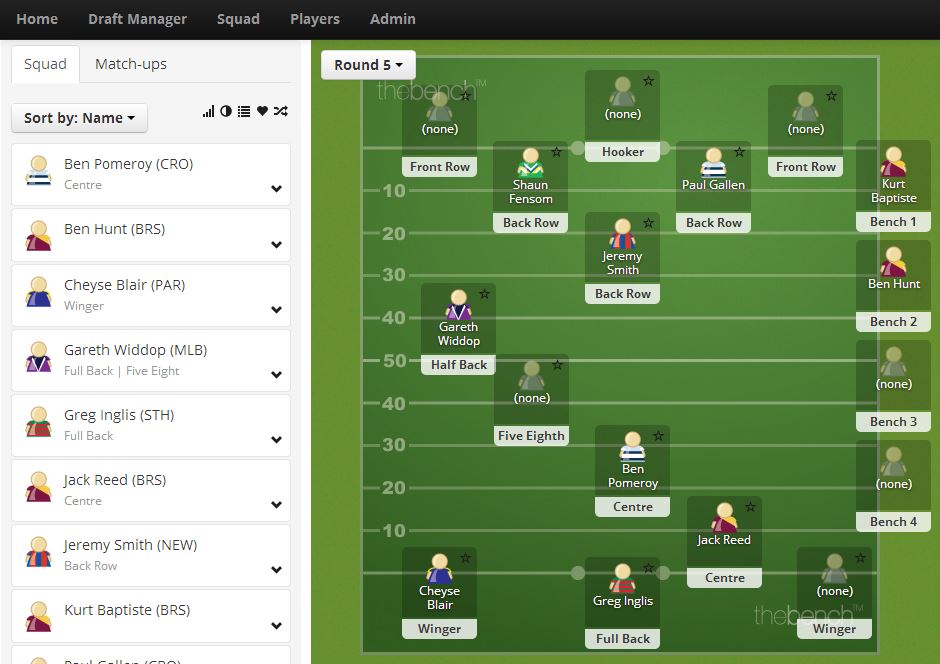 Warning! NRLCEO is the most addictive fantasy rugby league game you have ever played.
The reason our game is so much more addictive than other games is simple; the draft and our scoring system.
The preseason live draft allows for you and your friends to join and competition and create a unique team.  Unlike the regular versions of Supercoach and NRL Fantasy, if you decide that you want Corey Parker or Cam Smith, he's yours!  No one else can have him in their team and that means that when he succeeds on the field, you are the only one that is cheering because you are the only one who benefits from his success. You can complete a draft over a few weeks or it can be all over and done with in under an hour. It's up to you.
Secondly, our scoring system makes each week like a real life NRL game.  Instead of a game finishing 742 to 643 points against your mates, our game makes Monday Nights great!  Imagine sitting there watching Monday Night Footy, knowing that you are only 7 points down and you have three players to come against your opponents zero.  Just two tries, or a try and a workhorse will take you to victory.  Now that is excitement!  Depending on the point scoring options you choose, our scoring ranges from 30-70 points each week on average; a much more manageable score.
Some of the features of our game include a Rolling Lockout, Waiver Wire and an iPhone App.
Our game platform on TheBench is the most customisable fantasy rugby league game around, and better yet it also looks great too!  So if this little introduction is enough to get you interested, I suggest you head on over to www.TheBench.com.au and sign up to play today.
Get your mates involved and you will never watch a rugby league game in the same way again.
The following two tabs change content below.
JB
A Founder of NRLCEO. Jamie spends far more time on running the site than his own team and is therefore a perennial struggler, much the the delight of his mates. He is a former Bears, now Raiders tragic. A rangy lock who avoided running the ball at all costs, he once tackled (flopped on) John Hopoate. Web Geek by day, Web Geek by night.