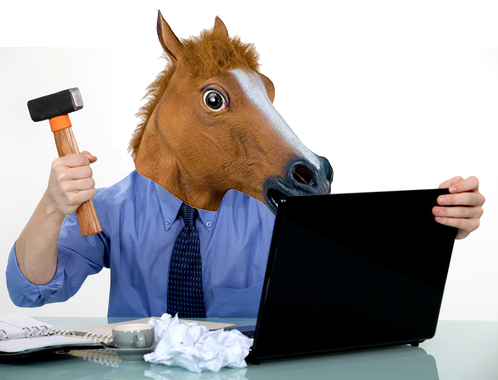 When the Close But No Cigar Club was first started, it was a bit of fun. Oh look at these guys that have just missed out. Well it's no longer a bit of fun. It's down right frustrating. Especially when you include players at the expense of guys like Robbie Farah who ended up having his biggest round of the year. In Round 9 there were ten players in the Close But No Cigar Club and this week there were nine! This is getting ridiculous.
It is often said that players returning to club football from representative duties come back as better players with rep footy providing a boost in confidence if nothing else. Considering the disdain many have for City vs Country that line of thinking may not apply, but there was plenty of evidence to the contrary over the weekend. James Tamou (40 involvements) scored his first workhorse try since Round 6, Curtis Sironen (43) scored his first since Round 5 and Daniel Alvaro (44) broke a workhorse drought dating back to Round 4. Dale Finucane had his best performance since Round 6 and although the Dragons didn't get the win against Cronulla, Paul Vaughan, Jack De Belin and Cameron McInnes all scored workhorse tries despite having to back up five days later. Meanwhile the Bulldogs and Raiders who refused to partake in the City/Country match got beaten by the Thurston-less Cowboys and the Knights respectively. Imagine if they hadn't had a rest the week before!
Just four players remain in the race to be NRLCEO's most consistent workhorse. Felise Kaufusi fell two involvements short of a workhorse bringing an end to his 9 game streak of consecutive four pointers. Players still yet to play a game this year without missing a workhorse are Broncos forward Josh McGuire (12 workhorses), teammate Andrew McCullough (11), Bulldogs' trojan Aiden Tolman (11) and the Cowboys' Scott Bolton (10).
Workhorse of the Week:
Apisai Koroisau. Koroisau was the only forward to post a double workhorse try this week although Sam Burgess did score two tries to go with his workhorse.
WORKHORSE PACK OF THE WEEK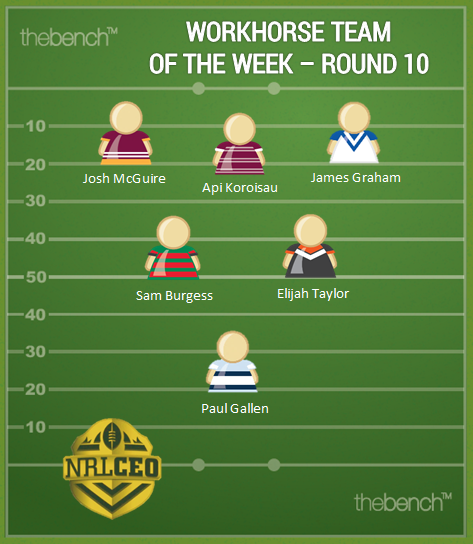 Josh McGuire: 35 tackles + 21 hitups = 56

Apisai Koroisau: 52 tackles + 7 hitups = 59

James Graham: 33 tackles + 18 hitups = 52

Sam Burgess: 35 tackles + 19 hitups = 54

Elijah Taylor: 61 tackles + 6 hitups = 67

Paul Gallen: 42 tackles + 17 hitups = 59
14. Josh Hodgson: 53 tackles + 5 hitups = 58
15. Shannon Boyd: 43 tackles + 8 hitup = 51
CLOSE BUT NO CIGAR
Another massive week in the Close But No Cigar Club.
Adam Elliott: 30 tackles + 9 hitups = 39
Josh Jackson: 31 tackles + 8 hitups = 39
Jayden Brailey: 38 tackles + 1 hitups = 39
Cam Smith: 34 tackles + 5 hitups = 39
Gavin Cooper: 30 tackles + 9 hitups = 39
Jason Taumalolo: 27 tackles + 12 hitups = 39
Bodene Thompson: 33 tackles + 6 hitups = 39
Isaah Yeo: 32 tackles + 7 hitups = 39
Thomas Burgess: 21 tackles + 18 hitups = 39
STATS PER MINUTE
Aaron Woods' claim he has no help at the Tigers continues to be laughable as Ava Seumanufagai scored his first workhorse since Round 2 with his captain absent. Seumanufagai registered 39 involvements last round and this week had 47 in 54 minutes (0.87 SPM). Admittedly there was little else to write home about for the Tigers with no other forward getting over 60 metres as the side got pumped by the Rabbitohs.
Junior Paulo scored his first workhorse try in almost two years as the Raiders were beaten by the Knights. It was his first workhorse since joining the Green Machine with the one time Oatley rah-rah playing 59 minutes, up from his average of 54.5. Paulo had precisely 40 involvements for an SPM of 0.68, up from his usual 0.61 and enough to get his first workhorse try since Round 20, 2015.
Titans' front rower Morgan Boyle showed some promising signs in just his third match after he was forced to play 57 minutes after his side had players dropping left, right and centre. Although he missed out on a workhorse try by two involvements (0.67 SPM), he did get a metre eater, racking up 188 metres off 18 runs which was only bettered by Jarrod Wallace who ran for 212. Even more impressive was the fact he didn't miss tackle against Melbourne which is a big improvement on his debut against the Knights in Round 6 where he made 20 tackles but missed 4.
Manly may have come away with a loss but Api Koroisau had a huge fantasy game as he crossed for a try and also posted a double workhorse try, his first since Round 16, 2015. 59 involvements in 75 minutes (0.79 SPM) along with 79 run metres made for Koroisau's best NRLCEO performance ever.
The following two tabs change content below.
Geoff Adams
Geoff Adams is the foremost authority on Workhorse Watching. A past time no one else does mind you. Get the lowdown on all things workhorse related including Stats Per Minute.
Latest posts by Geoff Adams (see all)