Commentators say some silly things at times. In fact, you could write a weekly column calling out the dumb stuff they say but that would require sitting through some dull games, and even duller commentary. The one I will mention though comes from Matt Thompson. I like Thompson but saying "Such a sad thing to see such a young player suffer an injury like this" when Josh Aloiai lay injured on Friday night is as benign as it gets. It's so lazy and implies if it happened to an older player it wouldn't be so bad. Aloiai had only been back on the field for three minutes having replaced Aaron Woods who in his return game had 41 involvements including 18 runs. Not to labour the point of recent weeks but 11 of those hit ups came in the first half, the rest of the Tigers' starting pack combined for 9 hit ups in the first half. No support? Let someone else have a run Aaron.
Angus Crichton has emerged as a bonafide workhorse following his first ever double workhorse try. The Temora born backrower even out performed the great Sam Burgess (just) as he racked up 65 involvements to the Englishman's 64. Coach Michael Maguire has made plenty of changes from week to week as the Bunnies struggle for form but one consistent has been Crichton in the back row. Crichton is a solid scorer provided he gets the minutes. In his last five games he's only failed to trouble the scorers once and that was in Round 9 when he played just 47 minutes.
I'm glad to see Nathan Peats get his shot at Origin although disappointed to see that it may have come only because Peter Wallace is injured. The three main contenders (Wallace, Peats and Robbie Farah) all had a case to put forward although I'm glad Peats has been given the nod over Farah. Regular readers will know I've been a big Farah fan and he's been posting some good fantasy numbers despite limited game time but I think it's time to see what Peats can do. Peats had 48 involvements on the weekend to score is second workhorse try of the year but it was probably his three try assists against Melbourne the week before that secured him the NSW gig.
Workhorse of the Week: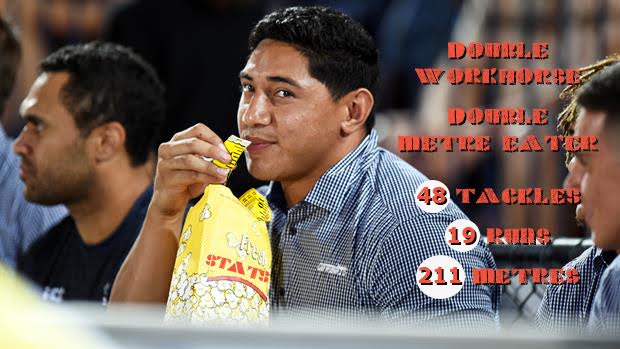 Jason Taumalolo had a massive game on Thursday night scoring the first double workhorse of his career. Taumalolo ran for 211 metres off 19 runs which is just another day at the office for the New Zealand international but his 48 tackles to go with it was a personal best.
WORKHORSE PACK OF THE WEEK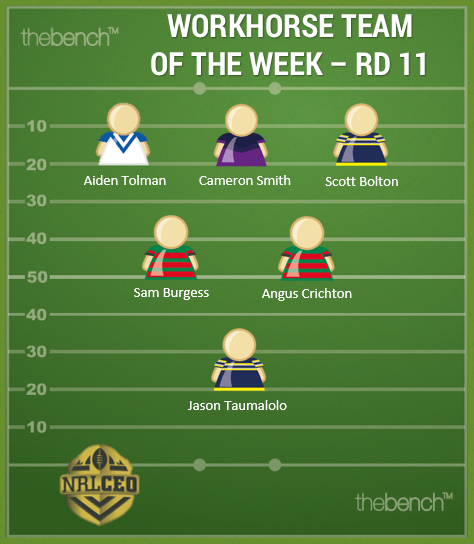 Aiden Tolman: 46 tackles + 12 hitups = 58

Cameron Smith: 58 tackles + 4 hitups = 62
Scott Bolton: 44 tackles + 15 hitups = 59
Sam Burgess: 43 tackles + 21 hitups = 64
Angus Crichton: 47 tackles + 18 hitups = 65
Jason Taumalolo: 48 tackles + 19 hitups = 67
14. Jayden Brailey: 57 tackles + 5 hitups = 62
15. Trent Merrin: 38 tackles + 21 hitup = 59
CLOSE BUT NO CIGAR
James Graham: 27 tackles + 12 hitups = 39
Daniel Saifiti: 35 tackles + 14 hitups = 39
STATS PER MINUTE
Andrew McCullough's injury against the Tigers had a number of repercussions. It meant that McCullough's run of consecutive workhorse tries dating back to Round 17 last year was broken. But it did create an opportunity for a young forward I thought would get more of a chance by now. With Josh McGuire shifting to hooker for the remaining 22 minutes, Joe Ofahengaue scored his first workhorse of the season playing 48 minutes, way up on his average of 21 minutes per game. The Tongan representative had 48 involvements for an SPM of 1.00.
Still with the Broncos and a number of young and not so young forwards have the opportunity to step up this week with three forwards away on Origin duty. One of those players is Alex Glenn who has been left in the workhorse wilderness in recent years. Glenn scored 12 workhorse tries back in 2015 but in the year and a half since then has scored only three. Glenn currently averages 28 involvements per game in 43.2 minutes of game time (0.65 SPM) but without Thaiday, McGuire and Gillett away with the Maroons, that should go up during Origin.
The Roosters are also well represented In Origin with Boyd Cordner, Dylan Napa and Aiden Guerra all set to line up next Wednesday night. That's good news for Siosiua Taukeiaho (0.82 SPM for the season) and Jared Waerea-Hargreaves (0.85 SPM for the season) who both missed out on workhorse tries against the Bulldogs. Waerea-Hargreaves only just missed out (38 involvements) while Taukeiaho was well short of a workhorse (32 involvements) after only playing 39 minutes compared to the 55 minutes per game he'd averaged in the previous 3 games. Kane Evans meanwhile has a stats per minute score of 0.81.
Let's get back to some high stats per minuters with Tim Mannah also registering an SPM of 1.00 as he played 40 minutes and scored just his second workhorse try of the season. Mannah's only other workhorse this season was back in Round 1 in a performance that had workhorse fans wondering if this was going to be the year he returned as a genuine workhorse. The answer to that is no but at least he only needs one more workhorse try to equal his output from 2016.
The following two tabs change content below.
Geoff Adams
Geoff Adams is the foremost authority on Workhorse Watching. A past time no one else does mind you. Get the lowdown on all things workhorse related including Stats Per Minute.
Latest posts by Geoff Adams (see all)