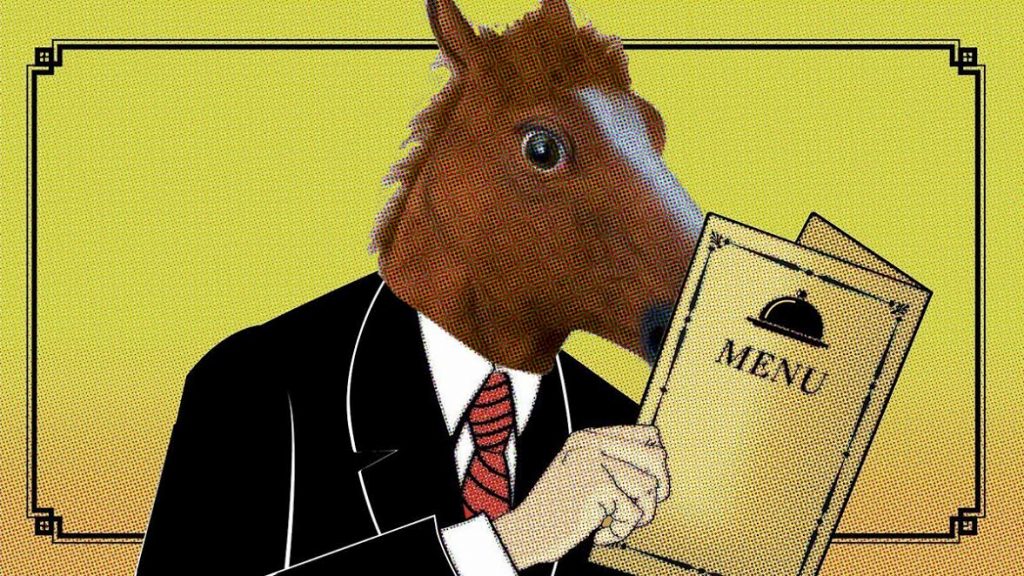 Just as the way to a man's heart is through his stomach, the way to a Workhorse Watcher's heart is through a solid 40 involvement performance. Round 11 marked the halfway mark of most NRLCEO regular seasons so with the final stats in, let's take a look at what's has been served up so far.
#1 Magnifique! Complements to the Chef

The palate of any discerning NRLCEO comes down to two things, quality and consistency. And there is no option better than Josh McGuire. McGuire has scored a workhorse try every week he has played and with double servings in Rounds 2 and 9 he leads the league at the halfway mark with 13 workhorse tries. Not to be outdone, Aiden Tolman also is yet to go a week without a workhorse try. At the halfway mark he had 12 workhorse tries which he added a double workhorse to over the weekend. When it comes to other fine choices, it's hard to go past the classics like Sam Burgess (12), Simon Mannering (11) and Paul Gallen (11).
#2 Meat and Three Veg

Just as we can't all be eating at Michelin starred restaurants every night, we can't all have the aforementioned players in our side. For many a solid serving of workhorse tries most weeks is enough to satisfy and it's when you have fresh ingredients, it's even tastier. Scott Bolton, Felise Kaufusi, Jarrod Wallace and Cameron McInnes have all scored 10 workhorse tries each this season. At the halfway mark of last year they had a combined 8 workhorse tries with McInnes accounting for 6 of those. Other quality workhorses that have emerged this season include Angus Crichton and Jayden Brailey who each have 7 workhorse tries after 11 rounds.
#3 Send It Back

Sadly not, every dish is a winner and what might look good in writing doesn't translate when it arrives on the plate. NRLCEOs would be disappointed with what a number of players have served up so far this season including Daniel Saifiti. Saifiti finished 2016 with two workhorse tries and a 39 involvement haul leaving NRLCEOs keen on the kid's prospects for this year. Sadly he has produced just 2 workhorse tries this season. Injury and playing in the halves has reeked havoc on Bryce Cartwright's numbers with the Penrith Panther accruing just one workhorse try so far this season. A broken thumb and then a disengaged brain has brought Jesse Bromwich's season undone with the Storm prop looking at the prospect of finishing in single figures for workhorse tries for the first time in 5 years. Meanwhile the Sims Brothers can blame neither ill-discipline nor injury for their poor seasons, with both Korbin and Tariq the victim of their side's forward depth resulting in zero workhorse tries for the first half of 2017.
#4 All-You-Can-Eat
Why settle for a workhorse try only when you can load up at the buffet with a try/workhorse try combo? Jake Trbojevic and Paul Vaughan are the crème de la crème when it comes to this category having scored the try/workhorse try double on three separate occasions. Special mention to Api Koroisau who went back to back in rounds 10 and 11.
#5 Unhappy Meal

Speaking of buffets, it's a virtual smorgasbord when it comes to the most frustrating player in terms of Close but No Cigar Club. After 11 rounds there were nine players that had finished a game on 39 involvements twice. James Graham is the stand out name but save for his injury affected game in Round 9, every other week he's scored a workhorse or a double workhorse try. Other names on the list include Gavin Cooper, Issah Yeo, Frank Winterstein, Jason Taumalolo, Josh Starling, Manu Ma'u, Russell Packer and Tom Burgess.
Workhorse of the Week:
Aiden Tolman was the only player to score a double workhorse in Round 12. Tolman had 50 tackles and 17 runs for 139 metres. It takes him to outright first on the workhorse tally with 14 for the season.
WORKHORSE PACK OF THE WEEK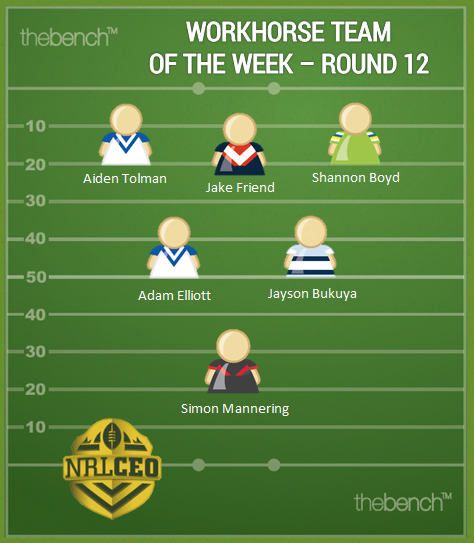 8. Aiden Tolman: 50 tackles + 17 hitups = 67
9. Jake Friend: 59 tackles + 3 hitups = 62
10. Shannon Boyd: 37 tackles + 15 hitups = 52
11. Adam Elliott: 43 tackles + 21 hitups = 64
12. Jason Bukuya: 45 tackles + 11 hitups = 56
13. Simon Mannering: 41 tackles + 13 hitups = 54
14. Jayden Brailey: 54 tackles + 3 hitups = 57
15. David Fualalo: 41 tackles + 12 hitup = 53
CLOSE BUT NO CIGAR
George Burgess: 28 tackles + 11 hitups = 39
Jayden Su'a: 31 tackles + 8 hitups = 39
STATS PER MINUTE
Just when you think you've seen it all, something happens that you didn't expected. A back has made has qualified for the Workhorse Pack of the Week but unfortunately has had to miss out on a technicality. Ryan Matterson had a whopping 55 involvements in 80 minutes (0.69 SPM) against the Raiders on Sunday in his first start in the run on side. Matterson had played nine games coming into Round 12 but all of them had been off the bench meaning there was no way he could qualify as a forward having only been listed as a five-eighth and bench back at the beginning of the year. With just one line break to his name prior to Sunday not many would've paid attention to him but his 55 involvements was sixth highest of the week. Players often miss out on Workhorse Pack of the Week honours because there are players in the same position who scored more but never because there isn't an actual place for them under the rules.
My decision not to make an exception for Matterson meant that Bulldogs back rower Danny Fualalo managed to make the Workhorse Pack of the Week with the first workhorse try of his career with 53 involvements in 74 minutes (0.72 SPM). Also scoring their first ever workhorse was the Sharks' Luke Capewell who started in the place of Wade Graham and played 67 minutes and had 40 involvements (0.60 SPM).
I might have spoken too soon when I said Angus Crichton was a bona fide workhorse last week. Workhorses don't score tries like the one he did on Friday night. His 90 metre effort in the 49th minute helped set a personal best for metres made in a game (179m) to go along with 40 involvements in 80 minutes (0.50 SPM).
The following two tabs change content below.
Geoff Adams
Geoff Adams is the foremost authority on Workhorse Watching. A past time no one else does mind you. Get the lowdown on all things workhorse related including Stats Per Minute.
Latest posts by Geoff Adams (see all)