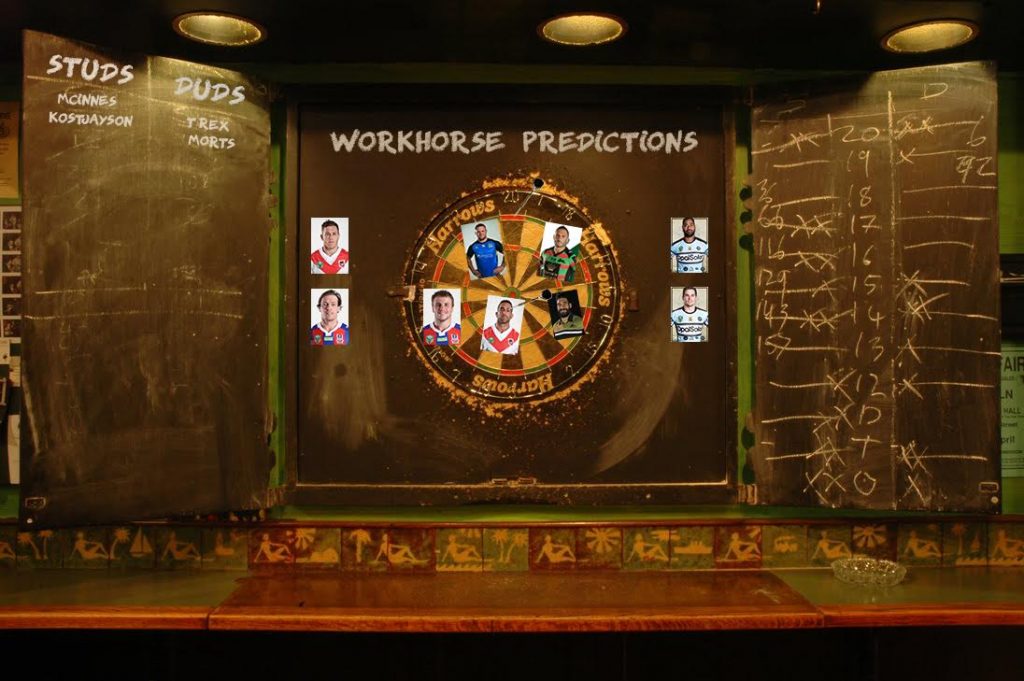 So NRLCEO wants to drag me into Dream Team predictions that I don't even remember making. And tell us all how wrong we were?
This is the same NRLCEO who wrote in this year's Season Guide that "Gareth Widdop sucks".
But I'm happy to be accountable, however let me distance myself from said Dream Team predictions and focus on the workhorses of our game.
Starting with the players I said would be major improvers – two of those are current Dream Team leaders Paul Vaughan and Cameron McInnes. I also said "Any of the top 40 workhorses from last year will serve you well" so that covers me for the other four Dream Team leaders – Sam Burgess, Simon Mannering, Paul Gallen and Jake Trbojevic. Other players I predicted who would go well include Jarrod Wallace (from 4 workhorse tries last year to 11 so far this year), Nathan Brown, (8 workhorse tries this year) and Robbie Farah who only has 4 workhorse tries to his name but has enough points to be the 8th highest scoring hooker in the league. Unfortunately there will always be variables that can cruel a player's season and unfortunately injury (Jamie Buhrer, Rory Kostjayson), stupidity (Kevin Proctor) and a lack of opportunity (Robbie Rochow) can be hard to predict. I'm happy to cop James Tamou as a bad pick though, however I'm already serving my penance on that one having picked him as a marquee draft acquisition in my keeper league.
It's all good news though when you look at who I said should be avoided. This was pretty easy to predict so I won't go on too much about it, however it's worth noting how keen NRLCEO was for Dave Taylor at the start of the year. Tony Williams, Daniel Mortimer, Curtis Sironen, Josh Starling, Jeremy Latimore and Manaia Cherrington, all duds. The one I will make an exception for is Mitch Rein who played his first NRL game of the year last week and whilst he missed out on a workhorse try with 37 involvements, did score two tries.
Lastly there were the guys I said to look to now that more prominent workhorses had left their NRL teams. The stand out here is Scott Bolton. Even before Matt Scott got injured for the season, Bolton was having a blinder of the year. He's scored 11 workhorse tries for the season and last week's game against the Titans was the first time he missed a workhorse try all year. The rest unfortunately have done nothing. So maybe NRLCEO is right, maybe I am shit at making predictions, certainly the fortunes of my NRLCEO team this year is testament to that.
Workhorse of the Week:
Ryan James lead all comers with 66 involvements on the weekend but only ran for 59 metres so a double workhorse was never on the cards. He and Jarrod Wallace make up the front row in this week's Pack of the Week and have narrowed the gap between themselves and Aiden Tolman/James Graham after both Bulldogs failed to score a workhorse on the weekend. Tolman and Graham still have 25 for the season followed by James and Wallace with 23.
WORKHORSE PACK OF THE WEEK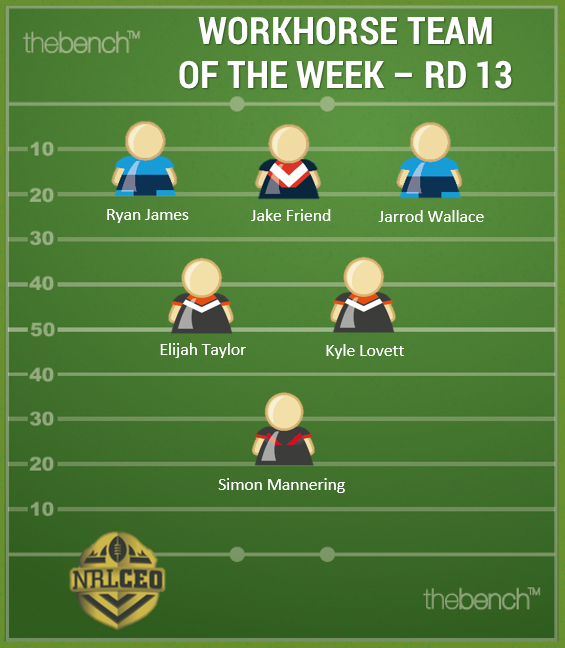 Ryan James: 56 tackles + 10 hitups = 66
Jake Friend: 57 tackles + 7 hitups = 64
Jarrod Wallace: 48 tackles + 11 hitups = 59
Elijah Taylor: 54 tackles + 8 hitups = 62
Kyle Lovett: 47 tackles + 13 hitups = 64
Simon Mannering: 45 tackles + 11 hitups = 56
14. Cameron McInnes: 58 tackles + 5 hitups = 63
15. Nathan Brown: 38 tackles + 11 hitup = 49
CLOSE BUT NO CIGAR
Aiden Tolman missed a workhorse try for the first time this season and instead finds himself in the Close But No Cigar Club. I predict he'll bounce back with Workhorse of the Week honours next week.
Aiden Tolman: 31 tackles + 8 hitups = 39
Tepai Moeroa: 30 tackles + 9 hitups = 39
Aidan Guerra: 28 tackles + 11 hitups = 39
STATS PER MINUTE
Kyle Lovett is not having a good time of it off the field this season but on the field, his last two weeks have been stellar. Lovett scored his first workhorse of the season in Round 12 and backed it up with 60 involvements against the Dragons last week in 80 minutes of football (0.75 SPM). Such is the ordinariness of the Tigers pack when it comes to workhorse tries, his efforts in the last fortnight already puts him in equal third for most workhorse tries scored by a Wests forward this season.
I'm glad Ricky Stuart is happy to have Origin players in his side for the back end of the year because he may struggle to get much from his lone Origin star over the coming weeks. Josh Papalii had his lowest number of involvements (27) of the year on Sunday despite playing 82 minutes. His stats per minute score of 0.33 was the lowest of any forward last week and below his usual 0.49 which always leaves him as a 50/50 chance of scoring a workhorse. Incidentally, teammate Shannon Boyd had the highest SPM of the round (1.43) but sadly he only played 7 minutes.
I've already mentioned Ryan James (1.05 SPM) and Paul Vaughan (1.09 SPM) this week but the other front rower with an impressive stats per minute score was Parramatta's Daniel Alvaro. All three had more involvements than minutes on their way to workhorse tries with Alvaro registering 49 involvements in 46 minutes (1.07 SPM). It was his fourth workhorse of the year and second in as many weeks.
Morgan Boyle scored his first workhorse try after Neil Henry was forced to shuffle his team around following the injury to Nathan Peats. Boyle had 42 involvements while playing the full 80 minutes (0.53 SPM). Karl Lawton also scored his first workhorse try (0.53 SPM) but unless your league allows backs to score workhorse tries then it will have no consequence to you. Lawton has been coming off the bench as a forward for most of the year but has never been in workhorse calculations even if he did qualify as a forward. Either way, it doesn't really matter seeing as though Peats is back this week. I know everyone has already said it and it was a week ago, but how good was Peats in Origin 1!
The following two tabs change content below.
Geoff Adams
Geoff Adams is the foremost authority on Workhorse Watching. A past time no one else does mind you. Get the lowdown on all things workhorse related including Stats Per Minute.
Latest posts by Geoff Adams (see all)