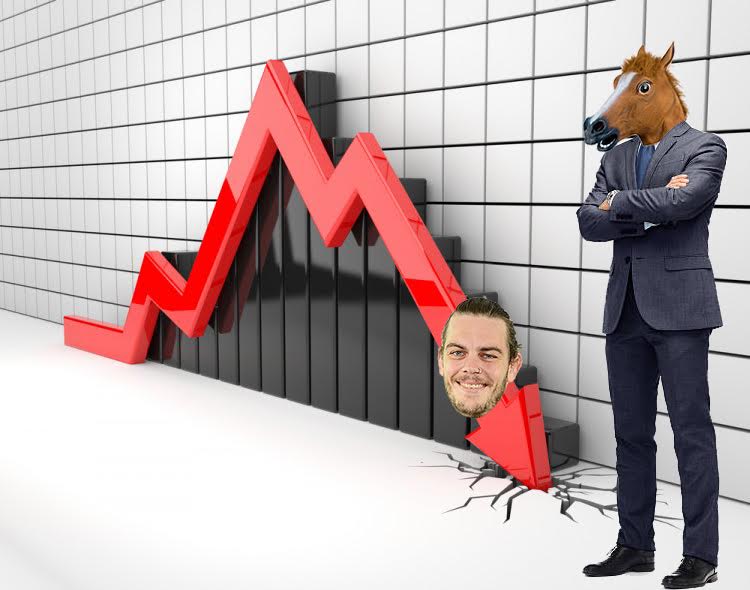 Following on from a look at pre-season predictions last week, there are a number of players that are really dragging the chain this leaving NRLCEOs wondering…
"What gives?"

What's happened to Ethan Lowe for example? The Cowboys back rower scored just his fifth workhorse try for the season on Saturday, well down on the 19 workhorse tries he scored last year and the 20 the year before that. Lowe is averaging just 57.4 minutes a game, compared to the 78.9 minutes per game he averaged last season. The emergence of Coen Hess (who's averaging an extra 12 minutes per game) and the arrival of Shaun Fensom has been largely responsible for Lowe's low output.
It could be argued that the fall of Dylan Napa has been even worse. Napa scored 16 workhorse tries last year and after 14 rounds had 12, this year he has just two. Napa hasn't scored a workhorse since Round 3 and hasn't troubled the scores at all since Round 4. Although his minutes are not as severely down as Lowe's, he's still averaging 12 minutes less per game than he did in 2016. What's interesting is that this has mainly affected the amount of work he's doing in defence where he's gone from averaging 31 tackles per game down to 22. The number of runs he's making is about the same (13 a game in 2016 versus 12 a game in 2017) however the lightened load in defence has done little for his attack as he's averaging 18 metres less per game and has just one Metre Eater for the season compared to the four he had at the same time last year.
If you're counting on Chris Lawrence for a workhorse presence then you have some massive problems but NRLCEOs who drafted him at the beginning of the season would be rightly disappointed with his 2017 output. The Tigers' veteran scored a handy 10 workhorse tries last season which put him just outside the top 50 for workhorses. This year he has just 2 workhorse tries in 11 games.
The workhorse output from the Broncos front row has been discussed before in this column but it's worth bringing up again as we look at the players with the biggest drop offs from last season. In 2016, Korbin Sims scored twice as many workhorse tries as Adam Blair, Herman Ese'ese and Joe Ofahengaue combined. Sure it was for the Knights but this year he trails all of them in the workhorse department. Sims scored 10 last year and only has one to his name this season, which is bested by Blair (4), Ese'ese (3) and Ofahengaue (2). Once again minutes are a huge factor with Sims playing 20 minutes less per game compared to last year. He's still making the same number of runs as he did last year but the drop in defensive workload has done nothing to lift his metres per run.  
Workhorse of the Week:
Josh Hodgson has got his season back on track as far as workhorse tries go, scoring his first double workhorse try of the season. Hodgson had 51 involvements, taking his workhorse tally to 7 for the year and in sight of the 11 he scored last season. Unfortunately the rest of the Hodgson's numbers remain down, especially the try assist and line break assist department. Hodgson had 19 try assists and 16 line break assists last year and has just 7 and 5 respectively this year.
WORKHORSE PACK OF THE WEEK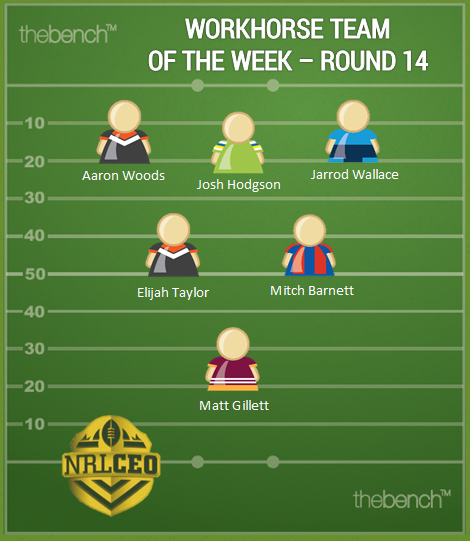 Aaron Woods: 37 tackles + 18 hitups = 55

Josh Hodgson: 39 tackles + 12 hitups = 51

Jarrod Wallace: 36 tackles + 16 hitups = 52

Elijah Taylor: 51 tackles + 10 hitups = 61

Mitch Barnett: 58 tackles + 14 hitups = 72

Matt Gillett: 45 tackles + 14 hitups = 59
14. Nathan Peats: 55 tackles + 6 hitups = 63
15. Cam McInnes: 57 tackles + 3 hitup = 60
CLOSE BUT NO CIGAR
Sam Thaiday: 24 tackles + 15 hitups = 39
Morgan Boyle: 30 tackles + 9 hitups = 39
Jacob Lillyman: 25 tackles + 14 hitups = 39
Tim Grant: 31 tackles + 8 hitups = 39
STATS PER MINUTE
In addition to the strong performers that have been highlighted in recent weeks there are a few more worth mentioning that are quietly going about their business, putting together really good seasons compared to last year. Issac Luke finished with 10 workhorse tries last season but already has 9 so far this season. Luke's (0.53 SPM) average minutes and average involvements are virtually identical to last year, it's just that he's being more consistent from one week to the next. In 2016 he'd often finish in the 30-39 involvement bracket but his average would be offset by all the times he would make over 50 involvements. This year when he scores a workhorse try he is more likely to do it with involvements that sit in the 40s and has been falling short of the 40 threshold far less frequently than last season.
In addition to leading NSW to victory in Game 1, Boyd Cordner is having a cracking NRLCEO season. Cordner sat out Sunday's match against the Tigers but at the rate he's going is set to have his best season ever. Currently Cordner (0.57 SPM) has 10 workhorse tries which equals the amount he scored in an injury plagued 2016 and it's also not far off the 11 or 12 he usually scores in non-injury affected seasons.
I don't blame Kevin Walters for making changes to his Queensland side but an apology from every Maroon, whether they be an official, player or fan would be nice. The banana benders can defend the move all they want saying it's not the same because Queensland are moving on older players who are past it, but the principle is the same. Queensland picked a team they thought would win Game 1, it didn't and now they can't wait to make changes. I'm not for one minute arguing they should stick with the same players, I'm just saying if they're in need of a new jersey sponsor, the word 'hypocrite' across their chest would look rather fitting.
It's easy to stick with the same players when you're winning and Queensland have done plenty of that in the last decade but don't for minute think they wouldn't have made changes if they'd been losing. Remember, this is the state who after three straight series losses prior to the beginning of their dynasty feared that Origin was dead because they couldn't win. Darius Boyd is the equal highest try scorer in Origin history and while he's not a bad player, plenty of those tries came from just falling over the line thanks to the great work of players inside him. Boyd's timing was perfect, he came into first grade just as the dynasty started, and it was red hot by the time he got picked but if Queensland had have lost a series or two then Darius' name would be more likely on the honour roll alongside Ty Williams rather than Greg Inglis. Whether the four fresh faces in the forward pack in Jarrod Wallace (0.79 SPM) Coen Hess (0.53 SPM) Tim Glasby (0.79 SPM) and Gavin Cooper (0.51 SPM) are up to the task remains to be seen.
The following two tabs change content below.
Geoff Adams
Geoff Adams is the foremost authority on Workhorse Watching. A past time no one else does mind you. Get the lowdown on all things workhorse related including Stats Per Minute.
Latest posts by Geoff Adams (see all)