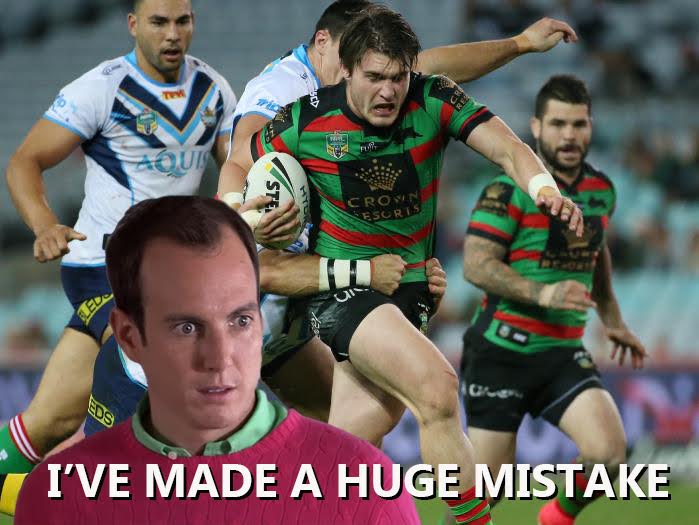 Here's a free tip. If you want to do well at NRLCEO, especially during a round heavily affected by Origin and the bye, be sure to name every player you have that is playing. Especially if that player is Angus Crichton. That's right, you're so called resident forwards expert here at NRLCEO failed to name one of the breakout stars of 2017 in a week when he had just 5 forwards playing. The worst part is Crichton has been a mainstay in my team every week since Round 4 but was somehow accidently omitted this week. Crichton put on one of the greatest displays by any player in NRLCEO history, scoring three tries, a workhorse try, four line breaks and a double metre eater. Fortunately I still got away with a win but the omission is up there with some of my greatest fantasy blunders which include cutting Anthony Watmough in my first season of fantasy football in 2003 to make room for Andrew Gee and the time I didn't keep track of who I was drafting and ended up with six five-eighths.
A couple of the North Queensland boys really rolled up their sleeves against Melbourne on Saturday evening including Jason Taumalolo who the NRL credits with running 300 metres for the game. As NRLCEO only count hit up metres, they had him down for 268 metres which is his best since Round 1. Ethan Lowe once again showed it all comes down to the minutes, getting his second workhorse try in as many weeks. The Goondiwindi junior played the full 84 minutes on his way to having 48 involvements. However the star performer was Scott Bolton who scored his first ever double workhorse try with 60 involvements and a metre eater with 182 metres made. Taumalolo would have joined him for a double workhorse but fell one involvement short with the Kiwi wrecking ball missing 4 tackles. Meanwhile John Asiata could've had his first workhorse try of the year but missed a massive seven tackles!
Matt Eisenhuth proved that the acorn doesn't fall too far from the tree (sort of). The cousin of Paul Gallen played his first NRL game on Saturday night, going head to head with his workhorse of a relative where he more than held his own scoring a workhorse try on debut. Eisenhuth had 41 involvements whilst Gallen was just one involvement off a double workhorse try. Both Sydney papers ran a story on Saturday about Eisenhuth's struggle with injury over the years but it was the Telegraph's piece that I happened to read first; it was a lovely story and the polar opposite of the shit they ran during the week on Tim Glasby.
This round was also a good opportunity for a number of forwards to get amongst the workhorse tries for the first time this season. The Parramatta vs St George Illawarra game saw Tariq Sims (45 involvements) and Kenny Edwards (47) score their first workhorse tries of the season. Meanwhile congratulations to Manu Ma'u who scored his first ever double workhorse try with a huge 61 involvements. His 173 metres was the most he's in run in a game since bursting onto the scene back in 2014 when he ran for 188 metres in his NRL debut.
Workhorse of the Week:
Tohu Harris is back averaging a workhorse try per game, scoring his first double workhorse of the season after missing out by two involvements in his return game back in Round 10. Harris played the full 84 minutes in the forwards after being named in the backs earlier in the week and had 65 involvements to go with 141 run metres.
WORKHORSE PACK OF THE WEEK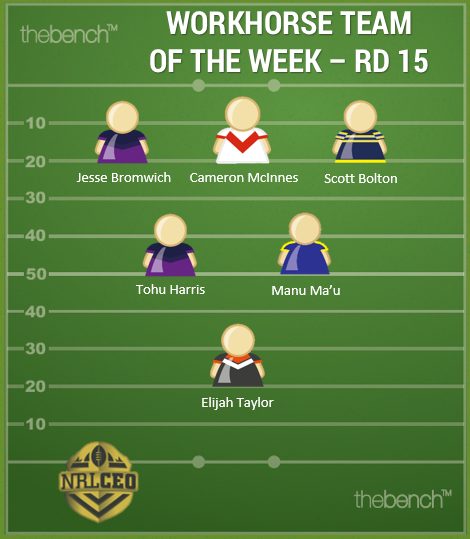 Jesse Bromwich: 44 tackles + 19 hitups = 63
Cameron McInnes: 47 tackles + 4 hitups = 51
Scott Bolton: 40 tackles + 20 hitups = 60
Tohu Harris: 52 tackles + 13 hitups = 65
Manu Ma'u: 41 tackles + 21 hitups = 61
Elijah Taylor: 57 tackles + 8 hitups = 65
14. Paul Gallen: 42 tackles + 17 hitups = 59
15. Jason Taumalolo: 34 tackles + 25 hitup = 59
CLOSE BUT NO CIGAR
Kyle Lovett: 27 tackles + 12 hitups = 39
STATS PER MINUTE
Round 15 proved to be a great round for unknowns to make their mark and whilst everyone is talking about Brodie Croft and Angus Crichton, there were few other notable performances including Crichton's teammate Tyrell Fuimaono. Fuimaono took full advantage of his first game in the starting side scoring his first ever workhorse try with 41 involvements in 80 minutes (0.51 SPM). Both he and Crichton were the only Rabbitohs forwards to play the full 80 minutes.
In the same game, Pat Politoni scored a workhorse try on debut filling in for Nathan Peats. Politoni had a cracking game from an NRLCEO perspective with 42 involvements along with a try and a try assist in 69 minutes of game time (0.61 SPM). Politoni served his purpose this week but unfortunately he also had 7 missed tackles and with the Titans having the bye prior to Origin 3, I wouldn't be scrambling to pick him up anytime soon if he's still available in your league.
Still with the Titans, Max King also scored his very first workhorse try, registering exactly 40 involvements in 50 minutes of game time (0.80 SPM). King played with the same rate of involvement that he normally does (0.82 SPM) with the workhorse coming courtesy of the extra minutes (he normally averages 31.6 minutes per game).
Matt Prior made his minutes count on the weekend scoring a workhorse try with 42 involvements in just 38 minutes. His stats per minute rate of 1.10 was the best of any workhorse tryscorer over the weekend and second only to teammate Jeremy Latimore who had 32 involvements in 26 minutes of game time (1.23 SPM). Prior's opposite number, Ava Seumanufagai was also extremely efficient with 48 involvements in 51 minutes (0.94 SPM) as he once again stepped up in the absence of Aaron Woods.
The following two tabs change content below.
Geoff Adams
Geoff Adams is the foremost authority on Workhorse Watching. A past time no one else does mind you. Get the lowdown on all things workhorse related including Stats Per Minute.
Latest posts by Geoff Adams (see all)