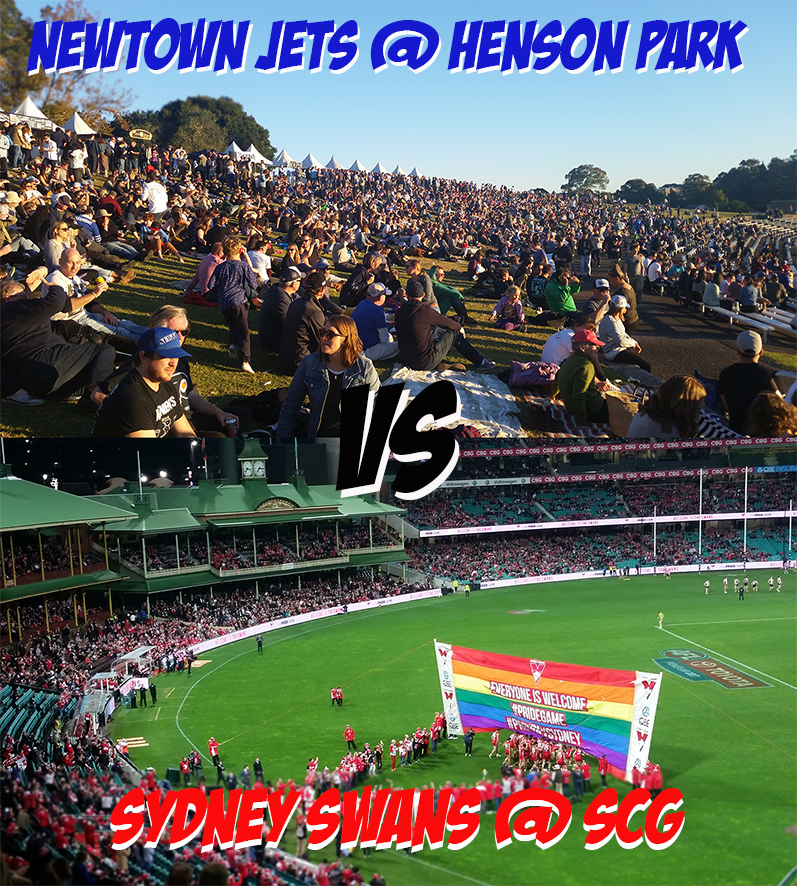 If AFL ever takes over rugby league in Sydney, I'll understand the what but not the why and how. Your workhorse correspondent headed to the SCG on Saturday night to see  Sydney take on St Kilda and while the Swannies are in great form at the moment and the 35,773 was the biggest crowd I'd watched a footy game with in quite a while, I was honestly bored. I was ready to go home at quarter time. My favourite part of an AFL game is the macho, push and shove game that happens before the ball is in play which then immediately subsides the moment umpire blows time on. Seriously, what is that about? Thankfully not all was lost, with the tackle by Isaac Heeney on Jarryn Geary an absolute ball tearer. Unfortunately it probably would have been deemed an illegal tackle had it been made in the NRL and in AFL it's just shy of a hangable offence.
Meanwhile, has the NRL looked into claiming Auskick juniors for themselves? Obviously the rules of all sports are modified to help kids develop but apparently when you're really little, the concept of touching the ball on the ground is completely thrown out the window. Instead kids just tuck the ball under the arm and run the length of the field with a swarm of other players in toe. These kids are born league players!
No sir, give me a day out at the 8th Wonder of the World, Henson Park alongside "8,972" rugby league die hards any day. The Newtown Jets hosted their second annual Beer, Footy & Food Festival with resounding success. The hill was packed, the craft beer was flowing and the jerk chicken and buttermilk chicken tacos were well worth the wait. On the field it was all Newtown as the Jets ran in 7 tries to 2 with fringe Sharks forward Sam Tagataese getting across the stripe twice and Captain America himself Joseph Paulo, scoring a try to go with 4 goals.
Up front, former Wagga Kangaroo Jaimin Jolliffe lead the way for the home side with 32 tackles and 17 runs for 140 metres in 70 minutes of action while for the Warriors, the very appropriately named King Vuniyawa topped the tackle count for the match with 36 tackles to go with 7 runs.
Workhorse of the Week:
Ryan James. Simon Mannering topped the involvement count but Ryan James had the metres to ensure his 63 involvements added up to a double metre eater. It was a big bounce back for the Titans prop having missed out entirely last weekend with 38 involvements.
WORKHORSE PACK OF THE WEEK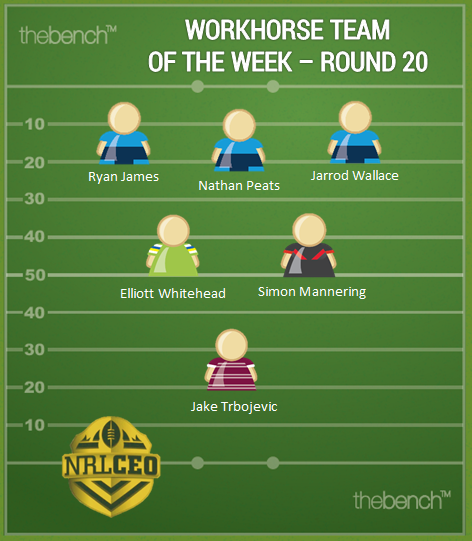 Ryan James: 48 tackles + 15 hitups = 63

Nathan Peats: 46 tackles + 4 hitups = 50

Jarrod Wallace: 37 tackles + 15 hitups = 52

Elliott Whitehead: 49 tackles + 9 hitups = 58

Simon Mannering: 54 tackles + 14 hitups = 68

Jake Trbojevic: 49 tackles + 9 hitups = 58
14. Jack De Belin: 32 tackles + 24 hitups = 56
15. Aidan Guerra: 39 tackles + 16 hitup = 57
CLOSE BUT NO CIGAR
Standing room only in the No Cigar Club this weekend. Prior to this weekend, eight was the amount we've had over the last three rounds combined.
Joe Wardle: 31 tackles + 8 hitups = 39
Shaun Fensom: 30 tackles + 9 hitups = 39
Ben Matulino: 27 tackles + 12 hitups = 39
Daniel Alvaro: 30 tackles + 9 hitups = 39
Paul Vaughan: 24 tackles + 15 hitups = 39
Sam Burgess: 22 tackles + 17 hitups = 39
Mitchell Pearce: 31 tackles + 8 hitups = 39
Alex Twal: 28 tackles + 11 hitups = 39
STATS PER MINUTE
Mitchell Pearce was given a thorough workout against Newcastle with the Knights sending so many runners at him that he found himself in the No Cigar Club. Pearce had 31 tackles and 8 runs (0.49 SPM) which was his highest number of involvements since Round 9 when he qualified for a workhorse try against the Warriors. Pearce is one of the most worked over halves in the game and averages 21.7 tackles per game; Daly Cherry-Evans is the only halfback who averages more (24.3). Compare that to Cooper Cronk and Johnathan Thurston who average just 13.6 and 13.3 tackles per game and it's little wonder they get the plaudits as the best playmakers in the game – they do a fraction of the work of the more maligned Pearce and DCE.
The Trent Robinson continues to draw directly from the Brian Smith School of Coaching with some last minute mind games. Whilst Connor Watson finally got to run out in the position he had been named in, Mitch Cornish was demoted back to the bench in favour of rookie Victor Radley. Radley had 37 involvements in 67 minutes (0.55 SPM) to fall just short of a workhorse try on debut.
NRLCEOs scrambling for a decent front rower late in the season might want to look at Raiders forward Joe Tapine. The former Knights has been a frequent member of Ricky Stuart's 17 throughout the season but in the last two weeks has strung together consecutive workhorse tries. Tapine's workrate has exploded going from an SPM of 0.72 to 0.92 in the last fortnight. In that two week time frame he's missed just one tackle.
My foray into AFL meant I missed one of the truly remarkable moments of the season and that was Shaun Fensom starting Saturday night's game as a prop forward! I know I said Fensom was having some great games in terms of meterage recently but naming him in the front row?! Fensom fell into the Close But No Cigar club after only managing 36 minutes (1.08 SPM) after coming off with a rib injury in the second half. Meanwhile teammate Coen Hess went even better with 46 involvements in 41 minutes (1.12 SPM)
The following two tabs change content below.
Geoff Adams
Geoff Adams is the foremost authority on Workhorse Watching. A past time no one else does mind you. Get the lowdown on all things workhorse related including Stats Per Minute.
Latest posts by Geoff Adams (see all)