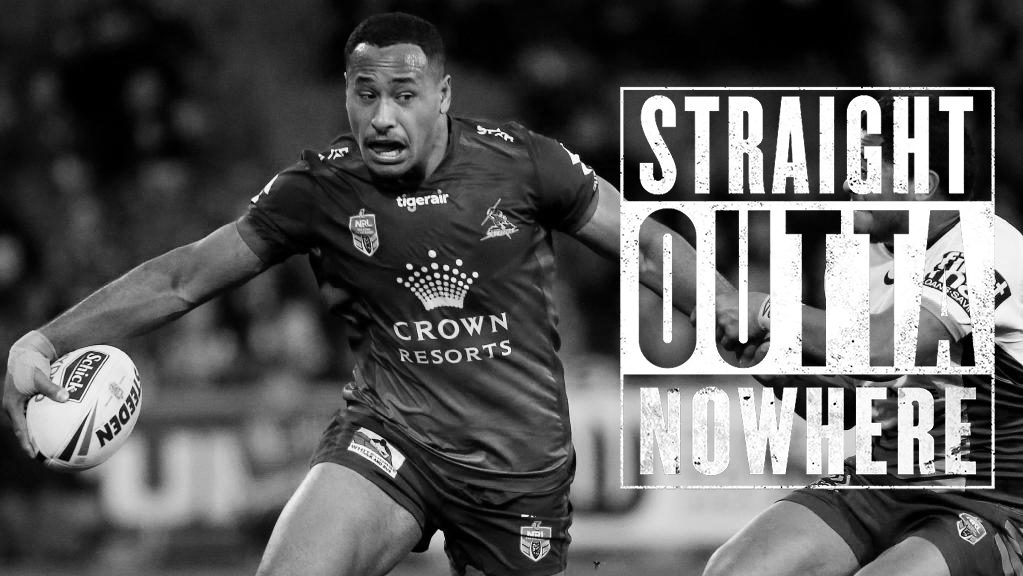 Few players have had breakout seasons, either this year or in previous years, that match the likes of Felise Kaufusi. The Storm forward scored his 17th workhorse try of the season, well up from the sole workhorse he scored last year. So good is Kaufusi's season, when you take out metre eaters (and not all league play metre eaters), he is in fact the highest scoring player in the comp. Not bad for a player who was on average, the 160th pick in each league.
The same can't be said for teammate Jesse Bromwich who sits on just six workhorse tries in 2017, well down on the double figure numbers he's been posting for the last four seasons. Bromwich missed out again on the weekend with 28 involvements in 38 minutes of action. The Kiwi was the fifth most popular prop behind Graham, Tolman, Fifita and James at the beginning of the year but is the only one of the five not to be in double figures for workhorse tries with the other four all on 15 or more for the season.
Speaking of Ryan James, the prop lead the way with 60 involvements on the weekend for the Titans pack as they got pasted by the Broncos. All but one player in their starting forwards posted a workhorse try with James having a massive first half, registering 40 involvements in the opening 40 minutes. MASSIVE! But in a game where too many points is never enough, That, his 102 run metres meant NRLCEOs were already taking a double workhorse for granted at the break. Unfortunately the onslaught by the Broncos resulted in a second half that resulted in just three carries for 13 metres to fall short of his third double workhorse try of the season.
Anyone who picked up Cameron McInnes this season would be feeling pretty happy with themselves. The Dragons rake was picked 74th on average but out ranks all seven hookers who on average were picked before him. McInnes cracked the NRLCEO century against the Rabbitohs on Friday night and now has 19 workhorse tries for the season. That places him ahead of more fancied dummy halves Smith (97 – not including goals), McCullough (94), Hodgson (87), Friend (77), Farah (67), Lichaa (57) and Peats (49).
.
Workhorse of the Week:
Damien Cook. 18 NRLCEO points and a win for the Bunnies. Seems to me Robbie Farah's days are numbered. Cook was the only player this week to score a double workhorse try and the former Bulldog threw a bunch of other stats including a 24th minute try to be this week's Workhorse of the Week.
WORKHORSE PACK OF THE WEEK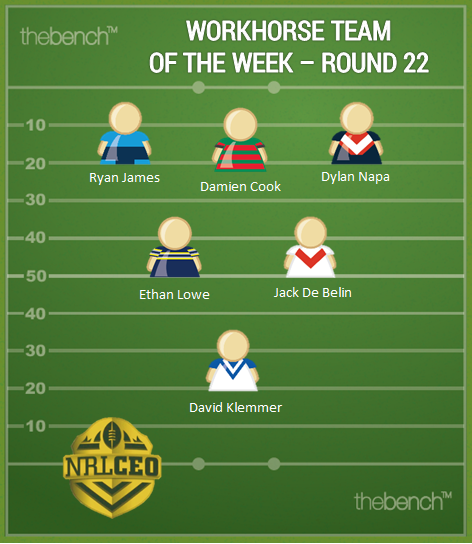 Ryan James: 45 tackles + 15 hitups = 60

Damien Cook: 43 tackles + 14 hitups = 57

Dylan Napa: 45 tackles + 12 hitups = 57

Ethan Lowe: 45 tackles + 14 hitups = 59

Jack De Belin: 43 tackles + 14 hitups = 58

David Klemmer: 41 tackles + 18 hitups = 59
14. Nathan Peats: 55 tackles + 4 hitups = 59
15. Matt McIlwrick: 52 tackles + 3 hitup = 55
CLOSE BUT NO CIGAR
Andrew Fifita: 26 tackles + 13 hitups = 39
Corey Harawira-Naera: 25 tackles + 14 hitups = 39
STATS PER MINUTE
@Fantasy_NRLCEO Lesson Ah Mau scrapped in to wh with 40 involvements for third week in a row. Wonder what the record is ?

— Adrian (@Barney7070) August 4, 2017

Regular reader Adrian pointed out an interesting stat on Friday night concerning Leeson Ah Mau. The Dragons forward registered exactly 40 involvements for the third straight week. Since 2015, five players have registered 40 involvement games back to back but no player had done it three consecutive weeks. Bunty Afoa and Joe Greenwood have gone back to back this season while Cameron Smith (Rounds 2 & 3) and Manu Ma'u (Rounds 14 & 15) did it last year and Mike Cooper (Rounds 3 & 4) in 2015.
Like Ah Mau, Joe Greenwood is on a run of 40 involvement games having gone back to back in the last two weeks (0.50 SPM). He's scored workhorse tries in each of his last four games to take his tally to eight for the season. That represents great value for NRLCEOs when you consider where he was picked up on average at the beginning of the season. Greenwood was picked 180th on average, making him a steal having produced 60 points this season.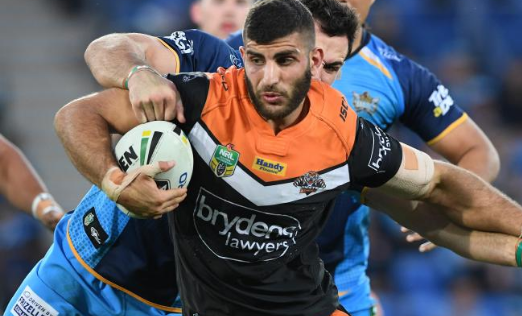 Alex Twal scored his third workhorse try as the Panther downed the Tigers. The Parramatta City junior had a sensational stats per minute score of 1.05 with 44 involvements in 42 minutes. Fellow Tiger, Matt McIlwrick also scored his third workhorse of the season with career high 55 involvements in 80 minutes (0.69 SPM) as coach Ivan Cleary chose not to play Jack Littlejohn who only saw three minutes last week.
Congratulations to Cameron Murray who scored his first ever workhorse try with 47 involvements in 50 minutes (0.94 SPM). Prior to Friday's game against the Dragons, Murray had been averaging 27.5 minutes per game with the most he'd played being 37 minutes against the Cowboys in Round 19.
The following two tabs change content below.
Geoff Adams
Geoff Adams is the foremost authority on Workhorse Watching. A past time no one else does mind you. Get the lowdown on all things workhorse related including Stats Per Minute.
Latest posts by Geoff Adams (see all)