Shaun Fensom is back! And the curse is now well and truly broken.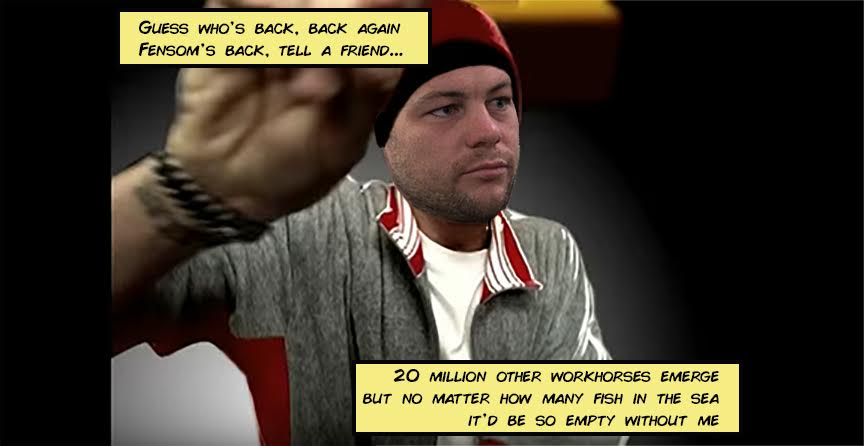 The Cowboys now have back to back wins not only despite the presence of Fensom but in the case of Friday night's win, largely because of it. With the game still in the balance at 14-6, it was Fensom who ran straight at a weary Anthony Cherrington, carried two players over the line and shouldered the goal post just for good measure to then plant the ball down and give his side a match sealing try. He also scored his first workhorse try of the year with 35 tackles and 11 runs.
Last week I yelled internally that if Robbie Farah wasn't going to get the minutes to rack up a workhorse try I'd rather he wasn't there at all. Well, be careful what you wish for. Damien Cook started in place of Farah and scored a double workhorse try. Before Friday he hadn't scored a workhorse all season. I've been in denial for the last 18 months hoping that Farah would come good again but the Rabbitohs game against the Roosters and Friday's game against the Cowboys has made me resigned to the fact the Bunnies are better off with Cook at number 9. The Bunnies might have lost but Cook worked his guts out, making 51 tackles and 10 runs, the most of any player, and was dangerous out of dummy-half despite the 14 point loss.
Speaking of Farah, whilst I'm loathe to enter the State of Origin selection debate this early in the season, seeing as though it's begun, I'll say this; With Farah's demotion to the bench the question of whether he will be selected for Origin has been raised. With Nathan Peats injured and Mitch Rein in reserves, the pool of players to choose from is not that deep. Cook's name has now come up and Peter Wallace has also been mentioned but one name I haven't heard thrown out there yet is Cameron McInnes. McInnes has been a driving force behind the Dragons' good start to the year and his numbers alone should have him in the mix especially when you compare them to the hookers at the other top four teams. He's scored more workhorse tries, made more tackles and run for more metres than Cameron Smith, Jake Friend and Jake Granville. Whilst it should be noted that Friend did miss a game which is why he trails McInnes in total tackles, McInnes averages an extra 27 metres a game.
My thanks to the Commish, Jamie Bradnam for his hospitality over the weekend. Jamie graciously invited me along to the Raiders vs Eels game, where we sat on the 40 metre line, second row, directly behind the Raiders bench. You couldn't ask for better seats; my only complaint was that it wasn't until late in the game that I realised Ricky Stuart was there on the bench and within earshot. I would've given him a gob full if I'd known but by the time I realised, the Raiders were well and truly home. I did however get the opportunity to witness the Eels' wonderful prop rotation first hand. Tim Mannah came off the field midway through the first half with 25 involvements and did not see further action until the final 10 minutes of the game. I watched him sit on the exercise bike for half an hour. The Eels conceded three tries late in the first half and although they did score two while Mannah was off at the beginning of the second, I don't understand why the captain of the side spends so much time on the bench. Mannah averages just 41.8 minutes per game. No captain gets less game time. The next closest is Matt Scott (48.4 minutes a game) and he's a co-captain with Johnathan Thurston who's there the whole game. Dear Brad Arthur, for the love of workhorse tries and the sake of your team, give your captain more game time!  
Workhorse of the Week:
James Graham. Long live the king! The king is back with the biggest workhorse tally of 2017. Graham had 54 tackles and 17 hitups for 136 metres on his way to his first double workhorse of the season.
WORKHORSE PACK OF THE WEEK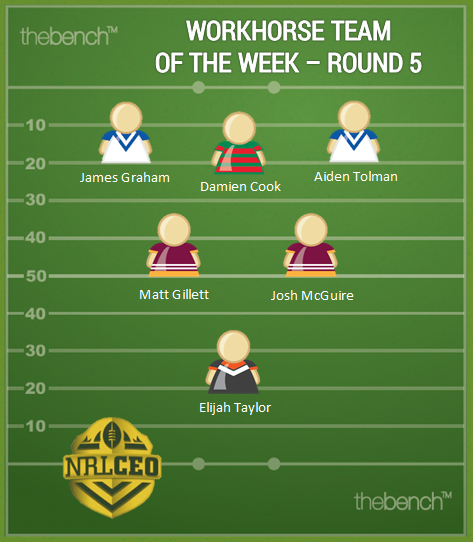 Aiden Tolman: 42 tackles + 16 hitups = 58

Damien Cook: 51 tackles + 10 hitups = 61

James Graham: 54 tackles + 17 hitups = 71

Matt Gillett: 51 tackles + 6 hitups = 57

Josh McGuire: 41 tackles + 17 hitups = 58

Elijah Taylor: 52 tackles + 7 hitups = 59
14. Andrew McCullough: 59 tackles + 1 hitup = 60
15. Jake Friend: 58 tackles + 1 hitups = 59
CLOSE BUT NO CIGAR
Frank Winterstein: 33 tackles + 6 hitups = 39
Matt McIllwrick: 36 tackles + 3 hitups = 39
Tim Grant: 28 tackles + 11 hitups = 39
STATS PER MINUTE
Do you ever have a really good idea only to discover someone has already thought of it. That was me on Thursday night as I watched the Bulldogs take on the Broncos. Watching the game, it occurred to me that the Bulldogs pack was playing a lot stronger than in previous weeks and that I should look into it and possibly call them out on how they'd been going in previous weeks. Turns out the Daily Telegraph had done just that, that very day, with a back page calling them "Pawthetic".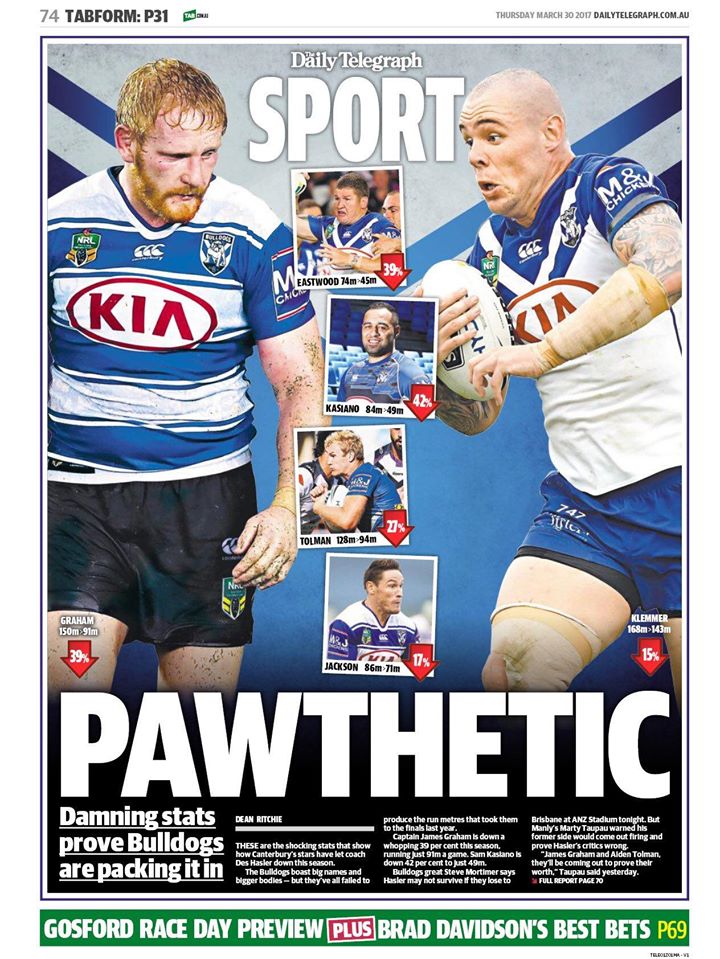 Clearly the Doggies took the headline to heart with three players posting season high NRLCEO points tallies against the Broncos. James Graham (1.06 SPM) scored his first double workhorse of the season with a massive 71 involvements, David Klemmer (0.67 SPM) ran for a personal best 235 metres and even Greg Eastwood (0.39 SPM) ran more metres than he has all season. Aiden Tolman (0.91 SPM) was at his consistent best and Josh Jackson (0.69 SPM) was also strong, both posting a season high for involvements.
After being a late inclusion last week who scored a try, a try assist and two line breaks on debut against the Knights, Corey Harawira-Naera couldn't quite back it up against Melbourne. Harawira-Naera had 38 involvements in 60 minutes (0.63 SPM) and after having a perfect sheet last weekend, missed four tackles against the Storm, costing him a workhorse try.
Can someone explain to me how Paul Gallen was able to remain on the field in a blood soaked jersey for 20 minutes after a head clash with Jack Stockwell? Stockwell went off immediately while Gallen got taped up and just carried on despite claret all over his sky blue jersey. Is replacing a blood soaked jersey not a thing anymore? The fact that he was able to carry on ensured that he got a workhorse try with the Sharks captain getting 42 involvements in 64 minutes (0.66 SPM).
English forward Joe Greenwood broke through for his first workhorse try posting 44 involvements against the Warriors. Greenwood was a late inclusion in the run on side and made the most of his 68 minutes (0.65 SPM). The former St Helens forward leads the battle of the Super League imports having scored 14 NRLCEO points with Ken Sio and Joe Wardell (one try each) the only other players to trouble the scorers thus far.
(NOT SO) JUST QUICKLY:
So Marvel Superhero Round goes for two weeks now? Both the Roosters and the Cowboys sported their superhero jerseys during Round 5 after playing on the road the previous week. Curious though was the Raiders, who played in Brisbane last week and wore their jersey against the Broncos rather than holding off for their home game against the Eels.
My question is, has the novelty of the Marvel jerseys worn off? It just doesn't seem to be that much of a big deal any more. Teams sport different jerseys so regularly, one more isn't really all that exciting. Mind you, if the merchandise numbers are still strong then the novelty will not have worn off for the clubs.
Back in 2014, the Raiders doubled their jersey sales with their inaugural Hulk jersey accounting for 35% of sales. The Warriors, who are now renowned (maligned) for the number of jerseys they release have gone from one of the lowest merchandise sellers to the highest.
Most of them do nothing for me but I quite liked the Spider-Man jersey from the Roosters. The combination of the bold colours and the fact the skin tight look is more in keeping with what Spider-Man actually wears along with a closer resemblance compared to what the Knights have offered up previously made it a winner. It certainly was for the dad and his son who were sitting in the corner watching on as Shaun Kenny-Dowall crossed for the first try of Friday night's game.
Speaking of jerseys, with so many, how hard is it to ensure teams wear contrasting kits? Some will say I'm being pedantic, and sure this isn't the old days of analogue TV, but when teams have a home, away and an alternate jersey plus any number of others, why on earth can they not get them to be in different colours? Not doing so most definitely makes it a price gouge.
The following two tabs change content below.
Geoff Adams
Geoff Adams is the foremost authority on Workhorse Watching. A past time no one else does mind you. Get the lowdown on all things workhorse related including Stats Per Minute.
Latest posts by Geoff Adams (see all)