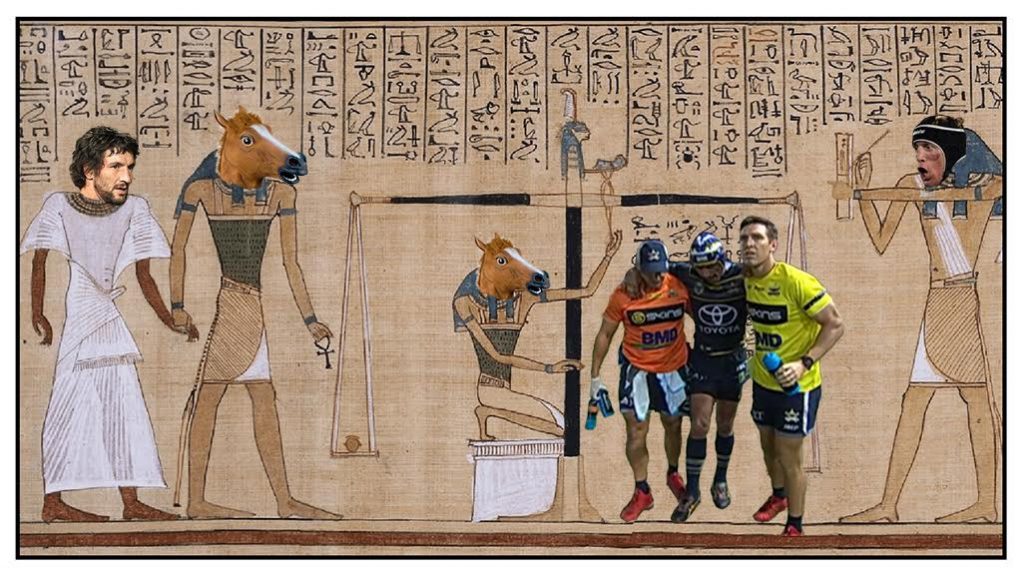 The Workhorse Watch can exclusively reveal how the how the 'Curse of Fensom' was broken.
You see, two Fridays ago (Round 5), Paul Green, fearful that the curse could derail his club's season appealed to the fantasy football gods in an effort to have the curse lifted. The gods listened to his plea and took pity on him, telling Green that in order to break the curse he would need a make a sacrifice to them.
Green said "Name it, I'll do anything but can I do it later, kick-off is just hours away."
The fantasy gods would not normally allow this but seeing as though they were in a good mood and keen to finish early for the day and get to happy hour, they gave Green one week to come back and make a sacrifice before them. The curse was lifted and the Cowboys won with Fensom however Green did not come back. The gods became impatient and then angry, how dare a mortal, a former halfback at that, defy the fantasy gods. Round 6 kicked off and still no offering to the gods. Green had to be punished. So with no sacrificial lamb, the gods decided to take a calf instead.
Unprecedented scenes on the Gold Coast as the Canberra Raiders failed to post a single workhorse try. The Raiders dominated possession in the first half (66%), completing 17/19 sets. Extraordinarily, only one player for the Green Machine, Josh Hodgson, had a tackle count in double figures by halftime with 12. Possession was more even in the second half but it still wasn't enough for any player to get past the 40 involvement mark. It wasn't much better from the Titans with Ryan James the only player to score a workhorse as the home side spent plenty of time with hands on hips behind their own try line.
'You snooze you lose' or so the saying goes. But sometimes you can be wide awake, and still get dudded. In Round 3 I highlighted the tremendous work rate of Herman Ese'ese. On Thursday night the Broncos' prop got his first start in the run-on side and didn't disappoint, racking up 21 involvements in 25 minutes. He then returned in the 62nd minute but his efforts to score his second workhorse of the season were thwarted by a flurry of late tries by the Broncos. But even if he had scored a workhorse, my excitement over him would've been subdued given one of my rivals picked him up one minute before I tried to earlier in the night. After seeing him named to start at 7pm I immediately jumped onto TheBench to snag him. Remembering that he was available when I last looked earlier in the week, and seeing on the message feed that no one had acquired him, I immediately went to my squad and cut a player. But by the time I searched for Ese'ese on the Player List he was now a Snuffmonkey. "When did that happen?" I asked myself. Did he get picked up some time ago and I just imagined seeing him on the Free List? Nope, a click back to the home page and there it was, snapped up '1 minute ago'. I don't feel as robbed knowing he didn't get a four pointer.
The Dragons form continues on the back of their solid pack and well executed plays when they put the ball through the hands. Jason Nightingale's three tries last weekend were no fluke with the Red V identifying David Nofoaluma's deficiencies in defence in the lead up to the game. This week Brian Kelly was the target with the Manly rookie missing 9 tackles. But it all starts with their forwards, the best of the bunch being Paul Vaughan with 29 tackles, 21 hit ups, 212 metres and no missed tackles. After just six rounds he sits on the same number of NRLCEO points that he had in all of 2016.
Speaking of heavy workloads, Daly Cherry-Evan again had a tonne of players run his way and although he missed 5 tackles, he did make 35 which, along with his 5 runs was enough to secure his second workhorse try of the season. No back has made more tackles this season than the Manly playmaker and he has even made more than noted workhorses Josh Papalii, Manu Ma'u, Ethan Lowe and Aaron Woods even though they've each played every game this season.
.
Workhorse of the Week:
Aiden Tolman. Normal service has resumed with Tolman and James Graham passing the title of Workhorse of the Week between them. Tolman had 53 tackles and 15 runs and scored his first double workhorse try against Newcastle and is equal first with his prop partner for total workhorse tries. Makes you wonder why the Bulldogs are chasing Aaron Woods.
WORKHORSE PACK OF THE WEEK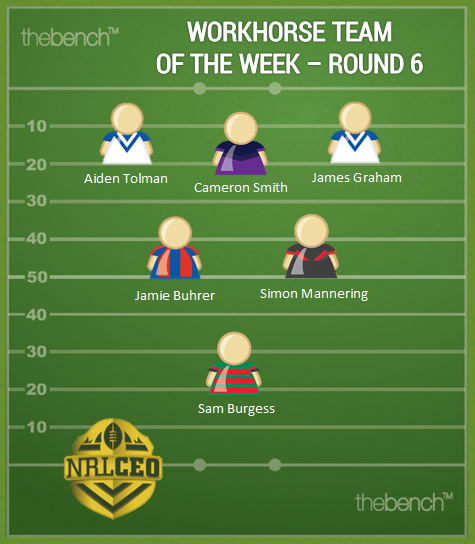 Aiden Tolman: 53 tackles + 15 hitups = 68

Cameron Smith: 47 tackles + 7 hitups = 54

James Graham: 43 tackles + 19 hitups = 62

Jamie Buhrer: 51 tackles + 12 hitups = 63

Simon Mannering: 48 tackles + 19 hitups = 67

Sam Burgess: 48 tackles + 19 hitups = 67
14. Dale Finucane: 47 tackles + 13 hitup = 60
15. Peter Wallace: 54 tackles + 4 hitups = 58
.
CLOSE BUT NO CIGAR
Back to back weeks for Frank Winterstein, Jarrod Wallace's streak of workhorse tries comes to an end while Elijah Taylor misses a massive 10 tackles to wind up in the Close But No Cigar Club.
Frank Winterstein: 29 tackles + 10 hitups = 39
Jarrod Wallace: 29 tackles + 10 hitups = 39
Joel Thompson: 25 tackles + 14 hitups = 39
Elijah Taylor: 36 tackles + 3 hitups = 39
,
STATS PER MINUTE
Kyle Turner remains the quiet achiever in the Rabbitohs pack after scoring his fourth workhorse try of the season. Although named at prop, the Coonabarabran junior played his natural game notching up roughly the same number of tackles and hit ups he's made in each of his other workhorse performances this season. However, he did it in just 51 minutes (0.86 SPM) compared to the usual 60.8 minutes he normally averages. Turner finished with 9 workhorse tries last season, playing 23 of a possible 24 games. At this rate he'll finish well into double figures come the end of the season.    
After losing Jake Granville to a broken leg in Round 5, Ben Hampton provided a good workhorse return in his first stint in the number 9 jersey on Saturday night. Hampton has been averaging 29 minutes a game in a utility role so far this season but played 52 minutes against the Tigers and had 45 involvements (0.87 SPM). Injuries to Johnathan Thurston, Lachlan Coote and Ray Thompson leaves the Cowboys spine in tatters so it remains to be seen whether Hampton remains at dummy half or shifts to the halves in the coming weeks.
Y'all laughed when I singled out Nathan Brown as a workhorse worth considering but the Eels prop scored his third straight workhorse with 34 tackles and 10 runs in 58 minutes (0.76 SPM) after coming into the run-on side just before kick off. Brown also opened the scoring with a try in the 20th minute, just the second of his career. The first time he crossed for a try back in Round 15 last year, he finished with 39 involvements and missed the magic try/workhorse try double. Not so this week as he scored the 26th try/workhorse try combo of the season. Coen Hess, Andrew McCullough and Paul Vaughan lead the field with two each.
Seventy-two minutes of tryless football thanks to some ordinary conditions and two evenly matched teams does wonders for workhorses. In total there were 10 workhorse tries plus two Close But No Cigars in the Melbourne versus Cronulla game. Paul Gallen had the most involvements with 58 (0.82 SPM) but it was opposing captain Cameron Smith whose contribution was the most valuable, scoring a double workhorse with 55 involvements (0.69 SPM) and 78 run metres – his first double workhorse for 2017.
.
JUST QUICKLY:
STOP. CALLING. THEM. THE. BIG. FOUR!
Aaron Woods, James Tedesco, Luke Brooks and Mitchell Moses have been together as part of the Tigers' first grade side since Moses debuted in Round 17, 2014. Since then the Tigers have won just 36% of their games and not made the finals once.
What's worrying for both the Eels and Moses are that each are looking to the other to find success. Moses wants to play for a contender, which, at two wins from six games, the Eels are not. Meanwhile the Eels want Moses to be one of their marquee play makers, which, with two try assists,  a line break and a line break assist in six games, he is not.
Who knows, maybe they're a perfect match and everything will turn out great. I for one hope it does but I am so sick of millions being thrown at players that are yet to achieve anything. You want to get paid a champion's salary? Start by being a champion.
The following two tabs change content below.
Geoff Adams
Geoff Adams is the foremost authority on Workhorse Watching. A past time no one else does mind you. Get the lowdown on all things workhorse related including Stats Per Minute.
Latest posts by Geoff Adams (see all)