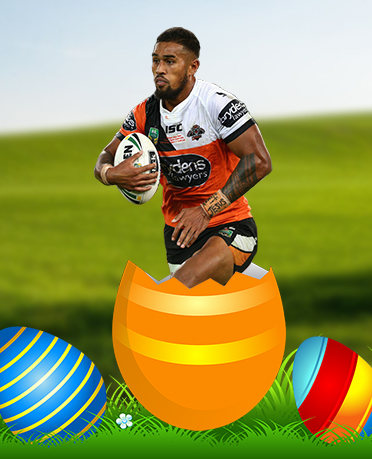 It's an Easter Miracle!
Some might say rising from the dead is a revelation but it's nothing when you consider that Michael Chee Kam scored a workhorse try! Whatsmore, it was off the bench! The Tigers' backrower played 51 minutes which is the most he's played this year when not lining up in the centres and managed to finish with exactly 40 involvements after an upgrade late on Monday afternoon. The four pointer is Chee Kam's first ever major score having never tallied more than a line break assist in 16 previous NRL games.
Friday's game between the Bulldogs and the Rabbitohs highlighted the growing need for players to have an all round game. No longer can forwards just be defensive specialists and this was reinforced when Des Hasler hooked Michael Lichaa after 26 minutes on Good Friday. Lichaa has long been an NRLCEO gun, the bias towards tackle counts means he's a valuable member of any NRLCEO team but in the non-fantasy world his game has often been criticised for its lack of attack. Indeed, on nine occasions last year Lichaa missed out on a double workhorse try due to a lack of metres and this year is yet to make any sort of attacking contribution with no tries, no try assists, no line breaks and no line break assists. Lichaa (17 involvements) came off with his side trailing 2-8 but the Dogs soon struck back to level the score before dominating the second half.
Speaking of replaced hookers, NRLCEOs will be relieved to know that Jake Friend's benching on Friday night was due to illness in the lead up to the game. Speaking after the game, Luke Keary told Fox Sports that Friend didn't train very much during the week and that was the reason Paul Carter starting instead. Friend still managed to have 38 involvements and remained on field for the remainder of the game after coming on in the 28th minute. Speaking of "rested", why does Latrell Mitchell need a "rest"? Sure he's only 19 years old and his body is still adjusting but it's only Round 7 and he played every game last season. I'm just an outsider looking in and am not privy to what goes on at each club but I hope it's not another case of coaches taking the softly, softly approach when it comes to dropping players.
Ryan Hoffman continues to produce even at the age of 33, in 7 games this year he already has 4 workhorse tries along with three actual tries. Against the Raiders he was the Warriors' lone try scorer and combined with his 43 involvements scored his second try/workhorse try combo of the season. He now draws level with four other players each with two try/workhorse try performances this season; Jack De Belin, Coen Hess, Paul Vaughan and Andrew McCullough.
.
Workhorse of the Week:
James Graham. Graham again reigns supreme with his third consecutive double workhorse try. Graham had 62 involvements and ran for 154 metres. He now sits in outright first for total workhorses with 9.
.
WORKHORSE PACK OF THE WEEK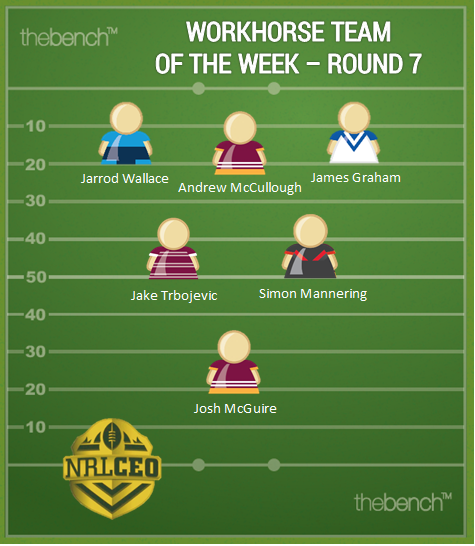 Jarrod Wallace: 34 tackles + 26 hitups = 60

Andrew McCullough: 55 tackles + 3 hitups = 58

James Graham: 43 tackles + 19 hitups = 62

Jake Trbojevic: 52 tackles + 15 hitups = 57

Simon Mannering: 45 tackles + 12 hitups = 57

Josh McGuire: 42 tackles + 16 hitups = 58
14. Aiden Tolman: 39 tackles + 20 hitups = 59
15. Sione Mata'utia: 43 tackles + 13 hitup = 56
CLOSE BUT NO CIGAR
Manu Ma'u: 29 tackles + 10 hitups = 39
Adam Elliott: 33 tackles + 6 runs = 39
.
STATS PER MINUTE
A devastating blow for NRLCEOs with Jamie Buhrer ruled out for up to 8 weeks with a fractured foot. His withdrawal saw Joe Wardle promoted to the starting side but it was Sam Stone (pictured above) who was the real beneficiary of Buhrer's absence with the local junior scoring his first workhorse try with 41 involvements in just 45 minutes (0.91 SPM). Sam, the son of former Knights coach Rick Stone, had been averaging 22.8 involvements per game in 33 minutes (0.69 SPM) in his first 5 NRL games.
I think we can now safely put Jarrod Wallace into the upper echelon of workhorses after the Titans prop responded the best way one can when slipping into the Close But No Cigar Club – scoring a double workhorse try! Wallace had exactly 60 involvements in 73 minutes (0.82 SPM) against his old club as the Titans were dominated by the Broncos, completed just 55% of their sets. Wallace also ran for 264 metres to score his first ever double metre eater.
For the first month and a half of the season Felise Kaufusi has been quietly going about his work. The Melbourne back rower has not missed a workhorse try this season and on Saturday he scored his seventh. Only 8 players have scored a workhorse every week this season and Kaufusi finds himself in the elite company of forwards such as Ryan James, Aiden Tolman and Andrew McCullough. Having a player that scores a workhorse for you week in, week out is like gold and against the Sea Eagles he had 46 involvements in 80 minutes (0.58 SPM). However, he can no longer fly under the radar after also scoring two tries, along with two line breaks and a line break assist in a massive 15 point haul.
Another player that has been super consistent this season has been Scott Bolton who also hasn't missed a workhorse this season. Like Kaufusi, Bolton has been given an opportunity this season but unlike the Storm forward, he's been around for 10 years and is now in career best form. He has doubled and in some cases tripled what he has produced workhorse wise in previous seasons and he too managed to get across the stripe for an actual try. His try in the 64th minute was his first in over a year and went along with 41 involvements in 56 minutes (0.73 SPM).
The following two tabs change content below.
Geoff Adams
Geoff Adams is the foremost authority on Workhorse Watching. A past time no one else does mind you. Get the lowdown on all things workhorse related including Stats Per Minute.
Latest posts by Geoff Adams (see all)