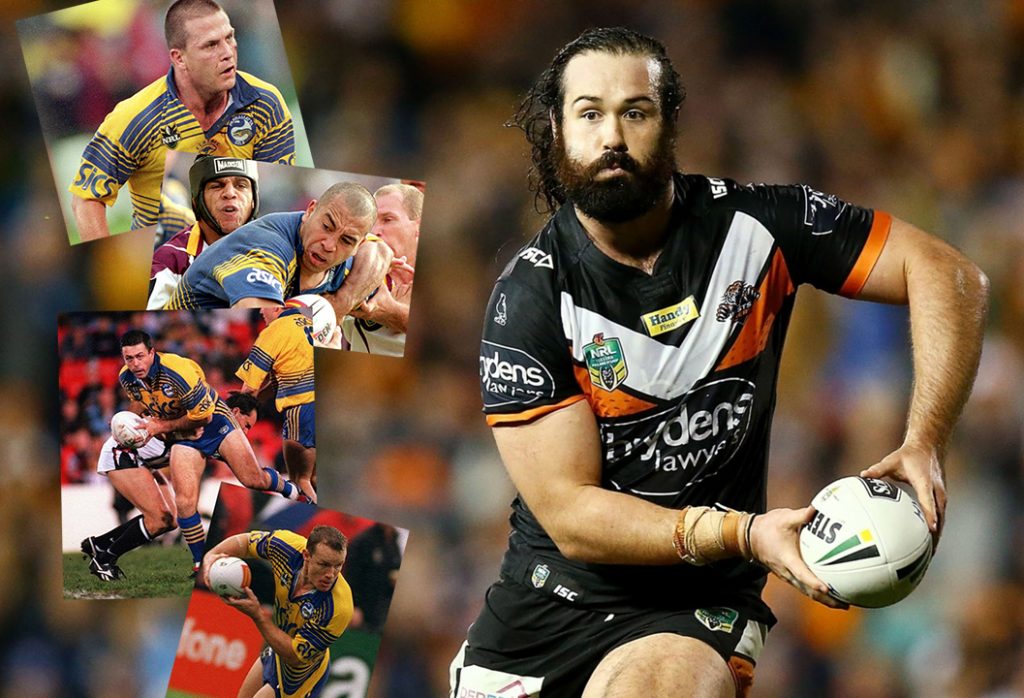 Let's talk about the Aaron Woods. Wait, don't leave, I'm not here to talk about contracts, just what it means to his on-field game. The Tigers captain had 26 tackles and 18 runs in a solid workhorse performance. Enjoy it while you can. From next year I predict Woods' workhorse tries will become less and less frequent after he cited the ability to share the load with other forwards the primary reason for his decision to move to Belmore. Woods is averaging 41 involvements per game, down from 44 per game over the last two seasons so any reduction in workrate would be disastrous for his workhorse stock.
There is no doubt that Woods is a quality player and any team would be the better for having him but I don't think the Tigers losing him is the worst things in the world and the consensus seems to be that losing James Tedesco is far more of a set back. The problem with Woods and with all the players in the contract fiasco at the Tigers is that they all lack the leadership the club desperately needs right now. While they are off to play with better run clubs in premiership contention, they don't get the fact that they were the ones the Tigers were looking towards to make them contenders. Woods supposedly appealed to management to get more support up front. But what about the blokes that were already there?
You can't just make someone play like a Tedesco or a Moses but finding forwards that will roll up their sleeves and have a go shouldn't be that hard. Many are just waiting for an opportunity.  When Paul Gallen got injured in Round 22 last year Matt Prior stepped up. He literally doubled his output going from averaging 73.3 metres per game from rounds 1 to 22, to averaging 148.3 metres per game over the final four weeks of the regular season. This season Jarrod Wallace has gone from 31 involvements and 81 metres a game to 51 involvements and 128 metres per game. Woods averages 50% more runs than any other forward at the Tigers. Leading by example is important but if Woods was a true leader of the club he would have pulled teammates aside and talked to them about how they needed to lift.
So where to now for the Tigers? They'll now be chasing the other big names still on the open market but what they really need is a 'Pay Day'. In 1996 the Parramatta Eels picked up their own 'Big 4' when Jim Dymock, Jarrod McCracken, Jason Smith and Dean Pay reneged on their Super League deals. Dymock was quickly the fan favourite with almost every new Eels jersey bearing his #13; McCracken the rampaging centre with the flowing blonde locks and Smith the skillful backrower/five-eighth whose brilliance was often hampered by injury. But it was Pay that was the most important piece of the puzzle. Only 26 when he joined Parramatta, Pay brought a maturity that helped turn the Eels from cellar dwellers to finals regulars. The Tigers aren't going to have four players of that quality land in their lap but they just need one that can be the starting point.
The Eels became so good defensively there would be times you would watch them defend their line set after set and you just knew they wouldn't crack. Under Pay's guidance players like Nathan Cayless, Michael Vella, David Kidwell and the Hindmarsh brothers emerged, setting the Eels up for success long after he retired. Ben Kennedy brought the same kind of steel to the Knights in 2000, Roy Asotasi when he arrived at the Rabbitohs. It's just a shame that Woods, 26, is about to come into the prime of his career has now left the Tigers. Someone like James Graham, currently older than any of those guys were at the time, would be ideal but the Tigers' newly announced signing Ben Matulino could also be that player.
Workhorse of the Week:
Ryan James. In a front row that averaged 61 involvements per player, James was the stand out with 69 involvements. He was ably supported by Nathan Peats (58) and Jarrod Wallace (57) as the Titans upset the defending premiers.
WORKHORSE PACK OF THE WEEK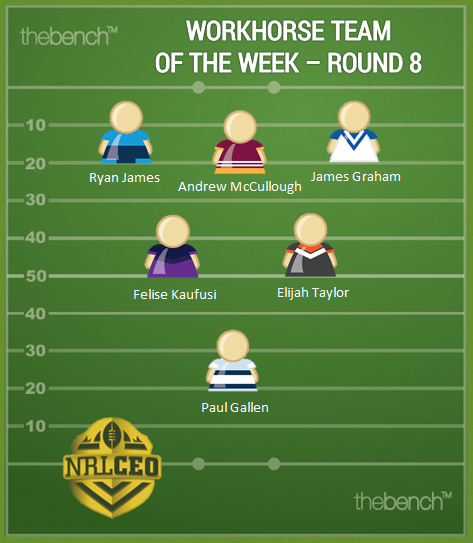 Ryan James: 54 tackles + 15 hitups = 69

Andrew McCullough: 59 tackles + 4 hitups = 63

James Graham: 42 tackles + 16 hitups = 58

Felise Kaufusi: 45 tackles + 11 hitups = 56

Elijah Taylor: 53 tackles + 8 hitups = 61

Paul Gallen: 40 tackles + 21 hitups = 61
14. Jake Friend: 59 tackles + 0 hitups = 59
15. Nathan Peats: 56 tackles + 2 hitup = 58
CLOSE BUT NO CIGAR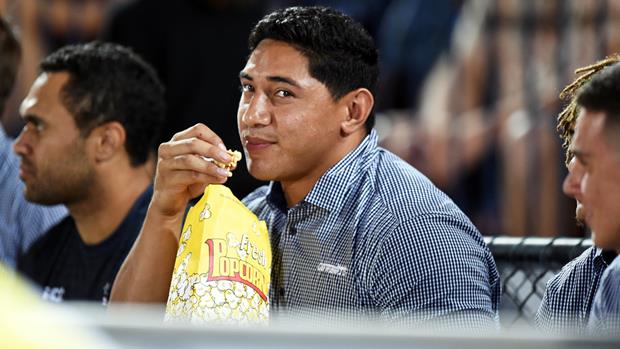 Thomas Burgess: 23 tackles + 16 hitups = 39
Isaah Yeo: 30 tackles + 9 hitups = 39
Gavin Cooper: 24 tackles + 15 hitups = 39
Jason Taumalolo: 26 tackles + 13 hitups = 39
Matt Prior: 26 tackles + 13 hitups = 39
Leeson Ah Mau: 28 tackles + 11 hitups = 39
STATS PER MINUTE
Corey Harawira-Naera has been threatening to score a workhorse try for a number of weeks averaging 35 involvements in his first 3 NRL games (0.60 SPM). But NRLCEOs wouldn't have been filled with confidence after the rookie was dropped in Round 7 and named outside of the 17 for Round 8. Even when coach Anthony Griffin culled his squad to 19 on Friday, the impending return of the man he replaced, Bryce Cartwright, did not bode well for Harawira-Naera. But on game day, Griffin cut Te Maire Martin, shifted Cartwright to five-eighth and slotted Harawira-Naera in the back row. Harawira-Naera had 47 involvements and played the full 80 minutes for first time in his NRL career (0.59 SPM).
Frustration for Rabbitohs fans flowed onto those with Rabbitohs forwards as three Bunnies players fell just short of the 40 involvement mark. Thomas Burgess had 39 involvements in 39 minutes (1.00 SPM) while John Sutton's shift to the halves hushed what has been a very decent start to the 2017 season. The other man who was close but ultimately missed out was Damien Cook. Cook played 49 minutes and after scoring the opening try of the game and playing the entire first half, looked prime for a big one. But the Helensburgh junior came off just 6 minutes into the second half and didn't return until the 77th minute. During that time Robbie Farah set up two tries and had 3 line break assists whilst also robbing Cook of the minutes he needed to get a workhorse.
After coming close in Round 3 with 38 involvements, Newcastle back rower Luke Yates scored his first workhorse try against the Cowboys with 47 involvements in 58 minutes (0.81 SPM). Extraordinarily he came into the starting side after Sione Mata'utia moved to halfback in place of Trent Hodkinson. His breakout performance couldn't come at a better time with Newcastle's workhorse gun Mitchell Barnett out for up to two months following the same game. He and Sam Stone are well worth a look at with Barnett and Jamie Buhrer out for so long.
The ANZAC Day clash between the Roosters and the Dragons is always a special occasion including from a workhorse point of view. 11 out of the 12 starting forwards scored workhorse tries with just Isaac Liu, who had 35 involvements in 51 minutes (0.69 SPM) missing out. The best of the bunch was Paul Vaughan, playing in his first ANZAC clash with 49 involvements in 47 minutes (1.04 SPM) while for the Roosters, Siosiua Taukeiaho made the most of his first start of the season getting 46 involvements in 47 minutes (0.98 SPM)
JUST QUICKLY:
The Workhorse Watch can exclusively reveal just how wrong Gus Gould was about the two girls at the football being disinterested in what was happening on the field.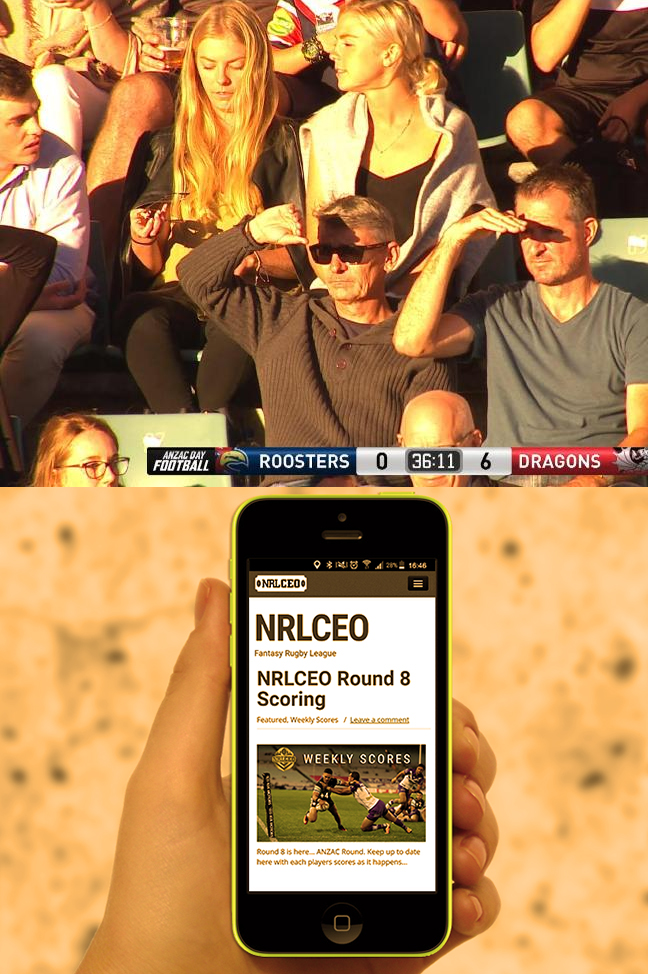 The following two tabs change content below.
Geoff Adams
Geoff Adams is the foremost authority on Workhorse Watching. A past time no one else does mind you. Get the lowdown on all things workhorse related including Stats Per Minute.
Latest posts by Geoff Adams (see all)