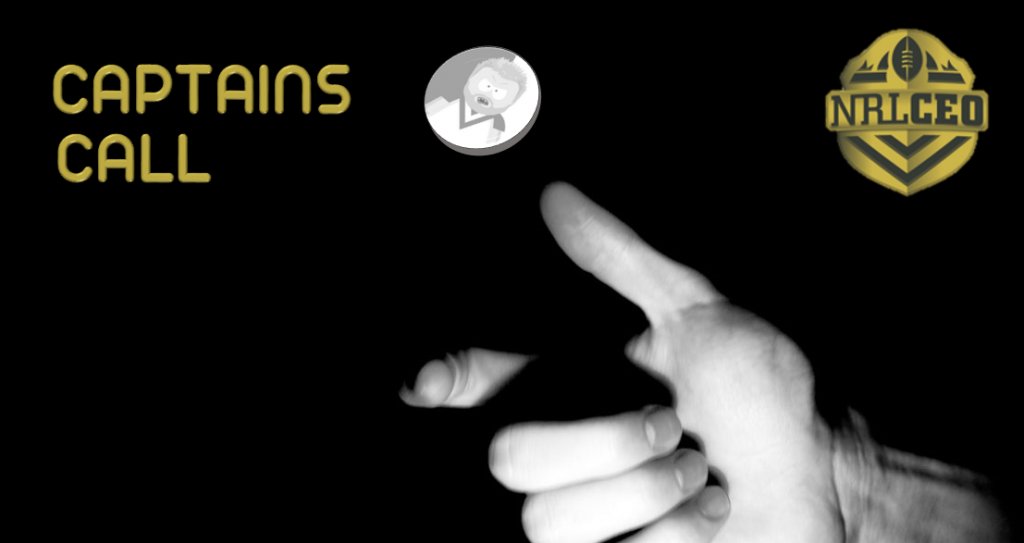 Welcome back to this week's edition of Captains Call and like the Rabbitohs, my season is fading.
Although most of my picks weren't that bad they weren't anything to write home about. Joey Leilua did run rampage down that right side however just couldn't add any attacking stats but if I had of chosen the Raiders other centre in Croker it would have been a master stroke.
Nightingale didn't fare much better on adding a line break and line break and line break assist to his season tally.
Andrew McCullough made his customary work horse then Adam Blair got jealous and decided to cannon ball into his knee effectively ruling him out for the season and causing another headache for many CEOs.
Ryan James was huge with 63 involvements, unfortunately his 100 meters wasn't enough to get him the double workhorse requirements.
The best of the lot last week was Cody Walker. He scored a try and had a line break assist. His move to the number six might be what Madge chooses for the rest of the season.
This week is the last week of games for the Supporter Leagues as they go to finals next week. It will be very important to pick the right Captain for this week as it might just get you into that fourth or eighth spot.
Please vote or leave a comment below and good luck for this week.
Felise Kaufusi (safe bet)
One of the big surprise packets for the year, Kaufusi has been outstanding. Taking over from Kevin Proctor and playing 80 minutes in every game bar two it's been a seamless transition for the Storm on that right edge. He has had only one game below four points, with 14 being his biggest haul. The last time Storm and Cowboys met Kaufusi didn't get a workhorse but did pick up a try, try assist and two line breaks.
Jake Trbojevic (safe bet)
Like Kaufusi, Jake Trbojevic has only had once score below four which is the same game that he missed his only work horse. Trbojevic also has the ability to cross the line and if Manly want to get out of this funk he may very well be the man to do it. Good chance for a double work horse this week as I'm expecting a very close game.
Gareth Widdop (risk and reward)
Although the Dragons season is unravelling, Gareth Widdop is a rare shining light. He very rarely has two bad games in a row ad against a poor Rabbitohs side he could be in for another double digit score. What could make things better for Widdop is if Sam Burgess is ruled out.
Nathan Cleary (risk and reward)
Panthers v Tigers, Father V Son. Nathan Cleary has had a very good season and it's only going to get better as the season continues. Last time Panthers played the Tigers Cleary crossed for a try, line break assist and kicked six goals. His form then however wasn't the standard that it is now. Could be some big points out of him this week.
Anthony Milford (risk and reward)
Anthony Milford hasn't been setting the world alight recently however that can change against a very unreliable Titans side. Last time these two teams met Milford ran for a whopping 210 meters and scored a try. With Milford slowly getting back into his groove it could spell danger for the Titans.
The following two tabs change content below.
Adam Hewat
Adam Hewat, coach of the mighty Pest Control. Playing NRLCEO has become an obsession more than a hobby. He's either ingesting as many stats as possible or carefully monitoring each play of each game. Obsessed? Maybe just a little.
Latest posts by Adam Hewat (see all)