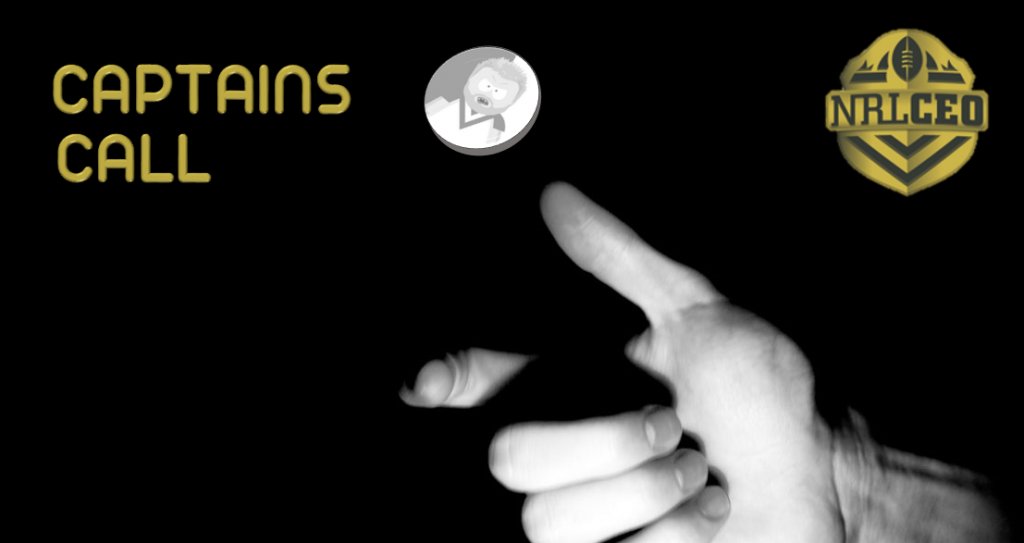 Welcome to the second last edition of Captains Call for 2017.
As I sat there ready for the start of the Knights and Storm game I was quietly hoping for the Knights to win. I'm not a Knights supporter but how good is it to see a team struggling most of the year suddenly find some form and after Bromwich was sin binned and the Knights went over I thought to myself they are a real chance today. How wrong was I. They were eventually blown off the park but the most interesting thing in that score line was the influence of Billy Slater. He scored a zero, that's two weeks in a row now and with Storm scoring 44 points you'd think he would have had some involvement.
Now with the Roosters halves I did say only one would fire and I was correct. Keary only managed the two line break assists but Pearce on the other hand dominated. A try, try assist, line break and three line break assists was a great haul if you named him as captain.
Elliot Whitehead did what Elliot Whitehead does, tackled all day. He didn't have any attacking stats but made an easy work horse with 53 involvements.
Mitchell Moses was a star. He had three try assists and a massive five line break assists. His best of the lot was his third try assist, a little inside ball for Smith to go over. Watching that game has changed my opinion of him a little bit, I still think he's a whinger but I think he will become one of if not the best half in the game at some point.
Pick of the week goes to the tackling machine Simon Mannering. Not only did he get a work horse but he also added a try, try assist, line break and line break assist. Not bad for an old bloke.
Massive week coming up. This week could be your last week in the comp or you could progress to the Grand Final so it's very important to pick the right captain.
Let's preview five more and don't forget to vote or leave a comment below.
Nathan Brown (safe bet)
A lock that plays almost 80 minutes a game, Brown has been a rock in the middle of the park. In what I expect to be a close game, I could see Brown churn out his fourth double of the season. I can't see him adding any attacking stats to his game but I wouldn't be complaining if he got a double work horse and that was it.
Josh McGuire (safe bet)
In the same game as Brown, I can see McGuire doing the same. A lock that can play big minutes and who has also scored three double work horses for the year is a very real chance of doing it again this week. Broncos have been playing a very expansive game of late but against the Eels it might not be so easy.
Nathan Cleary (risk and reward)
This kid will be a star. He is the leading point scorer in the NRL this season and he's not even 20. Up against the Dragons he could be in for a massive week as they Dragons have been misfiring of late. Cleary and the Panthers will take a lot out of their win over Canberra on the weekend and could rack up a big score line.
Suliasi Vunivalu (risk and reward)
Vunivalu is the second highest try scorer this year and will want to catch Johnston. He currently sits on 19 and against an improving Rabbitohs he could get close. With Cronk due back this week and Slater looking to be a bit more involved he could be on the end of some great kicks or passes.
Marcelo Montoya (risk and reward)
A very strange one you might say but Montoya has scored six tries and seven line breaks in his last six games. On top of that they are playing the Titans who have been nothing short of woeful and I don't think sacking their coach is going to help short term. If the Dogs can attack like they did against Manly then Montoya could very well get a double if not more.
The following two tabs change content below.
Adam Hewat
Adam Hewat, coach of the mighty Pest Control. Playing NRLCEO has become an obsession more than a hobby. He's either ingesting as many stats as possible or carefully monitoring each play of each game. Obsessed? Maybe just a little.
Latest posts by Adam Hewat (see all)