Cameron Smith surpassed Jason Taylor for most premiership goals in the Storm's rout of the Dragons.
It lead NRLCEO to declare him "the best NRLCEO kicker ever."
The Melbourne rake, who had bang on 40 involvements against St George Illawarra, began his career just as fantasy rugby league began to emerge and whilst he certainly has the numbers on the board, is longevity the only thing that counts when considering who is the greatest?
Smith may be the best NRLCEO player of all time, but the name that has to be considered when you talk about greatest fantasy kicker of all time is Hazem El Masri.
El Masri averaged more goals per game than Smith over the length of his career despite only taking 12 attempts his first five seasons. When El Masri started in 1996 there was a bloke by the name of Darryl Halligan, himself a pretty prolific goal kicker, ahead of him. It wasn't until 2001 that Hazem got the gig full time and when you compare his record when he started kicking on a permanent basis to when Smith did, he blows the Melbourne captain out of the water. From 2001 to 2009 El Masri kicked 882 goals in 223 games at an average of 3.96 goals per game. After splitting the duties with Matt Orford for a couple of years Smith began kicking on a regular basis in 2006 and since then has kicked 862 goals in 272 games for an average of 3.17 goals per game. Also, El Masri has a career accuracy of 82% compared to Smith with 73%. Smith may have workhorses and try assists to help regard him as the greatest of all time but when it comes to putting it over the black dot, give me 'El Magic' every day of the week.
The Panthers continue to find themselves firmly entrenched towards the bottom of the ladder and the question in the back of my mind whilst watching them on Thursday night was, where's Mitch Rein? Rein signed a two year contract last year and whilst it was always clear he'd be second fiddle to Peter Wallace, I'm amazed that strategy hasn't changed after the Panthers' indifferent start to the season. Rein has played 7 out of 8 games this season for the Panthers' NSW Cup side and has played 80 minutes in every game, averaging 44.4 tackles a match. Where I think Rein's inclusion could really help is in the halves. Combinations take time but at present Nathan Cleary appears to be trying to do too much. Cleary averages 50.7 touches per game compared to his halves partner (be it Martin or Cartwright) with 28.1. Peter Wallace is clearly the leader of the team despite not having the (c) next to his name and the inclusion of Rein could shift Wallace into the halves to take some pressure off the 19 year old Cleary. It would also allow Cartwright to move back into the forwards where he can be more effective instead looking completely lost like he did on Thursday.
The Eels sure know how to dodge a workhorse try. Led by the Grand Emperor of the Close But No Cigar Club, Tim Mannah, the Eels had five players register between 35 and 39 involvements. Only Nathan Brown (52 involvements) scored a workhorse, his sixth consecutive at that. Mannah had 25 involvements in his first stint and with 10 minutes to go had 35 and his second workhorse of the season in sight. But the only thing rarer than a Tim Mannah workhorse try is a Tim Mannah actual try, his last meat pie was back in Round 23, 2015. Mannah barged over the line in the 74th minute and with just three involvements needed to get a workhorse it looked like a try/workhorse try was on the cards. Instead Brad Arthur brought him off the field; goddamnit Brad, you couldn't leave him on for 6 more minutes? Other Eels adding to the workhorse frustration included Manu Ma'u (39), Kaysa Pritchard (38), Beau Scott (38) and Suaia Matagi (35).
Amid the booing, the banners and the projectiles, two young Tigers forwards scored their first workhorse tries of the season as the Tigers went down to the Sharks at Leichhardt Oval. Jacob Liddle and Josh Aloiai both scored workhorses with Liddle registering his first ever and Aloiai getting just the second of his career. The game though will be remembered for the three things I mentioned as well as Aaron Woods' injury 25 minutes into the contest. As if to back up my point from last week it's interesting to note is that in Woods' absence, Ava Seumanufagai ran a season best 116 metres while Sauaso Sue ran 126 metres, his highest meterage since Round 1. Chris Lawrence also stepped up with 112 metres, well up from his average of 78 metres per game. Whilst none of those players average the same metres per run as Woods, they did enough to give their side enough of a platform to get back into the match by halftime.
Workhorse of the Week:
Simon Mannering. Were there Test match jerseys up for grabs this week? Whilst Mannering doesn't need a Test jersey dangled as a carrot to put in a big performance, he certainly didn't do his chances any harm with his third double workhorse of the season. Mannering will line up for the Kiwis this weekend after missing last year's Four Nations tournament due to injury.
WORKHORSE PACK OF THE WEEK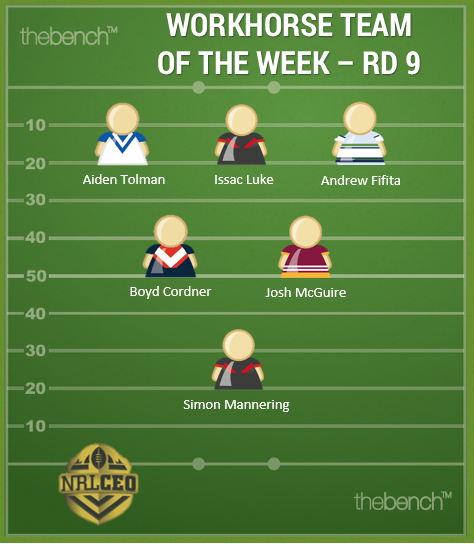 Aiden Tolman: 35 tackles + 21 hitups = 56
Issac Luke: 44 tackles + 12 hitups = 56
Andrew Fifita: 40 tackles + 15 hitups = 55
Boyd Cordner: 41 tackles + 15 hitups = 56
Josh McGuire: 44 tackles + 17 hitups = 61
Simon Mannering: 49 tackles + 16 hitups = 65
14. Andrew McCullough: 54 tackles + 6 hitups = 60
15. Elijah Taylor: 49 tackles + 6 hitup = 55
CLOSE BUT NO CIGAR
I can't remember the last time the No Cigar Club was this full. 10 in total this week!
Reagan Campbell-Gillard: 25 tackles + 14 hitups = 39
Manu Ma'u: 29 tackles + 10 hitups = 39
Ryan James: 26 tackles + 13 hitups = 39
Josh Papalli: 24 tackles + 15 hitups = 39
Nathan Peats: 36 tackles + 3 hitups = 39
Will Chambers: 28 tackles + 11 hitups = 39
Josh Starling: 32 tackles + 7 hitups = 39
Jack De Belin: 27 tackles + 12 hitups = 39
Dylan Napa: 29 tackles + 10 hitups = 39
Ava Seumanufagai: 26 tackles + 13 hitups = 39
.
STATS PER MINUTE
Expect a green patch of form from Rabbitohs prop Tom Burgess over the coming weeks as brother George serves a 4 match suspension. Tom's two workhorse tries this season have come in his brother's absence, the most recent being on Friday night with a season high 47 involvements against Manly (0.92 SPM) Tom averages 41 involvements when George isn't in the team compared to 33.7 when he is.
Sam Stone scored his third straight workhorse try courtesy of 45 involvements (0.65 SPM) against the Titans on Saturday afternoon. It was shades of 2016 for the Knights as they had just 40% of possession for the game and 10 less sets of six than their opponent. Despite the amount of defence Newcastle were forced to do, Stone and hooker Daniel Levi were the only Knights forwards to score workhorse tries. Stone was also the Knights' lone try scorer, getting the first of the game before the Titans wracked up a 30 point win.
Neither Connor Watson nor Nathaniel Roache got on the field on Sunday afternoon despite both sides backing up just 5 days after they played on ANZAC Day. That was a boon for Issac Luke who scored his first double workhorse try since Round 19 last year with 56 involvements and 87 metres in 80 minutes (0.71 SPM). It was just another day at the office for his opposite number, Jake Friend, who had 52 tackles and just the one run.
Still on the Warriors vs Roosters game and Sio Siua Taukeiaho is well and truly back scoring his second straight workhorse of the season after returning from injury in Round 7. Taukeiaho is averaging 41 involvements per game despite averaging just 37 minutes a match (1.11 SPM) and should be back on everyone's radar as the rep season approaches and players like Boyd Cordner will be away.
The following two tabs change content below.
Geoff Adams
Geoff Adams is the foremost authority on Workhorse Watching. A past time no one else does mind you. Get the lowdown on all things workhorse related including Stats Per Minute.
Latest posts by Geoff Adams (see all)