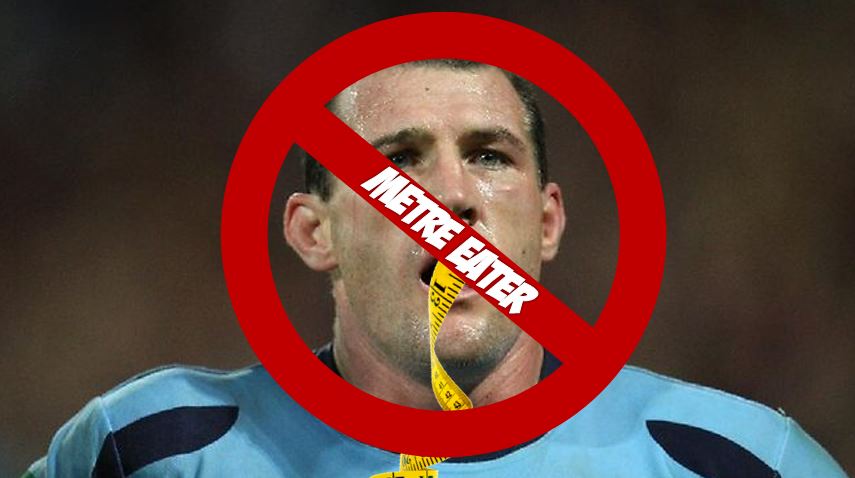 The new NRLCEO feature that rewards metres gained needs to be scrapped!
Ok. Maybe not scrapped, but definitely tweaked. The idea for rewarding metres gained arose midway through last season and it's an interesting one. There are plenty of players doing tireless work with the ball tucked under their arm that are not rewarded because NRLCEO is slanted towards tackling.
Under the new rule players who make 100 or 150 metres (depending on position) can earn a "Metre Eater" (ME) stat.
Players who make over 200 metres get two "Metre Eater" stats or what is known as "Double Metre Eater". How many points you choose to make this new statistical category worth is entirely up to you.
If you know immediately that this is not something you'll bring into your competition then you can stop reading right now.
However, if you're intrigued and think this could be a good addition to your league, you need to be very careful about whether you implement this new innovation.
Firstly, the Double Metre Eater component needs to be ruled out of your competition entirely. It's a shocker! It only really benefits two players, Paul Gallen and Roger Tuivasa-Sheck. They are the only two players who averaged over 200 metres per game last season and such a rule would see their NRLCEO scores blow up, making them superhuman compared to other players and almost impossible for opposition teams to overcome.
The Double Metre Eater rewards something that shouldn't be rewarded. Gallen's 200 metres a game is a blemish, not a badge of honour. Too often Gallen gets in the way when he takes a hit up late in the set, disrupting his team's attack and not allowing his halves to create scoring opportunities. NRLCEO has always been about being true to the on-field action and such actions should not be rewarded. If you are going to introduce this new aspect to your league, set both the Metre Eater and Double Metre Eater to be the same score.
Secondly, I'm not sure about the benchmarks that NRLCEO have set to achieve a Metre Eater. At first I thought 150 metres might be too high but then again you don't want everyone to be scoring one by setting it at say, 120 metres. And I'm OK with playmakers like halves and hookers only needing 100 metres at they don't usually get that many metres plus, they tend to score more try assists than other positions.
My reservation is concerning the backs. Sure the back three of a footy team provide valuable return metres but anyone that wants to argue that those metres are as tough as getting them up the middle need only look at Jarryd Hayne's first season in the NFL and compare the metres he ran as a Kick Returner to those made at Running Back. Maybe it should be a little bit higher for backs.
Thirdly, the mystery ingredient in this Metre Eaters recipe and for NRLCEO 2016 in general is the impact of the reduced interchange. Whilst players will be playing more minutes, I don't think this will result in the boom in stats across the board that many are expecting.
The reduced interchange is designed to slow the game down and prevent injuries by stopping fresh forwards from steamrolling opponents. This means players will be playing more minutes but that will slow down the pace of the game which means one will offset the other when it comes to involvements including yardage.
Like most years, the opening rounds won't see all that many workhorse tries as combinations continue to form, match fitness is gained and heat plays more of a factor. After the first month things will start to settle down, players will find their niche, and workhorse regulars will emerge.
As for the Metre Eater rule, it's a game changer. It will alter how everyone approaches this year's draft and that's exciting. It brings players into the mix that might otherwise be overlooked and guys like Origin forward David Klemmer are now genuine NRLCEO options.
However, I fear change.
I play in a keeper league and I have a lot of forwards who make a lot of tackles. My 3 Hooker combination (1 starter, 2 on the bench) may not be as valuable as it once was if my league decides to bring in the Metre Eater rule. Time to get researching.
Alternately, the Moneyball Podcast boys are massive fans of the new rule and go into detailed discussion about who will profit the most from this new rule. You can download it on iTunes or listen below:
The following two tabs change content below.
Geoff Adams
Geoff Adams is the foremost authority on Workhorse Watching. A past time no one else does mind you. Get the lowdown on all things workhorse related including Stats Per Minute.
Latest posts by Geoff Adams (see all)